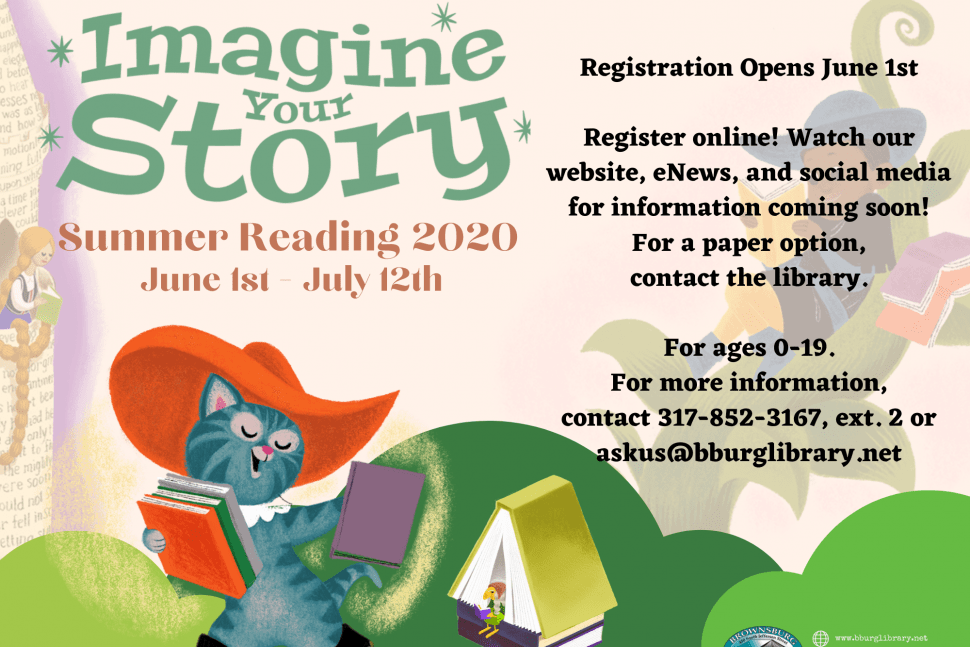 As social distancing measures continue, libraries anticipate big changes to summer reading. With chances for face-to-face contact limited or absent, many seek alternative strategies for hosting events and recording reading goals.
The answer for most: online programming, such as virtual storytimes, science experiments, and small-scale cooking demonstrations. "Our plan is to do a pretty strong and regular slate of virtual programming put out on Facebook," says Luke Bentley, assistant director at Guernsey County (Ohio) Public Library (GCPL).
While that will feel very different from last year's summer reading events—which included a kickoff party complete with water slide, plus a wrap-up gathering held at the local pool—Bentley is enthusiastic about the flexibility that virtual events offer. "When it comes to doing storytimes over the summer, they'll be live broadcasts, probably at the same time every day," he says. "But if Mom works until 6, she can scroll back through the library's Facebook page, find that storytime happened at 11, and enjoy it just as if she were there."
Summer reading will look similar at Brownsburg (Ind.) Public Library (BPL), where staff has been told to plan for all-virtual events for the entire season. In previous years, BPL's summer reading programming has included large family programs with attractions such as face painting, performers, live animals, an obstacle course, and ice cream.
Now, instead of trying to match the scale of that programming with virtual options, staff members are working to produce an amount of online content that will not overwhelm patrons. "It's a saturated market right now," says Information Services Manager Robbi Caldwell. "I could plan something for patrons every hour of the day to do virtually. But it's too much."
Some of the offerings she's planning: live online performances by family entertainers, curbside pickup of craft supplies, and a mix of live and prerecorded videos. "I understand that some programs are better if they're interactive, like book clubs," she says. "But prerecorded videos will work for other programs, like our Itty-Bitty Storytime."
Tracking progress digitally
In addition to adding online programming, libraries are finding digital solutions to track summer reading progress. BPL, for example, will use an app called Beanstack to allow both participants and administrators to track goals online. Patrons without internet access can call a librarian, who will record their reading progress in Beanstack for them.
Meanwhile, Ransom District Library in Plainwell, Michigan, will incorporate the Great Reading Adventure, an open-source reading tracker, into its website. While the way kids track their reading progress will have changed, "we're going to maintain the formula for how many books [they] read to earn a prize," says Digital Librarian Sara Weyenberg. "And we're still trying to figure out what we're going to do about prizes. Will we try to find ways to mail prizes? Will they be virtual? Or hopefully, we'll be in a place where we're doing curbside pickup, and maybe we can do curbside summer reading prizes pickup. We're trying to stay fluid and come up with a lot of ideas, but not necessarily set a firm plan yet."
In areas where many families do not have internet or even computer access, summer reading programs during a pandemic come with additional challenges. GCPL began to address this issue even before Ohio's stay-at-home order took effect March 23. Located in a hilly Appalachian county, where internet access is often inconsistent, the library will offer two programming tracks: one digital, the other analog.
Bentley says kids without internet access will receive a bingo card at the start of the season. The cards will not only serve as reading trackers but also encourage kids to participate in at-home activities such as science experiments. Bentley hopes to distribute the bingo cards at local businesses so parents can pick them up while running errands.
Beyond balancing digital and nondigital access, libraries are also struggling to secure summer reading sponsors to provide prizes and help promote programs. To address this, Caldwell has rethought her sponsorship requests to reflect her community's new economic reality. Rather than asking for donations, she says, the library is offering to include sponsors if they promote the library's programming to clients.
"[Our sponsors have] been really great to us, but we also recognize that this might be a struggle for them," says Caldwell. "And maybe, instead of doing 700 free pizza coupons [as prizes], our local mom-and-pop pizza place could do a $25 gift certificate."
While summer reading will look different this year, some say this may bode well for future programming. Libraries may be landing on ways to provide service they were not considering before the pandemic.
"Libraries are going to come out of this with a lot of new strategies that they are implementing now that they are going to maintain," says Bentley. "Hopefully, that will allow for better access for people and better services provided down the road."