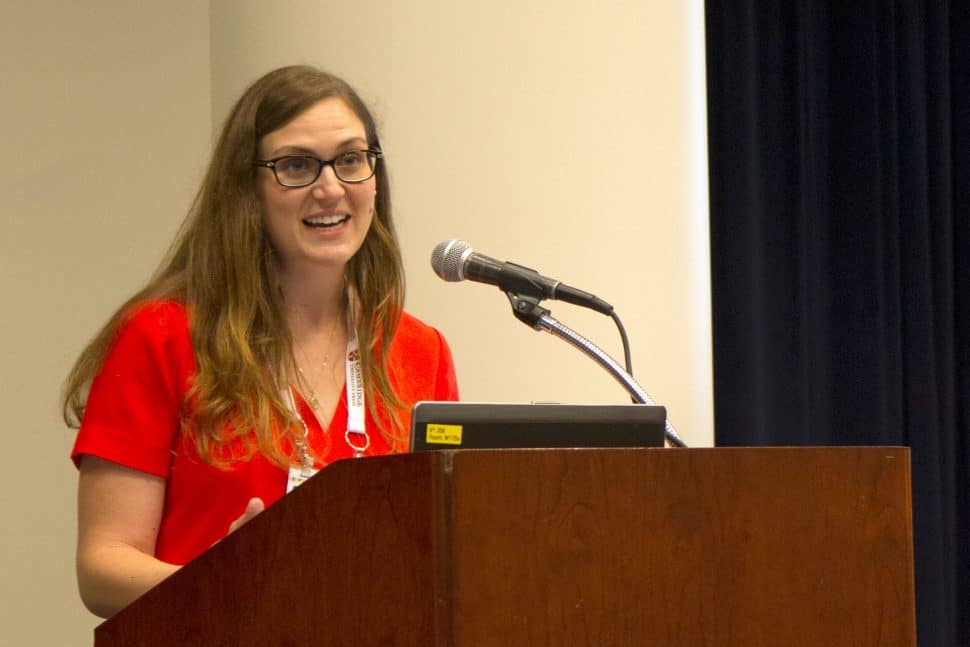 No screen time for children under the age of 2. That was what the American Academy of Pediatrics (AAP) had been advising since 1999, until it released new guidelines for kids and digital media consumption in October of last year. So just what are the new recommendations for the early literacy set, and how should they affect programming at libraries?
Brooke Newberry (early literacy librarian, LaCrosse [Wisc.] Public Library), Stephanie C. Prato (head of children's services, Simsbury [Conn.] Public Library), and Mary Schreiber (youth collection development specialist, Cuyahoga County [Ohio] Public Library) set out to clarify the revised standards for the under-18 months, 18–24 months, and 2–5 years groups, and provide actionable tips in an Association for Library Service to Children-sponsored session at the American Library Association's Annual Conference and Exhibition in Chicago on June 24.
"We can provide modeling and information to help [caregivers] make the best decisions for their families," Schreiber says of the library's role in disseminating the guidelines. The new recommendations state that children younger than 18 months—who learn by exploring through touching, tasting, and personal social interactions—are no longer banned from screen time, but digital media use should be limited to video chatting, such as to connect with relatives who don't live nearby. Children 18–24 months who view apps or videos need an adult, developmentally speaking, to act as their bridge between the digital and physical world and practice dialogic reading with them. And children 2–5 years—a group frequently targeted by apps marketed as "educational," though most are proved ineffective, and sometimes even detrimental to their growth—should have limited screen viewing time that comes from trusted sources such as Sesame Workshop and PBS. "We don't want to scare parents, but we as professionals should know what's ineffective," Schreiber says. "We're not there to shame them," she stresses, "but we have the opportunity to share some best practices."
"Some families might decide they don't want to expose their children to media at all, and that's fine," Prato adds.
Librarians can help parents navigate which apps and ebooks are of good quality, as well as develop their own family media plans, in which co-viewing and screen-free zones and times are prioritized. "What's most important is that parents be their child's 'media mentor,'" Schreiber says. Prato underscores these points, suggesting parent-child shared use of the device, incorporating other developmentally appropriate activities (such as talking, singing, reading, writing, and playing) while using a device, and supporting the media-use decisions that families make without judgment, even when it comes to marketing the library's own digital storytimes. "We don't want our flyers to sound preachy," Prato says. "Media mentorship is about building trust."
Digital storytimes at Prato's library allow her to model how to use iPads with kids. She threads songs and rhymes throughout the program, will use physical or digital flannel boards interchangeably, and uses mobile devices to enhance the material, such as playing the sounds a specific animal makes or introducing apps that record children's own narration. She also uses sites such as Little eLit, Digital Storytime, and the ALSC homepage to aid in making recommendations to caregivers. "Approach it as you would any type of readers' advisory," Prato says. Apps should be appropriate for a child's age, quality, and interests, and "great apps should support active as opposed to passive participation."
What do the new AAP recommendations mean for your library's physical space? "When we start to think about incorporating media into our children's room, it can be overwhelming," says Newberry. She suggests a room that showcases a mix of interactive activities–books, toys, and media–with a limited amount of furniture. "We want to be able to provide options," she says.
Newberry recommends curated apps, guided access, and child-appropriate seating in the children's room, but her library also has some of its own rules, such as making sure apps are easy enough for kids to figure out on their own, deciding to do away with headphones for devices to encourage caregiver co-viewing, removing iPads 1–3 p.m. daily to charge them and create a screen-free time period, and choosing apps that have some type of set ending. "We don't put Angry Birds on our iPads because we know kids would be there forever just leveling up," she says. Though, Newberry finds it's not necessarily a new digital device that will draw kids to your room. "It's exciting when you go somewhere and there's a new thing to play with," she says. "It doesn't have to cost a lot of money. Little tweaks."