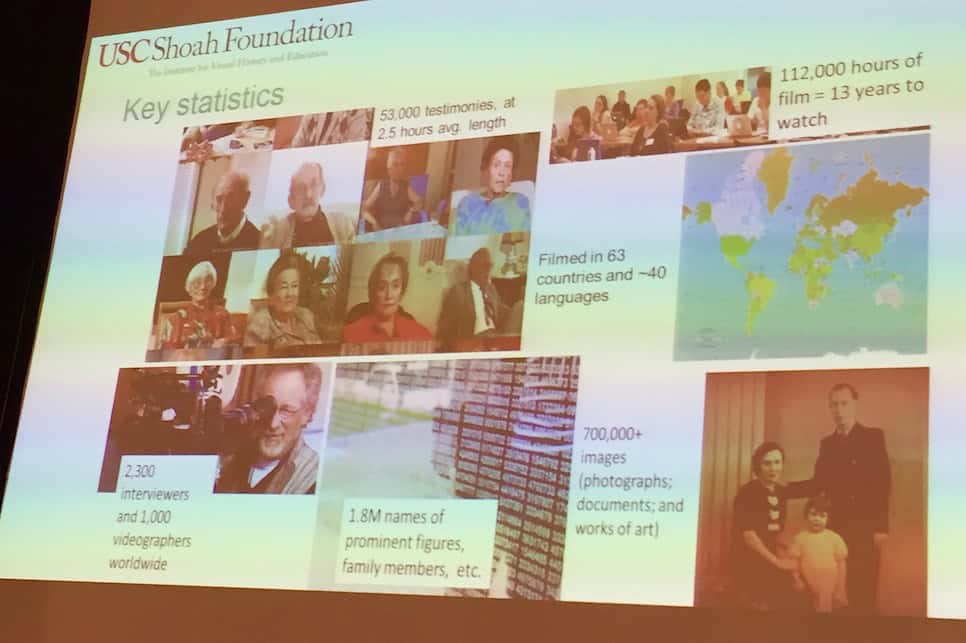 More than 53,000 primary source video testimonies from the University of Southern California's Shoah Foundation Institute for Visual History and Education's visual history archive (VHA) will be available on the ProQuest platform after July 1. The announcement came at a ProQuest breakfast on Saturday, June 25 at the ALA Annual Conference and Exhibition in Orlando, Florida, and detailed the extensive nature of the collection and the cataloging and methodology applied for librarians, researchers, students, and academics.
In seeking the partnership, the Shoah Foundation wanted to expand access of the testimonies from survivors, rescuers, political prisoners, and other witnesses from the Holocaust, the 1915 Armenian Genocide, the 1937 Nanjing Massacre, and the 1994 Rwandan Genocide. It was also looking to increase citations. With 112,000 hours of video that average two hours and 10 minutes each, it would take 13 years to watch in its entirety, according to Douglas Ballman, manager of external relations for the online archive. The archive covers 61 countries and has 37 languages currently searchable, appealing to a broad range of academic interests, from religious studies to linguistics and film studies, even music. ProQuest will be the exclusive distributor to the higher education world.
"It's important to remember the testimonies are full-life stories," Ballman said, so that both prewar and postwar experiences are covered, making it a rich repository of history.
ProQuest can provide transcripts of the testimonies, which can be viewed alongside the video and speaker's words, highlighted in red as they talk. The transcripts also mean there is closed captioning available. And since the VHA will be streaming, it eliminates the need for an Internet2 connection and cache servers.
The foundation' Executive Director Stephen Smith reported to ProQuest, "To get an idea of what a landmark moment this is for us, consider the fact that as recently as 2002, just four institutions had full access to the VHA. It took us 13 years to get to our current number of 53 subscribing institutions. Now we are poised to quadruple our current number within two years and project a 10-fold increase by our 25th anniversary in 2019."
To view some of the testimonials, visit the ProQuest page. For course material, visit libguides.usc.edu/vha.