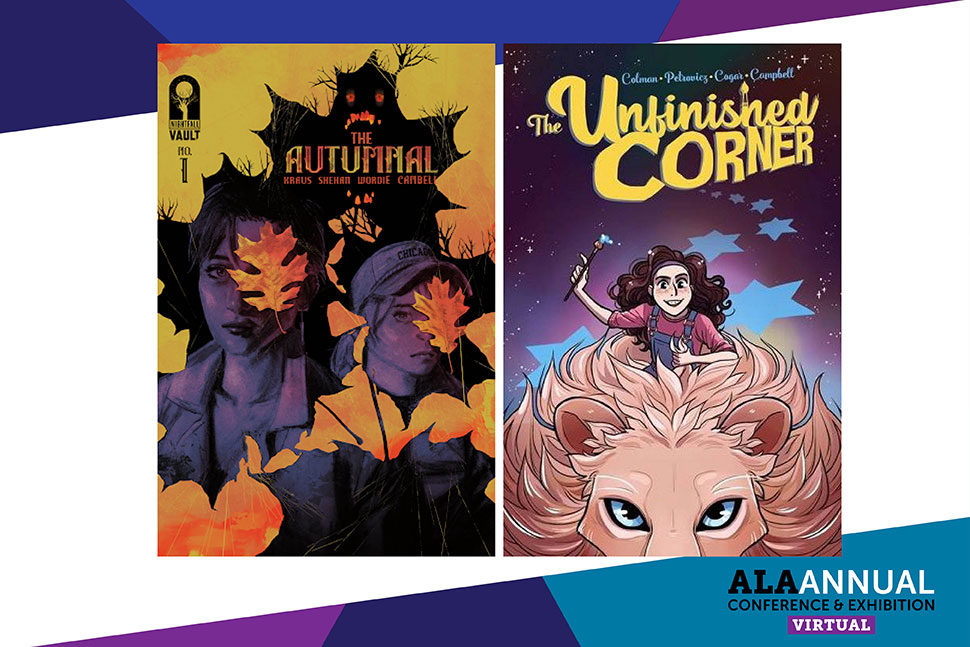 Comic books are the perfect medium for horror and fantasy. Unlike novels in the genre, the visual medium allows scares and wonders to transcend the reader's imagination and become "real" on the page. The best examples go even further, with subtext that can teach and reveal aspects of the human condition. Comic creators Dani Colman and Daniel Kraus discussed these elements in their latest works, at Escape Ordinary, an on-demand program at the 2021 ALA Annual Conference Virtual.
On the surface, Colman's graphic novel The Unfinished Corner (Wonderbound/Vault, 2021) is about four Jewish kids who are whisked away by a rogue angel to an unfinished portion of the universe to help rid it of evil, but the author said the book conveys much more.
"It's a sad, but undeniable fact, that whenever there is a period of upheaval or unrest, there is a corresponding rise in antisemitism," Colman said. "We have seen a lot of unrest over the past few years, crazy local politics, upsetting global events, rising income inequality, the climate crisis, the list goes on and on. And we have seen the expected rise in antisemitic hate crime, not just in the US but all over the world."
Colman said she wrote her book for Jewish kids who have grown up in a climate of being blamed for the world's ills and may be questioning their faith as a result. "As a kid, that's got to be really tough," she said. "What I wanted to bring into the world is a story of adventure in which Jewish kids and Jewish things are cool. They're exciting. They're imaginative. They're wild and off the wall.
"I want to take Jewish kids on an adventure that will allow them for a moment to forget what's going on in the real world and think of themselves as cool heroes," she said. "Because when you're part of a group that is persecuted, that is hated, that is demeaned for no reason, I think there's no better solution to that, no better boost to your confidence and your morale than to see yourself as the hero in a story."
Colman said she also wrote the book for non-Jewish kids, as well, with hope that it may prevent antisemitism in future generations. "It's frightening to think about children growing up learning to hate and learning to blame through no fault of their own, just through what they're exposed to," she said. "There's no better antidote to that, no better barrier against growing up into hate than storytelling. Storytelling is such a powerful force for empathy."
Kraus said that he pulled inspiration for his eight-issue comic series The Autumnal (Nightfall/Vault, 2021) from a childhood growing up in small-town Iowa. The author of the Zebulon Finch YA series and adult novels The Living Dead (Tor, 2020) and The Shape of Water (Feiwel & Friends, 2018), collaborations with filmmakers George A. Romero and Guillermo Del Toro, is no stranger to the horror genre, but The Autumnal is his first foray into comic books.
Kraus said he didn't read comic books as a kid because there were no comic shops in his hometown. He only owned three comic books growing up—gifts from his mother who brought them back after trips to bigger cities. The comics were the final books in the Marvel Super Heroes Secret Wars series from the mid 1980s, and Kraus said that these books in particular allowed him to develop a unique perspective on comic book narratives.
"Because they were the last three issues of a longer, more complicated series, I found them even more intriguing because I had no idea what was going on," he said. "I had to make up a lot of it and try to imagine what the heck could be happening in this story. I think that did help with my creativity.
"Having a minimal comics background, I really approached the story in a novelistic way," Kraus said. "I wanted to write something with a certain depth and maturity. This isn't a story with a lot of in-your-face supernatural activity happening. It's all quieter, a little more subtle. Tonally, it's an important alternate viewpoint to comics that booksellers and librarians may have in their collections."
The Autumnal is about a mother and daughter who leave their Chicago home under duress and take refuge in a small New England town called Comfort Notch, where the mother had lived briefly as a child. Comfort Notch seems idyllic at first, but soon the pair notice strange, ominous customs and rituals that run counter to the comfort that they feel there.
Kraus said that he was inspired by folk horror like the 1973 film The Wicker Man, but also his own hometown. "Because I grew up in this small town in the Midwest, I understand the isolation you can feel in those towns," he said. "Especially pre-internet, there was a literal isolation. You could not reach out to other people who weren't like you, unless they were in your immediate vicinity. To this day, whenever I drive by a small farmhouse on the side of the interstate, I always think, 'There could be anything going on in that house, and we'd never know.' There's a spookiness there that I respond to."