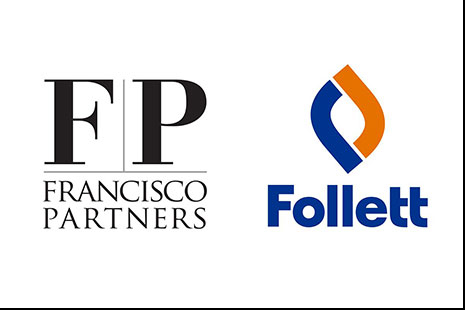 On September 1, Francisco Partners, a private equity investment firm, announced it had acquired Follett School Solutions.
Follett School Solutions' products include the Destiny Library Manager used by many US K–12 school libraries, the Aspen Student Information System, and the Titlewave ecommerce platform, which it uses to distribute print and digital content for educational institutions. The company was acquired from Follett Corporation, a family-owned business based in Westchester, Illinois.
While divesting its Follett School Solutions division, Follett Corporation retains ownership of Baker & Taylor, a major supplier of books and other content to libraries, as well as Follett Higher Education, which operates college bookstores and virtual storefronts.
Follett School Solutions employed 1,500 out of a total of 9,000 employees of Follett Corporation. It ranks as one of the largest companies in the library technology sector, with its products implemented in more than 75,000 schools.
A new structure
Through the acquisition, Francisco Partners has appointed a new board of directors to oversee the company, which is retaining its name though it will have no direct involvement with Follett Corporation going forward. Follett School Solutions' executive leadership and entire workforce have been retained, and the company will continue to be headquartered in McHenry, Illinois.
The new company will be led by two chief executive officers, both of whom will report to the new board. Britten Follett, a fourth-generation member of the Follett family, exits Follett Corporation and will serve as CEO of content for Follett School Solutions. Paul Ilse, an operating partner for Francisco Partners and former CEO of Charlotte, North Carolina–based Discovery Education, will serve as CEO of technology.
A consolidated EdTech sector
Francisco Partners, a major private equity firm with more than $25 billion in assets under management, invests in technology companies that span many industries, including health care, financial services, and technical infrastructure.
In the educational technology sector, Francisco Partners' portfolio includes Renaissance, which specializes in learning analytics for pre-K–12 schools (acquired in July 2018); Discovery Education, which provides print and digital textbooks and curriculum materials (majority ownership acquired February 2018); Mystery Science, which provides K–5 STEM curriculum content (acquired via Discovery Education Oct 2020); Freckle Education, which offers online lessons, exercises, and assessments for math, language arts, social studies, and science (acquired by Renaissance in May 2019); and VitalSource Technologies, an education technology and digital content company (acquired from Ingram Content Group in April 2021).
In 2006, Francisco Partners acquired Ex Libris, launching the firm toward its current strong position in the library technology industry. The acquisition, along with its follow-on acquisition of Endeavor Information Systems, led to the development of the Primo and Alma library services platforms. Through a succession of other private equity transitions, Ex Libris became the dominant provider of technology products to academic and research libraries and was acquired by ProQuest in 2015.
Francisco Partners states that it does not plan to fold Follett School Solutions into any of its other educational technology business and will operate it as an independent company. It may bring new business or technology assets to strengthen its acquisition, a common strategy among investment firms and one that Francisco Partners used with Ex Libris.
The present and Destiny
The market share for Destiny among US school libraries is higher than the market share captured by any other company in the library sector. For example, out of the roughly 100,000 school libraries in the US, about 75,000 use Destiny. By comparison, ProQuest holds a 53% market share among all US academic libraries when counting all its resource management products (Aleph, Alma, Sierra, and Voyager).
As the dominant provider of library management solutions for K–12 libraries in the US, Follett School Solutions' change of ownership warrants attention. The deal does not result in additional market consolidation. It does not reduce the number of players in the library technology industry, nor does it narrow the products available.
Destiny, its flagship product, has achieved an impressive customer base in the US K–12 sector and continues to see strong sales. The divestment signals that Follett Corporation was not positioned to take the business forward to its expected potential.
The sale to Francisco Partners brings two important resources: investment and expertise. The firm will be able to infuse additional funds into the company to accelerate its development strategy and to expand its market position. Since it concentrates entirely on technology-focused firms, Francisco Partners brings substantial experience in working with its companies to refine and execute product development strategies.
Going forward, expected changes might include more aggressive product development strategies, with initial focus on products such as MyDestiny and Destiny Discovery Engage. The new company also appears well positioned to expand marketing its products beyond the established presence in the US and Canada. Other possible moves include tapping into technologies and educational content—such as learning analytics or additional digital curriculum resources—through other Francisco Partners portfolio companies.
For Follett School Solutions, the future looks to hold more ambitious business strategies and faster technical development than what it could have accomplished through the more conservative business processes typical of large family-owned businesses like Follett Corporation.
While Follett Corporation's move to jettison one of its major business divisions was unexpected, Francisco Partners has a history of strengthening the prospects of companies in the educational technology sector.