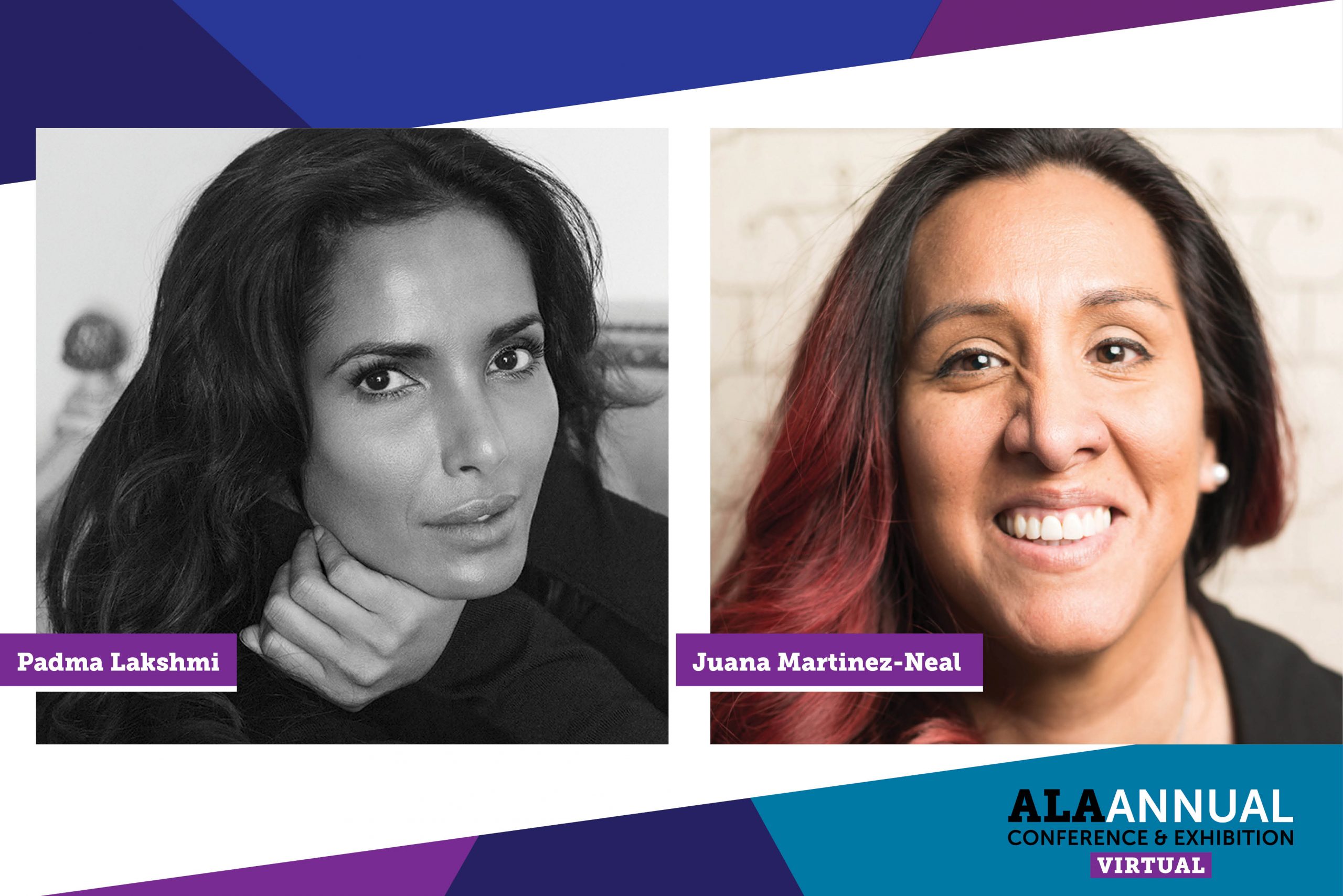 Padma Lakshmi is a model, activist, cookbook author, and television host, perhaps best known for helming Top Chef and Taste the Nation with Padma Lakshmi. This summer, she'll add a new credit to her impressive résumé: children's book author.
On its surface, Tomatoes for Neela (Penguin Young Readers, August), tells the story of a young Indian-American girl named Neela who collects "plump, juicy plum tomatoes" with her paati (grandmother) to make a sauce. But the picture book, illustrated by Peruvian-American mixed-media artist Juana Martinez-Neal (whose art earned her the 2020 Sibert Medal for Fry Bread: A Native American Family Story), delves into much more nuanced territory, covering the seasonality of produce, preservation of ancestral knowledge, agricultural history, and even certain developmental skills.
"It's part of a story that I used to make up and tell different versions of to my own daughter, Krishna," Lakshmi told viewers of her June 26 session at the American Library Association's 2021 Annual Conference and Exhibition Virtual. "She came back one day from her father's house and said 'I want pomegranates!' And it was July." Lakshmi explained to her daughter that pomegranates are a cold-weather fruit, whereas tomatoes ripen in summer. "It occurred to me that one of the collateral effects of living in a land of plenty, as we do, is that we don't know anymore when things grow and when we're supposed to eat them," she said.

On top of that lesson, Lakshmi and Martinez-Neal sought to create a book that would encourage cooking, recipe-writing, the sharing of family stories, togetherness, and listening to one's elders. "The passing on of stories along with recipes, I think, is key to the book," said Martinez-Neal.

It was Martinez-Neal who suggested that the book's illustrations show the people who harvest food. "[Last year], images started coming out of farmworkers with makeshift masks still picking fruit during these horrible, horrible fires," said Martinez-Neal, referring to the wildfires that ravaged the West Coast in 2020. The book honors their labor and includes a passage about civil rights activists Cesar Chavez and Dolores Huerta for context. Adds Lakshmi: "It was very important [to include], but very important to get it right."

Lakshmi also sees the book, immersive in its love for fresh, whole foods, as one that can encourage better eating habits among children. "Kids who have a hand in making their own food feel pride and feel proprietorship over it, they want to eat it more," she said. "If we develop a respect for that practice, it bleeds into so much else of that human being's life…. Anything that we celebrate or share together is done over the ritual of food."

For Lakshmi, recipes themselves have many functions. They are an invaluable way to teach children, whether the lesson is fractions, spelling, or following a series of instructions, she pointed out—but she also sees them as a vehicle to capture community heritage. "A lot of regional places in America used to have elementary school cookbooks," or those produced by "little 4-H clubs or PTA associations," she said. "Those recipes are jewels…. A history of a people at the most regional, local level." She fondly recalled how, when she went to visit the late US Supreme Court Justice Ruth Bader Ginsburg, she was shown a copy of a cookbook that the other justices' spouses put together as a gift for Ginsburg's husband, who liked to cook.

Lakshmi's own culinary path has been heavily influenced by her family. "My grandfather taught me a love of books and my grandmother taught me a love of food," she said. "That's why I'm a cookbook author, because it's the synthesis of two of the most important totems of my childhood."

As for food memories, Lakshmi and Martinez-Neal—perhaps surprisingly—both have a specific affinity for papa a la huancaína, a Peruvian appetizer dish consisting of boiled potatoes, hardboiled eggs, and a creamy sauce. Martinez-Neal grew up with the dish in Peru, while Lakshmi was taught how to cook it by her Peruvian babysitter while growing up in Queens, New York.
"[With papa a la huancaína], I remember vividly peeling the hot potatoes," said Martinez-Neal. "Food stories don't start with the food itself, they start way before at the market or where you go to pick up the fish."