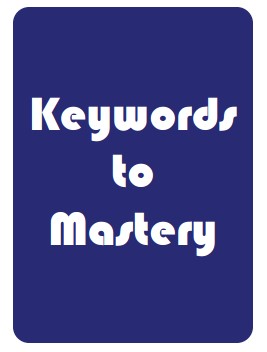 "Why not low tech?" asked Tiffany Baglier, education librarian at the University of Florida in Gainesville. She was speaking about gaming and library instruction at the American Library Association's (ALA) Annual Conference and Exhibition June 25. "When we think of gaming," she continued, "we automatically think of video games, but those involve extensive time and resources."
Instead, Baglier and her colleague, associate university librarian Michelle Leonard, have developed a simple card game called Keywords to Mastery to help their students connect the right keywords to topics and find appropriate library resources.
This interactive session, sponsored by ALA's Games and Gaming Round Table, introduced Keywords to Mastery to attendees, who were broken up into groups of six to play. The game involves 45 assignment cards and 230 keyword cards.
Moving in clockwise order, one player draws an assignment card that states a research question or topic as well as one or more keyword blanks. The remaining players are each dealt five keyword cards and asked to play the card they consider most appropriate to the assignment card. Players draw the number of keyword cards played (they should always have five cards each). The "assignment sharer" reads the keyword cards played and chooses a winner, who receives a point. The player with the most points after 12 rounds wins.
The hands-on activity created collaborative conversation among group members, and the game's value of promoting critical thinking quickly became obvious. The assignment sharer's winning choice can be challenged, generating a scholarly discussion on what that specific keyword infers in the given context of the research assignment.
Baglier and Leonard then challenged each group to create their own mini mastery game by coming up with a few research topics and keywords. The presenters concluded the session by allowing each group to play a different group's mini game.
Instructions to Keywords to Mastery are available here.