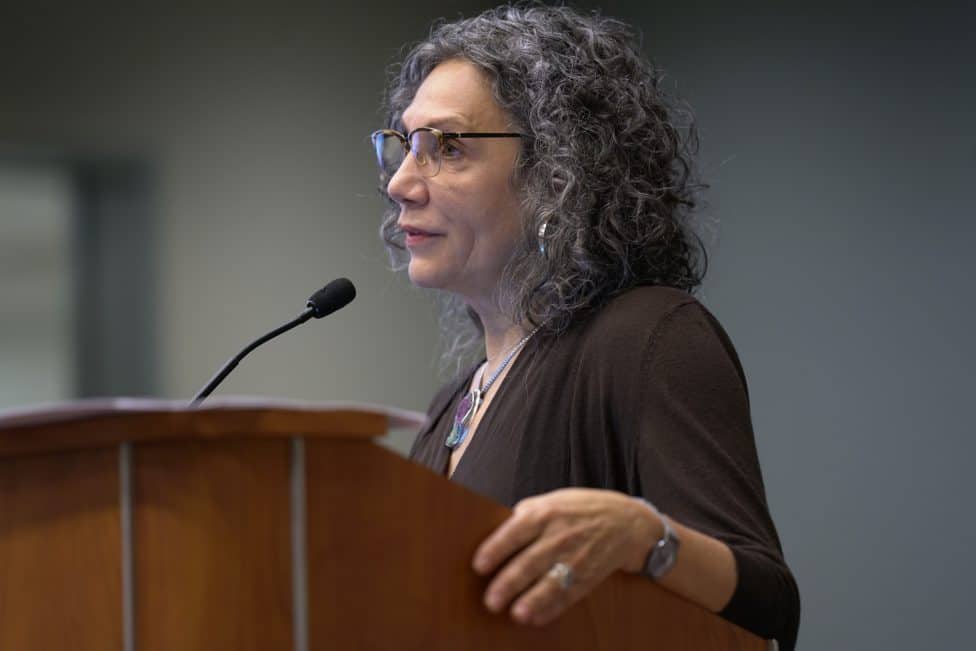 At the June 24 "OCLC Research Update: Active Engagement," three OCLC staff members presented an overview of recent findings, trends, and action items from the 18,000-member nonprofit library cooperative.
As part of the News You Can Use series at the American Library Association's 2019 Annual Conference and Exhibition in Washington, D.C., the program opened with Andrew Pace, executive director for technical research, who highlighted three reports: (1) findings from a global survey on how research institutions worldwide are applying information management practices; (2) a look at how changes in US higher education are affecting academic libraries; and an examination of Canada's contributions to literature, music, film, and other forms of creative expression found in the collections of libraries internationally.
Pace also highlighted initiatives from WebJunction, a learning program that's part of OCLC Research. One of its initiatives, the new course Supercharged Storytimes, helps train library workers to apply research-based practices aimed at boosting early literacy in young children attending library storytime. Another training program, Wikipedia + Libraries: Better Together, aims to help libraries leverage Wikipedia to better serve their communities. The project will be expanded to Mexico thanks to a recent $30,000 grant from the Wikimedia Foundation as part of its New Readers initiative.
OCLC's Wikipedia + Libraries training program will also be customized for the National Network of Libraries of Medicine (NNLM) to provide information about health and medical topics. Online courses will begin this fall for all library types in advance of an NNLM edit-a-thon.
To move from idea to prototype, Pace said he and his colleagues have a five-step approach:
Start with a mission statement to get everyone on the same page.
Work on a one-page lean canvas instead of a full business plan. ("It's really a sniff test," Pace said.)
Put the band together.
Set team expectations and demand participation. ("There were no lurkers in our group…. Most importantly, we set an end date for experimentation.")
Accept the outcome. ("Not every idea is a winner. You want to fail fast and move on.")
Bonus step: Make it repeatable.
Lynn Silipigni Connaway, OCLC's director of library trends and user research, spoke next. Among other things, Connaway reported on the progress of case study research of public libraries responding to the opioid crisis. The project, in partnership with the Public Library Association, will look at eight libraries and the types of programming and collaborations that are enabling them to meet community needs.
The eight libraries are: Barrington (R.I.) Public Library; Blount County (Tenn.) County Public Library; Everett (Wash.) Public Library; Kalamazoo (Mich.) Public Library; New Orleans Public Library; Peoria (Ill.) Public Library; Salt Lake County Library; and Twinsburg (Ohio) Public Library.
Day-and-a-half onsite visits and interviews were conducted to compile each case study. Interviews included frontline library staff and library directors, as well as community partners like social service agencies, health departments, and community members, including individuals who have used the services in some way, such as recovering opioid addicts or their family members.
Chela Scott Weber, senior program officer of Research Library Partnership, spoke next about her group's work in the area of archives and special collections in research libraries. She focused on specific areas of investigation:
Looking at the convergence of special collections and the research library
Advocating for archives and special collections
Exploring next steps for born digital
Addressing audio-visual collections
Exploring the evolving systems environments in special collections
Discussing the stewardship responsibility and collection management
Engaging in the challenge of diversifying collections
"The evolving scholarly record means that general collections are adding things that look much more like special collections," Weber said, "including things like data sets [and] gray and ephemeral literature. And all areas of libraries are grappling with how to provide discovery and access to these increasingly diverse collections."