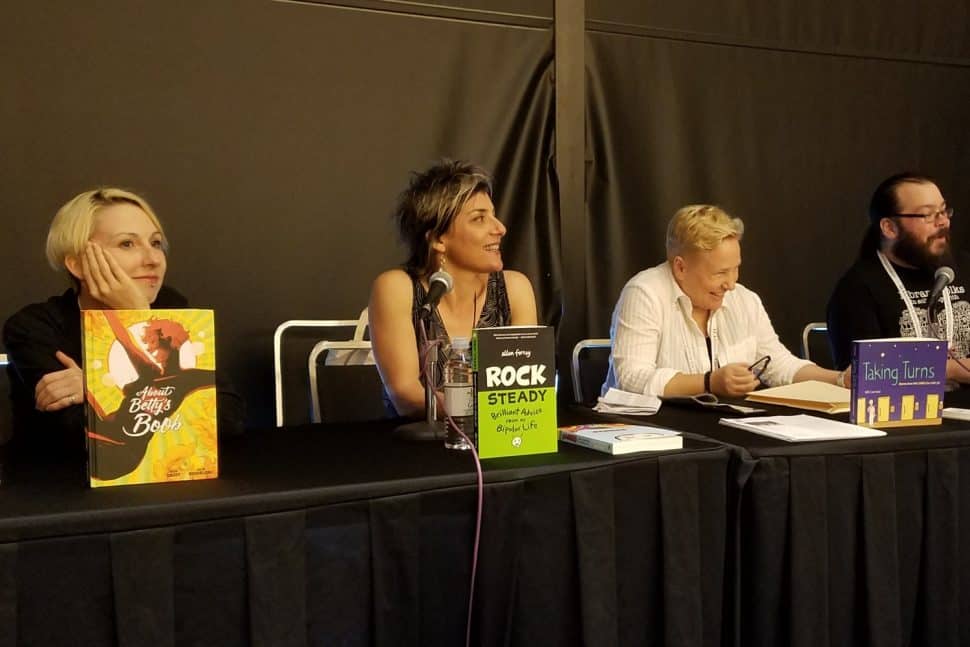 "I can't really draw, but that doesn't stop you from doing graphic medicine," said MK Czerwiec, a nurse turned cartoonist and panelist at the American Library Association Annual Conference in New Orleans on June 23. She defined "graphic medicine" as using the medium of comics as part of the discourse around health care.
Czerwiec, senior fellow of the George Washington School of Nursing Center for Health Policy and Media Engagement and the Artist-in-Residence at Northwestern Feinberg School of Medicine, started making comics as a way to process her emotions and take care of herself while working in an AIDS ward in Chicago in the 1980s and 1990s. She is the artist and author of Taking Turns: Stories from HIV/AIDS Care Unit 371 (Penn State University Press, 2017).
At first she planned to hide behind her medical authority in this book and make it academic, but in the end she had to make it personal and add her own experience.
Another panelist, Ellen Forney, has been a professional cartoonist since 1992. She was diagnosed with bipolar disorder in 1998 while doing a weekly comic strip, but felt she needed to stabilize her health first and "come out" about her diagnosis later, a process she documented in her comic memoir Marbles: Mania, Depression, Michelangelo, and Me (Gotham Books, 2012). She used her journals as well as her medication history as inspiration.
"Having a sense of humor is so important in dealing with difficult things," she said.
Forney was unaware of graphic medicine at the time she was writing, but telling the story of her health visually made the most sense to her. Her current book, Rock Steady, is an illustrated advice book for living with mood disorders, inspired by feedback from readers. "A lot of readers told me they used Marbles like a manual, so I figured that would be the next thing that I do."
Julie Rocheleau was asked to illustrate Vero Cazot's About Betty's Boob (Simon & Schuster, 2018), a fictional story about a woman surviving a cancer diagnosis, like romantic comedy but with no dialogue. She described the art as "not very medical looking" and more like a Buster Keaton movie. She said the book is about what comes after trauma, not so much about the cancer itself.
Czerwiec noted that readers have a much wider range of graphics novels and comics about medical issues than when she first started her comics. Her organization's website graphicmedicine.org can help librarians find appropriate books for patrons dealing with illness in themselves or loved ones.