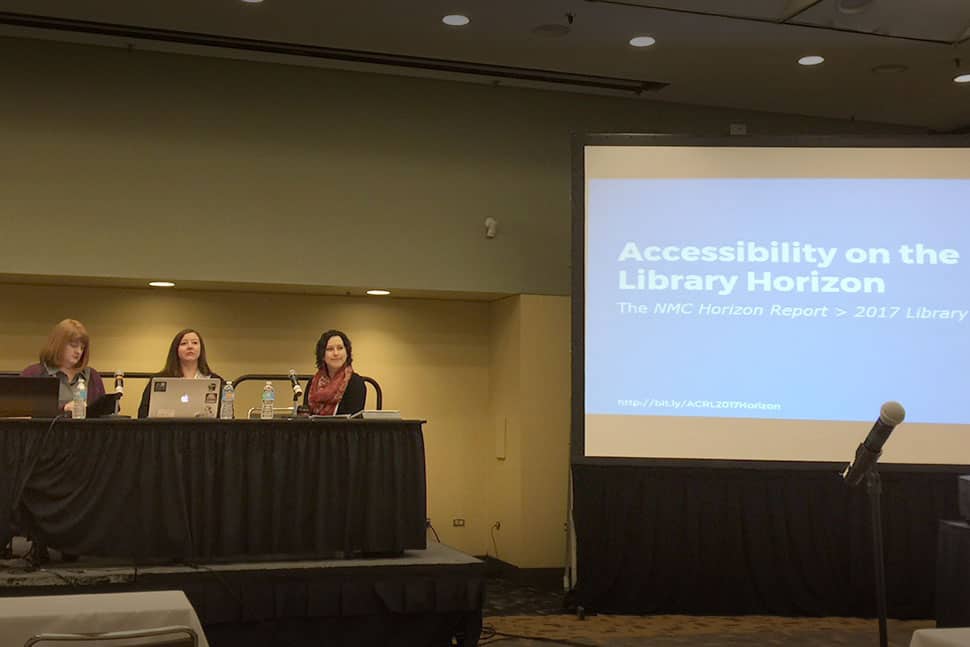 The New Media Consortium (NMC) Horizon Report: 2017 Library Edition was released at the ACRL conference in Baltimore March 23. The report identifies six tech trends and challenges that will impact academic libraries in the short, mid, and long term, including:
Big Data
Digital scholarship
Library services platforms (LSPs)
Online identity
Artificial intelligence
The "internet of things"
These trends will certainly shape the way students and librarians interact with library resources. How will they affect accessibility?
Melissa Green, academic technologies instruction librarian at the University of Alabama, Rachel Thompson, director of emerging technology and accessibility at the University of Alabama, and Melissa Mallon, director of the Peabody Library at Vanderbilt University explored the implications of these six trends on accessibility, identifying the ways each will transform teaching and learning, as well as how they can potentially enhance or diminish accessibility.
In the near-term, defined in the report as within the next two years, the major identified trends are Big Data and digital scholarship.
Big Data, the massive amounts of information generated by the actions of internet users, are giving campuses new ways to examine student behaviors and predict their needs, as well as providing new pathways to research. What's more, recent technological advances are making working with, displaying, and digesting big data even easier.
The presenters noted that Big Data can enhance accessibility as it provides a means to explore new ways to comprehend data relationships, and it demonstrates areas of concern and opportunity for services. It also offers much broader access to materials. Developments in Big Data are providing new ways to reach visual learners.
The use of Big Data does bring forth significant privacy concerns, and the strong emphasis on visual representations of Big Data projects can exclude some library users. Additionally there is a challenge to provide an equivalent experience for users without access to such innovative tools.
The expansion of scholarship into the digital realm is providing new opportunities as inquiry and curation move into the online sphere, opening new areas of study. This development can engage learners who may have difficulties with traditional classroom practice. It can also bring together people with disabilities in communities of learning that would otherwise find difficulty meeting face to face.
While the development of digital scholarship is a promising development, the panel warned that, it is essential that access for all is built into the development process of tools for it—something that not all vendors bear in mind when creating new products.
Mid-term developments predicted by the NMC report were the continued emergence of library services platforms (LSPs) and online identities. LSPs are gradually replacing library management systems, facilitating access and cloud-based platforms, giving libraries and greater flexibility through API integration.
The panel observed, however, that reliance on API integration isn't entirely fair as it places the burden on libraries.
"We want to see it come out of the box," said Green. The panel also observed that vendors need to acknowledge universal design for learning (UDL) as they develop tools and resources.
Online identity, noted as a "social media technology" in the report, is providing opportunities for growth in accessibility. The creation of avatars or alternate identities can give students the opportunity to create anonymity or flexibility and choose what aspect of their lives they want to share online. It also enables the creation of a single login to multiple resources.
The increasing use of online identity has some pitfalls for accessibility, however, as password security depends on methods such as CAPTCHA, which are inaccessible to those with visual impairment.
Long-term developments (3–5 years) in the report include the increased use of artificial intelligence and the so-called internet of things.
Artificial Intelligence (AI) is becoming more prominent as technologies such as voice recognition, image identification, natural language processing, expert systems, neural networks, robotics, and intelligent agents continue to evolve. As AI becomes more commonplace, libraries will see more sophisticated databases and search engines, personalization of services, bots, virtual reality, simulations, and gamification.
While AI has much promise, the panel observed that its use in intelligent tutoring and adaptive learning may not an effective approach for students who don't test well and that the accessibility of the technology itself may be limited, particularly for those who use adaptive technology such as screen readers.
The internet of things, or the network of connected objects that link the physical world the internet continues to grow, particularly as integrating connectivity components becomes more affordable.
The panel observed that a number of colleges already are using this increasingly commonplace technology. One of the most prominent uses of the internet of things in libraries are Bluetooth beacons that can notify a nearby Bluetooth-enabled device and transmit information relevant to the immediate physical area, such as elevator outages, accessible entrances, and service advisories.
The major concern with this development is the digital divide, as this technology is geared more toward the bring-your-own-device (BYOD) approach; not all users have access to this technology.
More information from the presenters can be found at accessibility.ua.edu/acrl.
Updated March 28, 2017