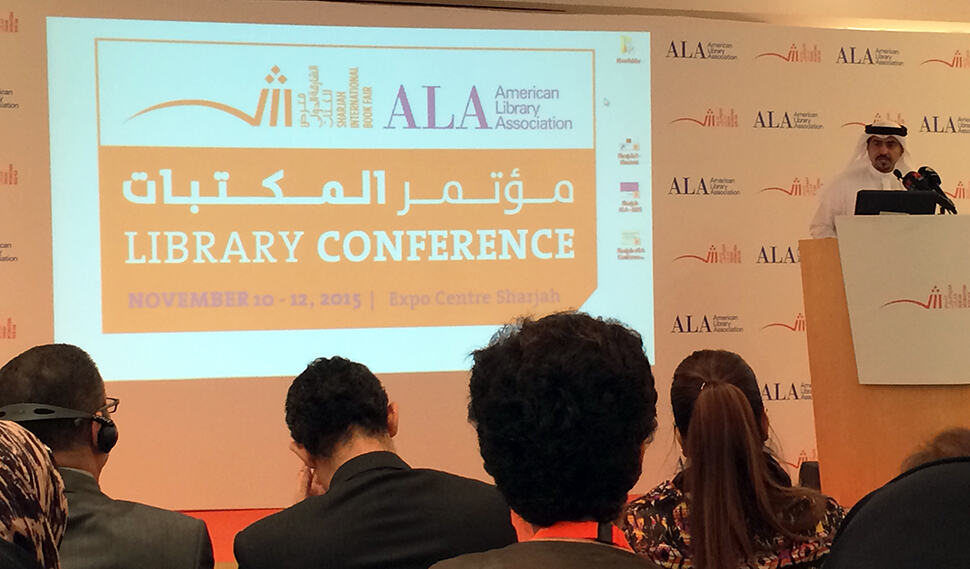 Plans are under way for the third American Library Association (ALA) Library Conference at the 35th Sharjah International Book Fair (SIBF), to be held November 8–10, 2016, at the Expo Center in Sharjah, United Arab Emirates. The conference will offer programs, in-depth preconference institutes, and a poster session on a wide range of topics for librarians from academic, public, school, government, and special libraries.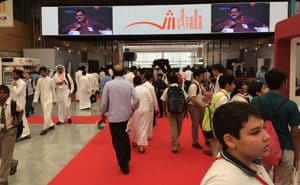 The roster of keynote speakers includes ALA President Julie B. Todaro, who will focus on "The Expert in the Library," and Center for the Future of Libraries Director Miguel Figueroa, who will discuss societal trends and managing change in libraries.
But what happens when you transplant an ALA conference into an Arabic country? The answer: Conversations about reading, technology, children's services, faculty research, user services, and library architecture become enriched by multinational perspectives. Diverse, lively exchanges are the best way to describe the ambiance of this event.
From 2006 to 2010, I was dean of library and learning resources at Zayed University in Abu Dhabi and Dubai, neighboring emirates to Sharjah. I lived in the midst of nations developing their libraries as they built their own governance infrastructures. A Westerner hired to serve as an expert, I was learning and leading at the same time.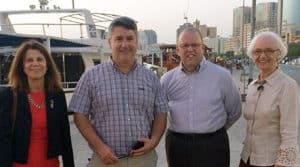 Participating in the second ALA Library Conference at SIBF in November 2015 brought me full circle. I was able to present and discuss my research in the very setting where it germinated, and I became the unofficial tour guide for library colleagues from the US who had never before visited the Middle East—such as then–ALA President Sari Feldman, ALA Executive Board member James Neal and his wife Fran, and Marquette University Head of Information Technology Edward Sanchez. Hearing their reactions, I saw familiar sights in new ways as we walked along both sides of Dubai Creek the afternoon before the conference.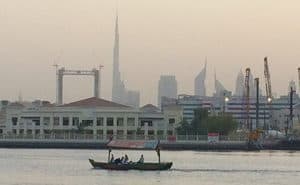 We started in Deira, the commercial center of Dubai, passing the traditional wooden dhows still carrying freight through the Gulf and into the Indian Ocean. We moseyed along the docks and through the marketplace where the vendors and buyers were as interesting as the plentiful goods for sale. We crossed the creek on the abra, the open-air water taxi that transports 20 people per trip for the equivalent of 25 cents each. The late afternoon November temperatures were 94°F (35°C), so we refreshed our palates with lemon mint drinks at the Blue Barjeel dockside restaurant before we explored shops, shrines, and alleys in the historic district of Bur Dubai.
During the conference, nearly 300 information professionals from 20 countries shared their passion for reading and getting information into the hands of those who need it. They gathered to greet and meet, sharing ideas and mutual interests in the halls, coffee alcoves, exhibit aisles, and full-to-overflowing Librarians Lounge.
Presentation and poster topics included teacher-librarians and services to children and young adults, public libraries as cultural hubs, adapting library services to mobile apps, research roles of academic libraries, using Big Data and technology to assess services, advocating for libraries and sharing resources in a consortium environment.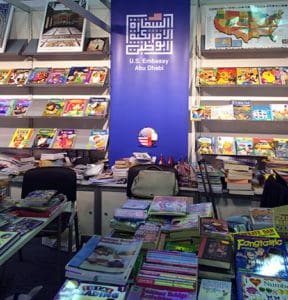 All ALA conference activities ran concurrently with the large, busy book fair. The inviting, modern Sharjah Expo Centre was abuzz with publishers, educators, information professionals, and one group of schoolchildren after another.
SIBF is emerging as the largest book fair in the Gulf. Sharjah Book Authority Chairman Ahmed Al Ameri is eager to provide professional development opportunities to library workers in the region and raise the visibility of libraries. He rightfully envisions the event as an innovative complement to the ever-growing book fair.
"Our ongoing collaboration with ALA is helping us in our efforts to be an international leader among regional book fairs and allows us to promote our shared commitment to the love of the written word and its creation," Al Ameri said in his welcome to conference attendees.
ALA's participation is coordinated by Michael Dowling, director of the ALA International Relations Office; Mary Mackay, director of ALA Marketing; Jon Malinowski, president of Combined Book Exhibit; and Janet Fritsch, SIBF coordinator.
Registration is now open for the 2016 ALA Conference in Sharjah, and there is still time to submit a proposal for a poster session (the deadline is September 22). If you go, be sure to take advantage of the Librarians' Lounge, a relaxing space to meet colleagues, hold small meetings, and take a break. ALA members will need their ALA ID numbers to register and get the member discount. If you are not an ALA member, email Delin Guerra at dguerra@ala.org to get a special number. Include your first name, last name, email address, and street address in the email.
Save
Save
Save
Save
Save