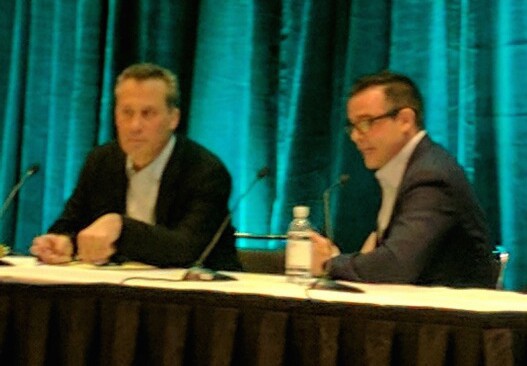 Over and over again, the second day of the Symposium on the Future of Libraries reaffirmed a sense that our world is getting closer. That message was especially clear through the morning's plenary sessions with civic innovators. Marian Liou, founder of We Love BuHi, shared insights from her journey helping to transform Buford Highway from a "big ugly scar of a road from Atlanta to Buford" into a place that residents truly love. (Read more from Liou and Kyle Kessler of the Atlanta Center for Civic Innovation in Erika L. Jenns's report.)
Liou's presentation was a perfect follow-up to the city-wide vision of the Atlanta Beltline described by Ryan Gravel during Saturday's Arthur Curley Lecture, showing how small investments in the assets neighborhoods already have can make a big difference. Liou's vision for Buford Highway builds on a fundamental belief that the area is special because of its people and their stories, but what great places do is "get people to fall in love with themselves and with their place, to see value in themselves and their lives in a way they may not have before."
New York Public Library President and CEO Anthony Marx and Chicago Public Library Commissioner and CEO Brian Bannon had a conversation about libraries' important role as civic spaces in difficult and sometime fracturing times. Our core efforts providing quality content to communities and the world, promoting access and connectivity, and teaching the public to leverage technology for their personal fulfillment help build a collaborative digital future rooted in digital equity. NYPL's efforts to make digital content more accessible include the IMLS-funded SimplyE app, designed to continually improve the ebook browsing, borrowing, and reading experience across ebook platforms with recommendations curated by librarians.
In "School Libraries as Global Educators," Andy Plemmons, school library media specialist at David C. Barrow Elementary School in Athens, Georgia, shared several examples of how he and his students use technology to bring themselves closer together with experts and peers around the world. From Skyping with Rube Goldberg's granddaughter to facilitating a video conference between a professor from Cornell University's Lab of Ornithology and a budding middle-school ornithology expert, Plemmons showed new ways to open the classroom learning experience to conversations with established and emerging experts. While Plemmons invests time cultivating in-person guests, including children's authors and illustrators, he has also experienced the serendipity of social media—sharing news of what his students are learning in the school library and having his conversations reach big name speakers willing to volunteer their time and get involved in virtual drop-in sessions.
Sustainability expert Rebekkah Smith Aldrich, coordinator for library sustainability at the Mid-Hudson Library System in Poughkeepsie, New York, says she will talk to anyone with 5 minutes to spare about sustainability. During her "Sustainable Thinking for the Future of Libraries" presentation, she brought together big ideas for how disruptive factors in the environment, politics, society, technology, and more make it imperative that librarians explore the values that we hold and express those to empower, engage, and energize their libraries and communities. Using a "triple bottom line" test—is this environmentally sound, economically feasible, and socially equitable?—librarians can ensure that the most important bases are covered as they make decisions about services, buildings and (hopefully) the community beyond the library walls. One of her key messages is that in all times, and especially times of crisis, libraries are one of the most important places in each community to not just respond, rebuild, and restore—and to thrive and endure. Aldrich sees libraries' potential as "first restorers" identifying the strategies most beneficial to help build a community that is resilient to obstacles and ultimately regenerative in bringing new, energetic life to the community. For those interested in more, Aldrich pointed attendees to the Sustainability Round Table.
Virtual reality has been big news this past year, especially as it has become a major tool for news, information, and education. Clemson University's Matthew Boyer and Stephen Moysey shared insights from a National Science Foundation project in their session "Immersive and Interactive: Virtual Reality in a Contextually-rich Learning Environment." Boyer and Moysey believe in "emancipating VR," using simpler approaches like Google Streetview and online services such as Thinglink to stitch images together into richer experiences, creating an accessible on-ramp for simple and quick VR. (Read more in Erika L. Jenns's report.)
Civic engagement was a hot topic throughout the symposium, including Amita Lonial and Amy Koester's "Building Civic Engagement with a Civic Lab" session, based on their experiences with the CIVIC LAB at Skokie Public Library. Realizing that one-off civic engagement programs weren't having a lasting impact on attendees, SPL converted its boutique space to highlight six areas of civic engagement with micro-collections, resource lists, and interactive activities like a passive voting wall and postcard writing station. As patron interest grew, the library expanded the lab to include Together at the Table (an invitation to community members to break bread with neighbors and spark conversations) and Dear Elected Official (a resource-based conversation about reaching out to local, state, and federal representatives). Lonial and Koester noted several key takeaways from their work, including greater appreciation for customers' interest in resource-based conversations around topics they see in the news; the value of including staff in conversations by serving as facilitators and conveners; and the importance of developing new topics for conversation and connecting them to previous topics.
In their call to arms and call for allies, four reading ecosystem revolutionaries—Veronda Pitchford of Reaching Across Illinois Library System, Mitchell Davis of BiblioLabs, Paula MacKinnon of Califa, and Steve Spohn of Massachusetts Library System—showed how they are applying print solutions to digital problems for econtent in libraries. Working with and through ebook platform vendors, libraries, authors, publishers, and distributors, the four are trying new models that support libraries in delivering econtent to the public. Leveraging library professionals' knowledge of what people need and read, libraries can deliver unique content to the public. But this requires a transformation in our collective roles, from vendors to partners, to work together on issues that our industries face in serving the reader. The presenters have pushed for libraries' voice at the table as content providers develop new solutions and see greater strength in collaborating across consortia to experiment and innovate with ebook projects and work with vendors on improving the reader experience. New relationships with publisher partners such as the Independent Publishers Group (IPG) and negotiations with publishers and software companies for better user experience help recognize the fact that most readers are both retail and library users, so working together is in everyone's benefit.
Carson Block, Carson Block Consulting; Mary Mackay, ALA Marketing Director; Kate McNair, Teen Services Coordinating Librarian, Johnson County Library; Chase Ollis, ACRL Program Coordinator for Member Services; and Veronda Pitchford, Director of Membership Development and Resource Sharing, Reaching Across Illinois Library System, contributed to this report.
Save