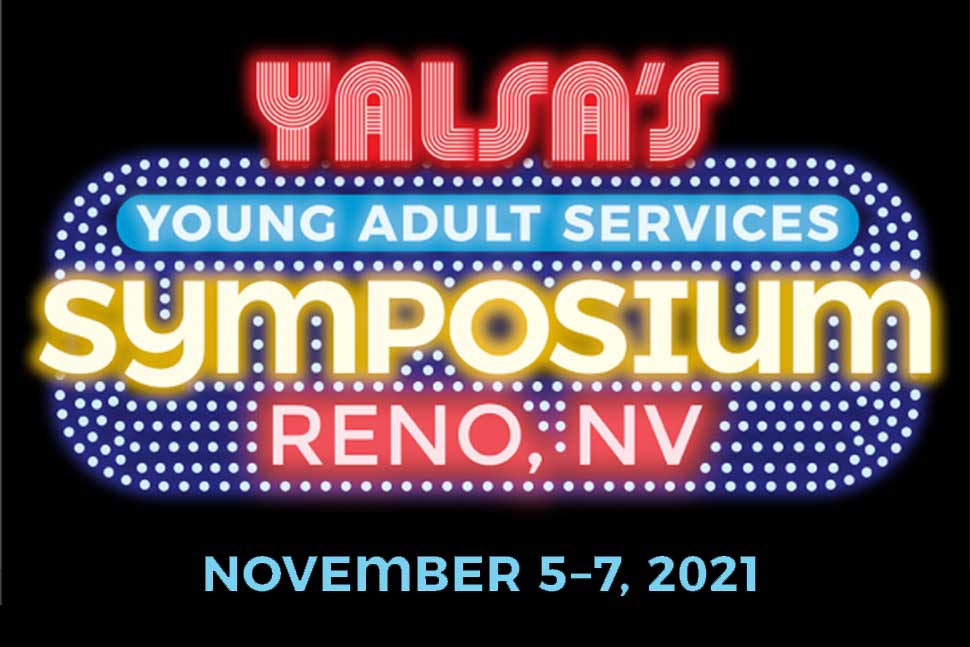 After taking its conference virtual in 2020, the Young Adult Library Services Association (YALSA) turned to a hybrid symposium this year, featuring practical approaches, expert findings, and extensive resources for youth-serving library staffers. The 2021 YALSA Symposium (November 5–7) offered both online learning opportunities and an in-person experience in Reno, Nevada, with sessions covering such topics as teen mental health and teen-led podcasts. Focused on the theme "Biggest Little Safe Spaces," this year's sessions were full of insight and innovation.
Creating safety
At "Safe Haven: Creating Safe Education Spaces That Destigmatize the Teen Mental Health Experience," authors Rocky Callen and Nora Shalaway Carpenter—coeditors of Ab(solutely) Normal, a YA anthology of mental health fiction slated for 2023—moderated a panel that examined how youth and teen services staffers can support teen mental health. Callen and Carpenter began the session by sharing recent statistics concerning teens and mental health conditions: According to the US Department of Health and Human Services, nearly 50% of adolescents have had a mental health disorder at some point in their lives—while the National Alliance on Mental Illness reports that 70% of youth in the juvenile justice system have at least one diagnosable mental health condition.
The panel, which included four library workers who shared their field expertise as well as their own experiences with mental health, offered practical tips for library staffers seeking to create safe spaces for teens. "One of the easiest things we can do is to concentrate on our collections and make sure that we have materials from diverse perspectives that accurately depict mental health," said Tye Anderson, youth services librarian at Buncombe County (N.C.) Public Libraries.
Deleon Awill, media specialist at East Baton Rouge Parish (La.) School System, agreed. "It's important for us to have these very honest depictions of African Americans [who] do have mental health as a part of their lives," she said. "[It's important] to have books that talk about these things … to bring about this healing and increase the conversation."
Panelists also discussed what inclusive programs and services for teens might look like. Sabrina Robinson, library associate for teen services at Charlotte (N.C.) Mecklenburg Library, emphasized the importance of being "accessible and transparent" when designing programs and offering teens a variety of ways to engage. In particular, she encouraged youth services staffers to allow virtual event attendees to keep their cameras off, show teens how to access materials online, and be available for patrons outside of regularly scheduled programs.
Cearra Harris, PhD student at University of South Carolina's School of Information Science in Columbia, emphasized the importance of having inclusive signage and displays in libraries that make it possible for teens to access information without facing the hurdle of asking for potentially stigmatizing resources out loud.
While the panelists provided ideas for libraries to support teens facing mental health issues, they were quick to acknowledge the value in knowing when to ask for outside help. "Your first instinct is to do everything you can," said Anderson, "but it's important and responsible to know the limits of what we can do."
Harris added: "It's important to tap into your community organizations and get those experts to come to your programs, lead discussions, and create safe spaces."
'Autonomy is vital'
At "The Development of Bridges & Books," presenter Kelsey Ford provided an in-depth look at the teen-created podcast Bridges & Books, one of the first teen literature podcasts started and hosted by teens. Ford, manager of marketing and development for the Pittsburgh Youth Chorus and an advisor to the podcast, began her session with a recap of Bridges & Books' first season of interviews, including bestselling and award-winning YA authors Elise Bryant, Adiba Jaigirdar, Ryan La Sala, and Rachael Lippincott. Ford's introduction was followed by a panel discussion featuring some of the teen creators behind the podcast.
When asked how library staffers can support teen-led programs without taking over, scriptwriter and host Tobi mentioned that the team used a democratic approach to develop content for Bridges & Books. "When we were deciding which authors to interview, we voted on it," she said. "Making sure that teens are actually having a say in the processes and decisions being made helps to create an equal balance."
Autonomy is vital to the production of Bridges & Books, said Alli, author liaison and scriptwriter. "When we started, I wasn't even in high school yet. And I had as much a say as the juniors and seniors in the program, which was an experience I hadn't gotten in any other space."