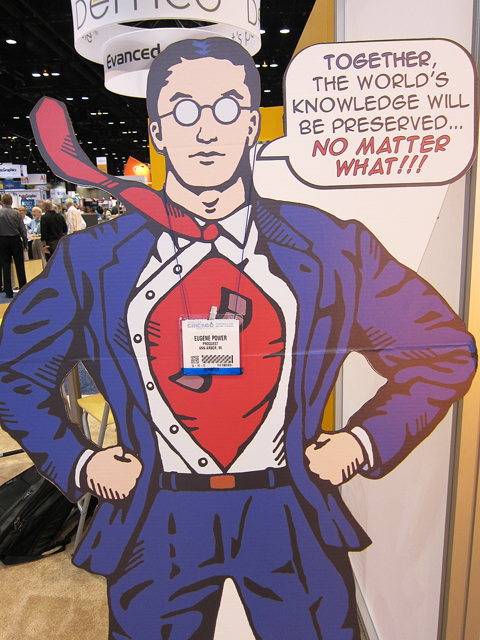 Electronic publisher ProQuest celebrated its 75th anniversary at the 2013 ALA Annual Conference by showcasing the founder of University Microfilms International (UMI), its predecessor company. Eugene B. Power (1905–1993) introduced microfilm to libraries in 1938 and led the format to its standard use for preservation, sharing, and document storage. During World War II, Power microfilmed thousands of rare books and periodicals in British libraries, preserving their contents from possible destruction. That collection soon became a successful UMI product and remains an important component in ProQuest's menu, now sold digitally under the name of Early English Books Online.
Visitors to the ProQuest booth were greeted with a lifesize cutout (complete with conference badge) of Power as a superhero sporting a word balloon that reads, "Together, the world's knowledge will be preserved . . . no matter what!" ProQuest reps were handing out a special comic book for the occasion ("approved by the Librarian's Superhero Society") with the cover showing Power in front of a library brandishing a strip of microfilm. The book (available from the ProQuest website) includes the World War II story.
ProQuest CEO Kurt Sanford told American Libraries that the comic has a "Flat Eugene" cut-out. Librarians can remove Flat Eugene in order to photograph it and then upload the pictures to ProQuest's Facebook page or tweet them to #FlatEugene.
Sanford also said that ProQuest will soon launch the first module of its cloud-based library collection analytics service, Intota, which is now getting beta-tested by six academic libraries. "The module offers the ability for 'smart weeding' of their print and electronic collections," he said, "by analyzing usage in Resources for College Libraries, historic circulation data, and print/ebook comparisons."