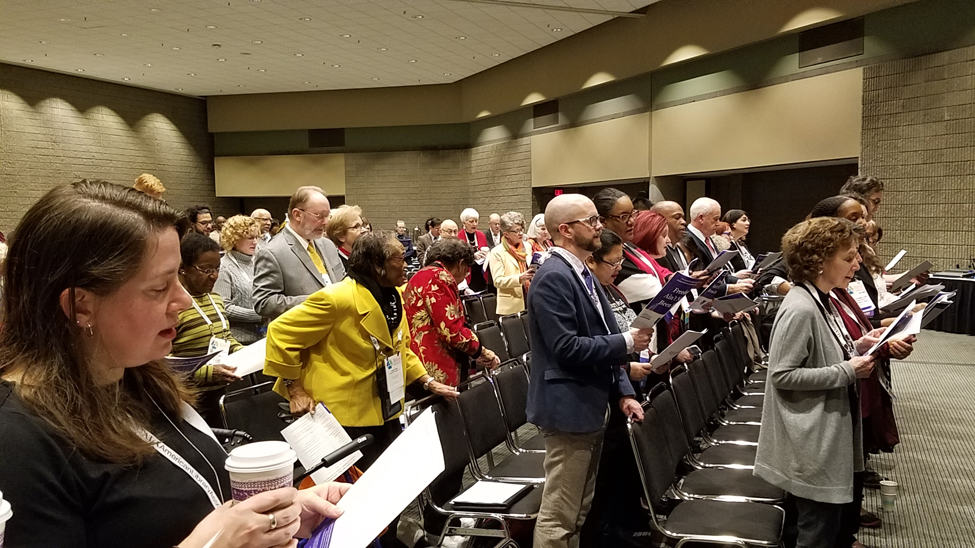 The Martin Luther King Jr. Holiday Observance and Sunrise Celebration has been a staple each Monday at the ALA Midwinter Meeting for the past 17 years. Sponsored by the Social Responsibilities Round Table and the Black Caucus of the American Library Association, the celebration's theme in Atlanta was "Freedom Ain't Never Been Free!" and featured short readings from King's "Letter from Birmingham Jail" and other sermons, speeches, and writings. Some 200 turned out at 6:30 a.m. for the observance.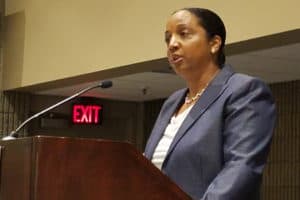 The keynote speaker was Daina Ramey Berry, associate professor of history and African and African diaspora studies at the University of Texas at Austin and author of The Price for Their Pound of Flesh (2017), a history of the economic value of slaves from birth to death.
"Slavery does not stop people from fighting for freedom," Berry said. In her book she wanted to explore the "faith and hope of those held captive. What can we learn from them?" One of her sources of inspiration was a slave named Mingo, who was thrown into prison prior to being sold and separated from his family. He wrote a moving poem on a beam on the walls of his prison. It began:
"Good God! And must I leave them now,
My wife, my children, in their woe?
'Tis mockery to say I'm sold!
But I forget these chains so cold,
Which goad my bleeding limbs; though high
My reason mounts above the sky."
Berry explained that Mingo escaped the night after he wrote those words but was torn to pieces by bloodhounds. His wife helped preserve this and other poems that Mingo had written. She said that the "creative optimism that strengthened Martin Luther King" and others in the civil rights movement was founded on the faith of the enslaved to "ignite the spirit of hope for a better day. King reminded me of these connections to slavery, and for this I thank him."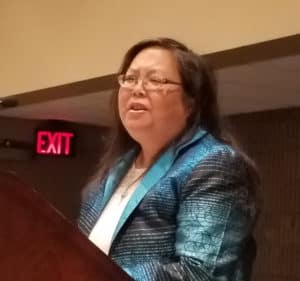 Patty Wong, county librarian and chief archivist of the Yolo County (Calif.) Library System, was the call-to-action speaker at the celebration. Her message to librarians was to "focus on the work" in the face of the "most difficult and unexpected change in our history." When people seemingly have "permission to say anything, without regard to facts or feelings or impact, we cannot accept this as the new normal."
Wong recounted two instances in her life when she encountered burning crosses in California in the 1970s and 1980s, adding that today "we see many metaphorical crosses disseminated across our media. It comes as a continual shock that what we have built together through tears and blood and legislation seems to be disappearing before our eyes."
"Don't let burning crosses deter you from your work," Wong said. "Create safety in your communities. Library work is community work, and they need you more than ever. Have faith to know that there is good in this world—just take a look around this room."
The celebration closed with the audience joining hands and singing "We Shall Overcome."