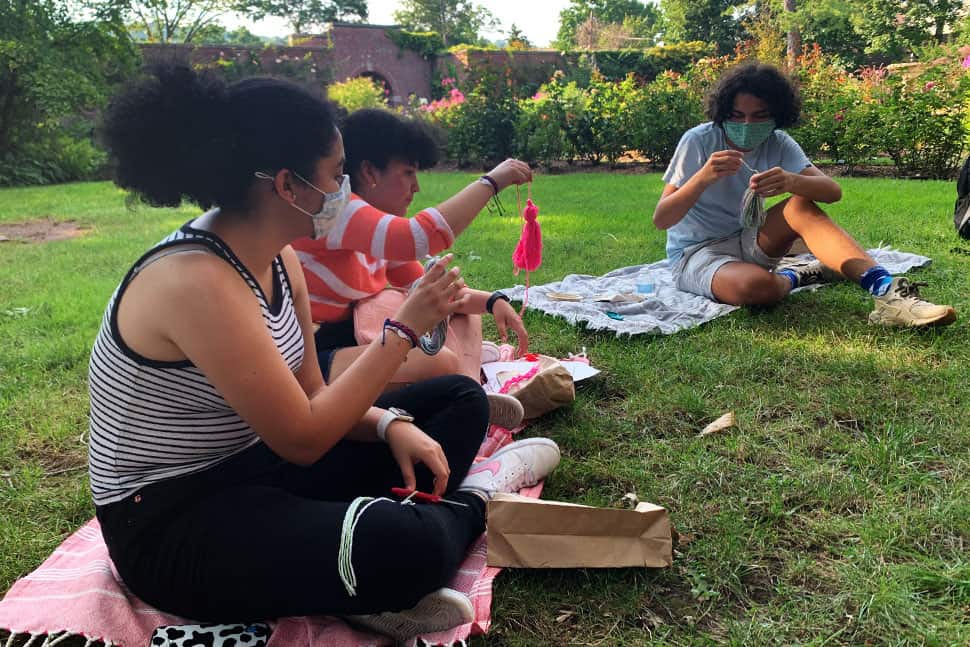 This summer, teens across the country were exposed to new ways of thinking—both about themselves and the world—by working at their local libraries. The program was part of the Public Library Association's fourth annual Inclusive Internship Initiative (III).
III offers paid, mentored internships to high school–aged students from diverse backgrounds, allowing them to experience the work of librarianship firsthand and explore how to use their talents and perspectives to impact their communities. This year 42 teens interned at 40 libraries of all sizes and in various locations, from Anchorage, Alaska, to Cleveland, Tennessee. The virtual kickoff event on June 21–22 welcomed the cohort and introduced them to the possibilities available through a career in public libraries.
Through the initiative, interns learned that libraries are much more than they thought. For Ayah Gheith, interning at Rockford (Ill.) Public Library (RPL) taught her that if "you name it, the library can obtain it." For her project, Removing Barriers, she wanted to help immigrants navigate the US educational system, which led to a continuing partnership between RPL and nearby Rock Valley College through an annual seminar held during registration for ESL and GED classes. And for other interns like Gheith, their impact will leave a mark long after their internship ends.
During the three-month program, interns work diligently at their libraries to learn the ins and outs of librarianship while developing inclusive programs and services. They are not alone in their work; each intern collaborates with a mentor, a designated library worker who is responsible for guiding them through their connected learning project and providing support throughout the summer (and sometimes well beyond).
At the program's virtual wrap-up event on September 25–26, members of the cohort shared their accomplishments and reflected on how their internships shaped them. This event honored the interns' willingness to be vulnerable, empathetic, and flexible in a time of uncertainty.
The effects of the pandemic were evident in both the media of the interns' projects and the variety of topics they covered, such as the creation of digital resource guides. Seventeen-year-old Yusra Ahmed, from Huntington Beach (Calif.) Public Library, used her web development skills to create an interactive YA Diverse Book List that links to the library's catalog so patrons can easily check out titles.
Projects also reflected the stress of the current climate, focusing on mental health or building social connections. Some interns cited their own experiences with overcoming mental health struggles like depression or societal barriers including sexism as inspiration for their work.
For 17-year-old Jack Rodriquez-Vars, this meant addressing a need he saw within the Latinx community. After noticing the challenges bilingual students face due to language barriers, which intensified during virtual schooling, Rodriquez-Vars developed a Latinx Book Club to support them. Students read Pam Muñoz Ryan's Esperanza Rising, made crafts related the text, and discussed topics such as class conflict, land rights, and immigration. His program gave middle-school ELL students the chance to build important social connections with their peers.
Participating in III was most interns' first professional work experience, and they gained new skills ranging from communication to technical services as they designed marketing materials and built websites.
Annie Fierroz and Chloe Robinson honed collaboration skills as they worked together on a project while employed by libraries hundreds of miles apart. Fierroz, 17, who interned at Auburn (Ga.) Public Library, and Robinson, 16, who interned at Butler Area (Penn.) Public Library, collaborated virtually on Body Image Bootcamp, a virtual program for teens and tweens featuring body-positive speakers. In reflecting on the impact of their work, Fierroz noted, "Through both of us doing the same schedule of events while working together on information for the community, we were able to reach even more people with different backgrounds and perspectives."
At the conclusion of the wrap-up event, mentors said they had filled their notebooks with innovative ideas sparked by the interns' connected learning projects. Interns and mentors alike were encouraged to explore opportunities to meet the needs of community members whose library may not be adequately serving them. After hearing from Isabelle Roach, 17, an intern at Cabarrus County (N.C.) Public Library, for example, some mentors were inspired to bring her concept of a single-parent support program to their own libraries.
PLA supported the fourth summer of III with funding from a preprofessional Laura Bush 21st Century Librarian Program Grant from the Institute of Museum and Library Services. The application to host an III intern during summer 2022 will open early next year.