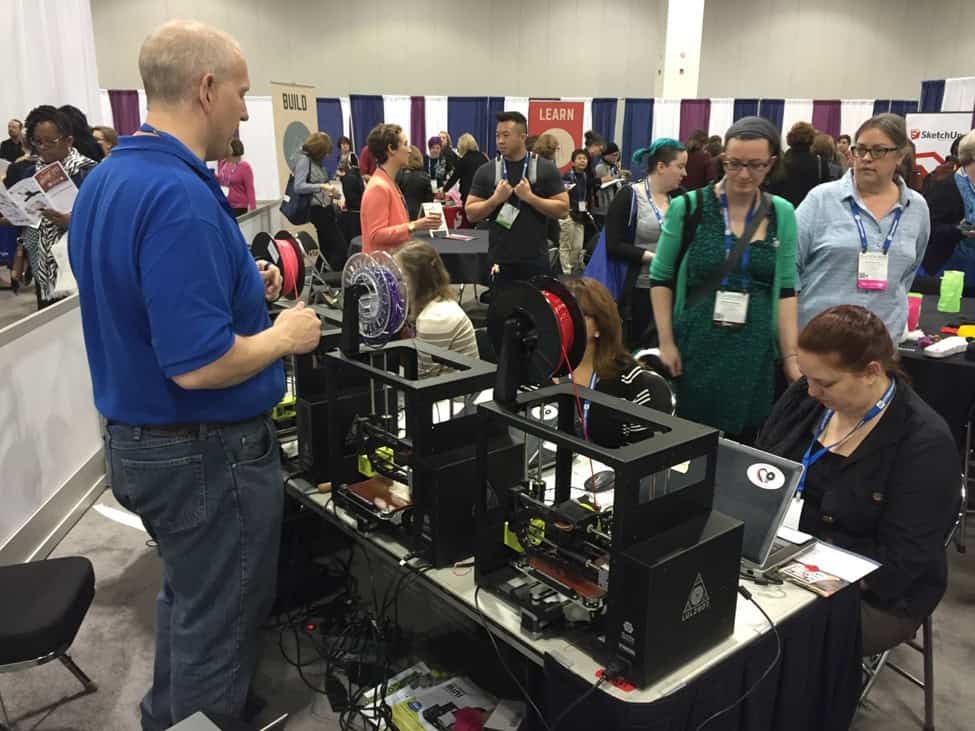 The Exhibit Hall for the Public Library Association conference in Denver was packed with people learning how to apply a glitter tattoo, make meals for one, and breathe. And that was just at the mini How-To Festival stage.
Colorado businesses and libraries partnered in COLab, where attendees could try out 3D printing with a printer made in Colorado, as well as other makerspace projects that are part of the partnership. At the Take Charge Lounge, spin bikes were set up with a phone charger attached to the flywheel, making it freewheeling charging.
Programs ran in three time slots over the day, including topics on tracks for broadcast, leading, inventing, collaborating, planning, or playing.
The Madison (Wisc.) Public Library (MPL) presented their Bubbler, a maker-focused program for all ages that serves as a platform for artists to interact with the community and inspire others. The Bubbler also reaches out to teens at the Juvenile Detention Center and Shelter Home. There, Trent Miller of MPL explained, the kids create music and make their own CD cover, as well as experimenting with hand-drawn and stop-motion animation.
One audience member described it as "play-based learning for grown-ups."
Another session, "<Code> at Your Library: Preparing for Your Current and Future Workforce," highlighted two successful coding programs at libraries. First was the Louisville (Ky.) Free Library's Code Louisville, a 12-week program for adults using Treehouse learning. The program was designed to help fill more than 1,700 tech jobs that go unfilled in the area. Julie Scoskie, director of education, worked with workforce initiative groups to help find mentors, provide job placements for graduates, and run the program. It's a systematic, gamified approach in which patrons earn badges by taking quizzes. More than 200 people have graduated from the intensive program, and 61 have earned employment.
Zeth Lietzau, director of collections, technology, and strategy at the Denver Public Library, talked about devCamp for teens. The first camp had 30 participants coming three days a week in the afternoons, and 27 of them finished. They did tours of Galvanize, and the City of Denver IT departments, with speakers on working in teams and user experience testing. He found that teens learn at a much faster pace than adults, so they sped up the lessons.
Other things he learned: School partnerships are challenging due to bureaucracy, 3–4 is the optimal group size, you should test the Wi-Fi network before camp, and recruit mentors six months or more in advance.
"We see ourselves as putting a foot in the door, exposing people to something they might not have seen before," he said.