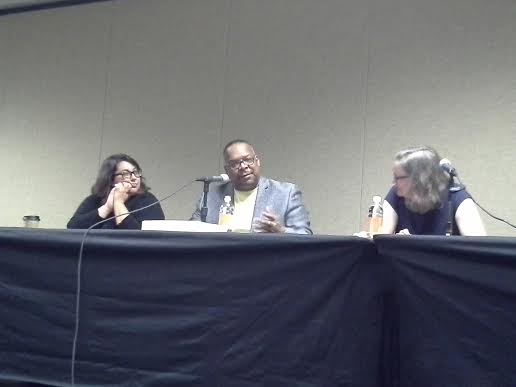 Jacquie Welsh was looking to undertake a project during her two-year residency at Los Angeles Public Library (LAPL),  so she asked herself the question: "How can we innovate to make our libraries more accessible and more just?" What resulted was Pathways, a program designed to provide resources to those reentering the community after prison.
With more than 2 million adults incarcerated in federal, state, and country prisons, more and more librarians and outreach workers are asking themselves the same question and looking to administer similar services. "Literacy Inside and Out: Services to Incarcerated and Newly-Released Adults and Their Families," a session sponsored by American Library Association's Office for Diversity, Literacy, and Outreach Services on Sunday at the Annual Conference and Exhibition in Orlando, Florida, highlighted some of the work being done at detention centers, correctional facilities, and beyond—and the challenges and obstacles this work presents.
Welsh's project was influenced by what she saw at the Hollywood and Central branches, which encounters a lot of issues related to the halfway homes, recovery houses, and homelessness in the area. "How do I get in touch with my probation officer?" and "How do I get to Long Beach where my grandmother lives?" were examples of questions she received from people who were recently released from prison. "I started researching what public libraries were doing for reentry," Welsh said.
The library decided Pathways would have the most impact if it tried to reach those who had been released for less than six months. It partnered with federal and local programs STAR (Supervision to Aid Reentry) and EPIC (Empowering People, Illuminating Change) to find sites and participants. The program focused on digital skills and family reunification, and helped to provide library cards, brochures and explanations of resources tailored to newly released people, and books specific to reentry. As a result, 94% of program participant respondents "strongly agreed" that LAPL's regular site visits made access to the library easier.
While the program doesn't exist in the same form as when she started it, Welsh said, "little pockets of the city wanted to see more of this" and LAPL is moving forward working with the Mayor's Office of Reentry.
Susan Woodwick, who leads the Hennepin County (Minn.) Library Outreach Department, runs a program that serves a county correctional facility. Hennepin's program—which Welsh borrowed inspiration from in creating her program—visits the facility every Tuesday and has goals to meet reading and information needs, increase print motivation, stock onsite libraries, fulfill requests, and educate residents. The program is well-known for its "Read to Me" project, where inmates make a recording of themselves reading a book that they can give to their kids, and also put a Library Services and Technology Act grant toward producing "Going Home," a resource guide for people leaving corrections facilities.
Woodwick identified many challenges—including the bureaucracy and limitations of providing services to a corrections facility, the ways in which the job is physically demanding, and the logistics in getting the books to the facility. "I like to think that the most challenging work can be the most rewarding," she said.
Leo Hayden, director of reentry with the Orleans Parish (La.) Sheriff Office, is not a librarian but has a partnership with Portland State University's Broadband Technology Opportunities Program and knows these challenges well. He has taught digital skills in a corrections setting and "established this program where none existed," he said. In Louisiana, where 1 in 14 people is in prison (the highest rate in the US), Hayden believes inmates need digital skills for reentry into a computer-driven society.
"I have to create this environment that this is not a 'can't do' place, this is a 'can do' place," said Hayden. It might sound simple, he added, but, "The first thing we had to do was show them how to press the on button [on the computer]."
Although the BTOP program reduced recidivism rates by a stunning 40% in the parish, said Hayden, the program no longer exists due to cut volunteer services.
The three presenters identified many of the same obstacles, such as burnout and the fact that programming has to be modified to fit the rules of the facility. In some corrections facilities, that can mean no hardcover books or magazines that can be converted into weapons. Another problem across the board, of course, is budget and staffing. "Not having a dedicated staff person," is how these programs die, said Welsh.
Still, Hayden says we can't give up. Sometimes the resources become available and librarians should seize those moments. "Today you [may] have an opportunity to participate," he said.