The IFLA Rare Books and Special Collections Section held a panel discussion August 20 on "Fostering Collaboration to Build and Preserve African Cultural Heritage" at the 81st World Library and Information Congress in Cape Town, South Africa.
Musa Wakhungu Olaka, African global and international studies librarian at the University of Kansas, described the collaboration between the University of Southern Florida (USF) and Ibuka, an umbrella organization of various groups representing survivors of the 1994 Rwandan genocide. "The Rwandan genocide was a major tragedy to Rwanda and humanity," Olaka said, "that resulted in the deaths of one million people in 100 days."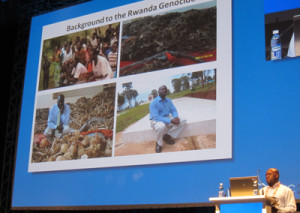 In October‒December 2012, Olaka, who then worked at the USF Holocaust and Genocide Studies Center, traveled to Rwanda to digitize the hundreds of unique documents that Ibuka had collected about the genocide—especially the 864 testimonies written between 1999 and 2000 by high school students who described their experiences up to the time they were rescued.
"This represents the largest collection of genocide testimonies in Rwanda," Olaka said, "and they were from children who lived in the Gitarama Prefecture," which experienced the brunt of the genocide. "Prior to 1999, no one had ever done this type of research," he added. "These testimonies clearly show the psychological trauma endured by many of these children, as well as the extraordinary efforts of many people who saved their lives and rescued them."
Ibuka now holds the originals of these testimonies, as well as thousands of pages of other materials produced at the time of the genocide, Olaka said—magazines, journals, posters, documents, and letters.
Olaka took two laptops and a camera to photograph the testimonies, which were written in 32-page school exercise books. "We believed that using a camera was as good as using a 400-dpi scanner," Olaka said, "and it was much cheaper." The images, all 19,900 pages of testimonies and other documents, were taken back to USF, where students used Photoshop to crop and improve them. "They were converted to TIFFs," Olaka said, to make master copies, "then saved as PDFs to make the documents more accessible online."
"The agreement with Ibuka was that they were the owners of the testimonies," Olaka said, while USF only hosts them on its website, Rwanda Youth and Children's Testimonies. "My philosophy is that there is no need to digitize anything unless you make it freely available to society…. This project turned up documents that were completely hidden. Information that is hidden is useless; information that is digitized and not made available is also useless."
Other organizations in Africa can do this locally and more cheaply without overseas travel, Olaka said: "Don't stand idly by and watch events like this happen. Yesterday, it was them, tomorrow it might be you."
A CAMP for cooperation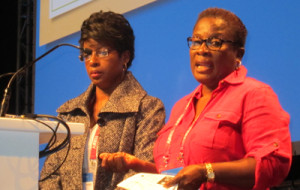 Araba Dawson-Andoh, Africana librarian at Ohio University, and Esmeralda Kale, librarian at the Herskovits Library of African Studies at Northwestern University, described the Cooperative Africana Materials Project (CAMP) launched in 1963 by the Center for Research Libraries (CRL) in Chicago. Dawson-Andoh said that CRL and other institutions felt the need to collect Africana in the wake of so many countries gaining independence from colonial rule in the late 1950s and early 1960s.
CAMP's objectives are to "improve access to research materials on Africa; maintain microfilm and digitized collections of rarely held African materials; and carry on the preservation of publications and document archives."
Kale gave three examples of the collections that CAMP has funded over the years:
Historical newspapers: Northwestern had acquired a number of African newspapers from the 1950s and 1960s that were becoming fragile. Through the auspices of CAMP, Northwestern microfilmed the newspapers and moved the originals to CRL, which houses them for interlibrary loan and the use of CAMP member institutions.
Liberian government archives, 1828‒1968: Indiana University arranged with the National Archives of Liberia to pack up and send the early state archives to Indiana for preservation and digitization, with the help of CAMP funding. Conservators cleaned, washed, and freeze-dried the materials that needed preservation work, made photocopies or transcriptions of many of them, created finding aids, then sent them back to Liberia after restoration.
Nigerian state documents, 1976‒2009: These are annual reports of state agencies, budgets, government white papers, and ephemeral materials issued by Nigeria's Plateau State. They were microfilmed in 2011 for CRL using CAMP funds.
CAMP member institutions meet twice a year to discuss and vote on acquisition and preservation proposals. Kale said, "CAMP has transformed itself from a cooperative project between North American institutions into an organization that builds expertise in Africa by providing equipment, facilities, training, and preserved collections." It has two African affiliate members now and welcomes new ones.
The Islamic manuscripts of Timbuktu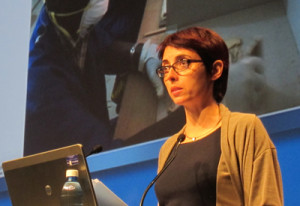 In March 2012 Islamist rebel groups overtook the ancient city of Timbuktu in northern Mali, where for centuries thousands of rare and unique manuscripts had been preserved in private libraries. Thanks to a rescue operation by the custodians, most of the manuscripts were removed and transported, in some instances by camels and donkeys, to Bamako in southern Mali where they were safe.
Maria Luisa Russo, co-manager of the Timbuktu Manuscripts Project at the Centre for the Study of Manuscript Cultures at the University of Hamburg, said that the manuscripts dated from the 13th to the early 20th century and "represent a complex written and multilingual heritage" that includes religious, historical, astronomical, scientific, and literary texts. In Bamako, they are currently stored in the "metal chests in which they were transported, in rooms that are partially climate controlled with fans, air conditioners, and dehumidifiers," Russo said. "But Bamako is very humid, in contrast to the dry deserts around Timbuktu," and this presents additional preservation problems.
In 2013, the University of Hamburg launched a pilot project to provide technical and financial support to assessing the status of the manuscripts moved to Bamako. Russo said that more extensive measures were taken in 2014 and 2015 that include training local curation staff, cleaning and boxing some of the manuscripts, taking inventories in Arabic and French that will serve as the basis for a future catalog, and renovating six libraries in Timbuktu in preparation for the return of the manuscripts.
Russo added that conservation treatments are still fairly limited, because "current standards in conservation discourage hasty initiatives in spot fixing" that may ultimately cause more damage. She said that future goals include "raising the awareness of Islamic heritage manuscripts scattered throughout Mali, not just in Timbuktu, through exhibitions and workshops for scholars and the general public," and establishing a state-of-the-art archival facility in Bamako where the Timbuktu manuscripts can be stored, preserved, cataloged, digitized and made accessible to Malian and international scholars.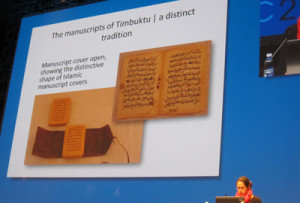 Mary Minicka, head of preservation for the Western Cape Archives and Records Service, said that her involvement with the Timbuktu manuscripts came through an official South African and Malian government effort, the Tombouctou Manuscripts Project, established after the state visit of South African President Thabo Mbeki in 2001 to view the Timbuktu private libraries. The project's goal is to research and document the Islamic manuscript tradition in Africa, especially in Timbuktu.
"Timbuktu has a hot, dry climate, and this lack of humidity affects the manuscripts," Minicka said, "causing embrittlement and chipping. The edge of a manuscript deteriorates, curls into a little bit of a fold, then falls off completely." The manuscript covers often deteriorate, "so much so that they no longer protect the texts." The covers are "integral to the style of the West African Islamic tradition," she said. "Any replacement covers we find must honor that tradition." The project was able to halt further degradation of the damaged covers by inserting small pillows on the inside and covering the outside with quilted covers.
Oddly enough, "many of the manuscripts have water damage," Minicka said. "This probably occurred when French colonial forces moved into the region and began looting. The custodians hid the manuscripts anywhere they could, including damp caves and wells."
Minicka also noticed much corrosion in the inks that were made, with varying degrees of quality, by the scribes themselves. "Termites have also wreaked havoc on the collection," she said. "One tiny hole on the top of a manuscript actually expands inside to a hole the size of your fist." Frequent handling of the fragile manuscripts has also caused damage, as well as inappropriate conservation methods over the years. "In some cases, pages were mended with heavy tissues that caused puckering," she said, "and even obscured the letters beneath."
Even the use of white gloves caused damage. "The gloves picked up sand and acted as sandpaper on the pages," Minicka said. "These have now been ditched." The sand is everywhere, she said, "even in your food. One of the basic challenges is cleaning the surface of covers and manuscripts that have become sandy.
Future manuscript research will include investigation of the use of watermarked papers that came about through extensive trade with European countries, the manufacture of leather bindings locally (with the help of local contemporary craftsmen and tanners), the extent of African-language writings in Arabic script (called Ajami scripts), and regional variants of manuscript production throughout Islamic Africa.