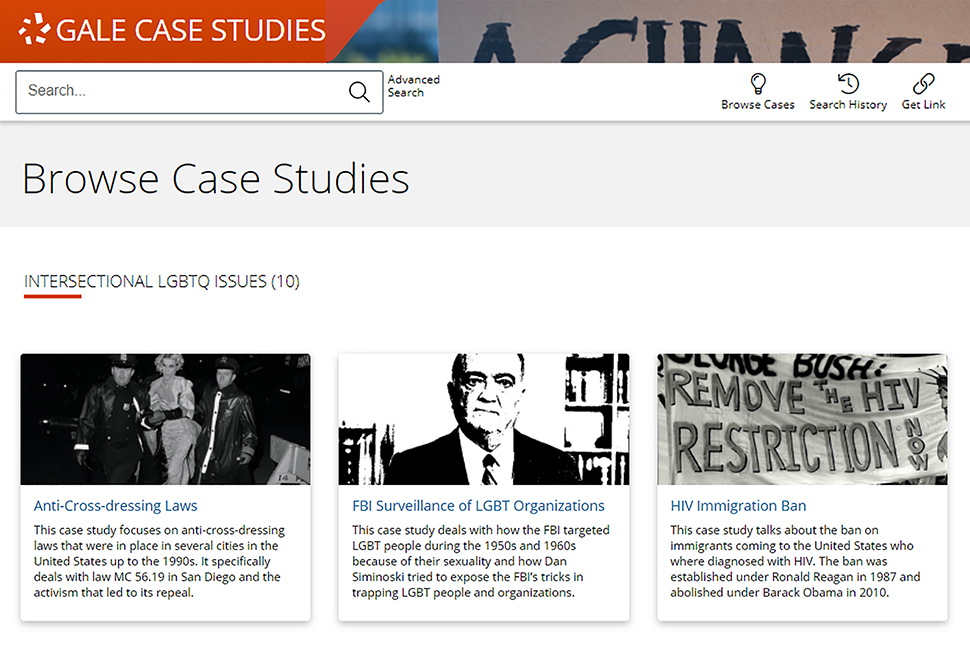 As a longtime member and organizer for the American Library Association's (ALA) Rainbow Round Table and former Stonewall Book Awards Committee chair, Lisa Johnston, director of library services at Eckerd College in St. Petersburg, Florida, has worked tirelessly to advance LGBTQ voices.
Her longstanding commitment to equal rights and making LGBTQ material more available to educators, students, and researchers led to Johnston herself becoming part of an archive a few years ago. She shared experiences about her involvement with the Rainbow Round Table with members of the ALA Emerging Leaders Program for their oral history of the group. "A lot of organizations have started oral history projects," Johnston tells American Libraries magazine.
Those histories—along with books, magazines, and other LGBTQ-related material—are of great interest to Johnston, who wrote an article in C&RL News's September 2019 issue highlighting LGBTQ electronic archives. The availability of such material has come a long way from the early days of the equal rights movement, according to Johnston. Electronic archives are increasingly available to researchers and the public, and they focus on various aspects of the LGBTQ experience.
Collections like the Digital Transgender Archive (an international collaboration among more than 60 universities, colleges, and nonprofits that focuses on the history of gender-nonconforming and transgender people) and the LGBTQ Oral History Digital Collaboratory's Oral History Hub (an archive at University of Toronto that offers oral histories on topics such as gay rodeos and Queer Appalachia) are providing greater depth for understanding LGBTQ history.
Johnston said that unlike a few decades ago, new collections of LGBTQ material seem to be available almost every day now—and they're becoming increasingly specific in terms of their focus. "This is something I've had in the back of my head for a long time, not just to capture the super well-known archives of LGBTQ material," she said. "What interests me is the homegrown archives, particularly in the South."
The sheer volume of LGBTQ material can be daunting for academic instructors in search of curated primary sources. They not only face the challenge of seeking quality content, but they must also evaluate how to teach it in a way that brings engagement and understanding.
That's a problem Gale aims to solve with the release of Gale Case Studies. Gale Case Studies offers a guide to create lessons that go beyond typical digital humanities research and helps students from disciplines outside the humanities develop transferrable critical-thinking skills. The platform is ideal for virtual and hybrid learning environments. Case studies, discussion questions, and access to curated material are all available on this learner-centered platform.
The first module in Gale Case Studies focuses on intersectional LGBTQ issues. Case studies in the module include topics like "anti-cross-dressing laws," "FBI surveillance of LGBTQ organizations," "HIV immigration ban," and "LGBTQ employment discrimination." Discussion questions prompt critical conversations that lead to other conversations on topical issues.
These specific case studies come at a critical time. They explore issues that are relevant for undergraduate students and researchers in their studies, future careers, and day-to-day lives. Case studies challenge students to think about real-life situations and how those situations affect individuals and communities with regard to public policy, health care, and education. And the curated content is authoritative and available on a trustworthy, accessible platform, which means instructors won't have to worry that students are searching for source material on general search engines.
The repository created by Johnston specializes in less well-known archives like the Invisible Histories Project, launched in 2015 in Alabama, which documents the experience of LGBTQ people in the American South. Other obscure archives in Johnston's roundup include the Queer Zine Archive Project, which provides a home for the self-published material and covers a range of LGBTQ topics.
Johnston said she hopes to work on another list of curated LGBTQ material that focuses on diverse regions of the country.
"These community-based projects are popping up everywhere; sometimes they're sponsored by local organizations, colleges, or universities, but often they're sponsored by people who want to save these materials," she said.
For Johnston, it's important to make LGBTQ information available: "The movement surely is not over. People need to be heard because queer history is American history."