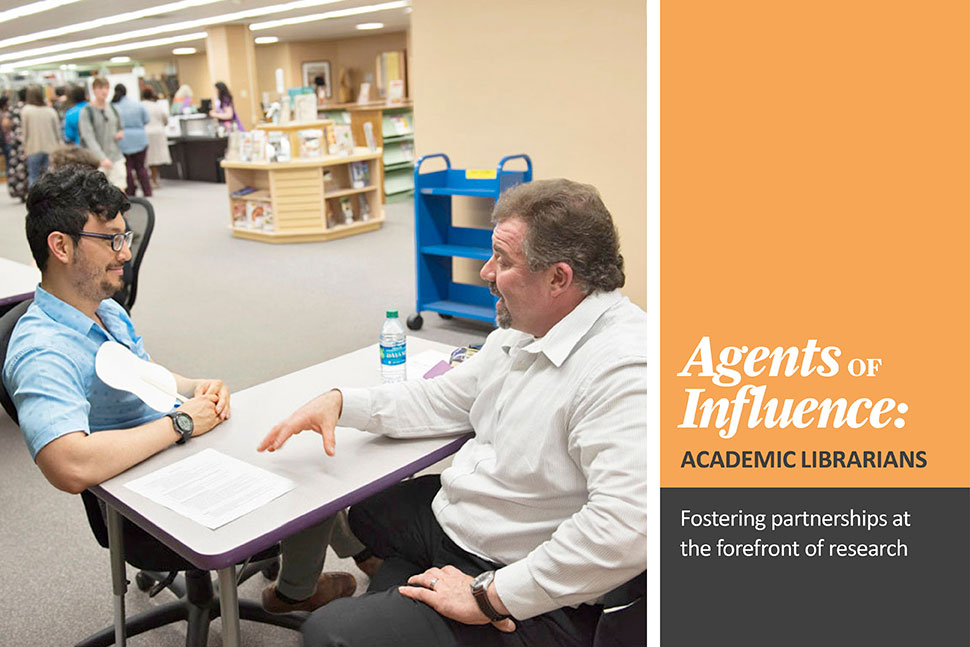 Our protagonist grew up in a secular household in Ohio, never thinking that anything about their life was out of the ordinary. But in the Human Library book A Secular Humanist in the Bible Belt, the protagonist tells the story of moving to Arkansas in the late 1990s and quickly learning that their disinterest in religion meant they didn't fit in. Neighbors and others would ask, "Where do you go to church?" This question was a subtle reminder that as a nonbeliever, they were not fully welcomed into the community.
The "book" was available for one day only during a Human Library event at Torreyson Library on the University of Central Arkansas (UCA) campus in Conway. The forum offered "readers" the chance to check out more than two dozen flesh-and-blood human beings, who served as books, to tell their stories about living with the challenge of being gay, spending time in prison, recovering from addiction, wearing a hijab as an American Muslim, and more.
Human Library events provide a forum for these "human books" to discuss the prejudices they've faced with the goal of confronting stereotypes and discrimination. UCA's Human Library was the brainchild of Tamela Smith, head of access services at Torreyson Library, who says she was inspired to organize the event because of her experience raising a gay son. Smith and her husband feared their son would be bullied and began attending local meetings organized by PFLAG, a nonprofit that offers support for parents, friends, allies, and those in the LGBTQ community. "It was very eye-opening for me and my husband," Smith says, describing her then-lack of experience with LGBTQ folks. "When people talk to people, you can change minds and change views," she says.
Smith, who is already planning for the second Human Library in April, joins universities across the country that have been holding similar events for nearly a decade. The Human Library is  branded by the Copenhagen, Denmark–based nonprofit of the same name that has held thousands of such events since launching in 2000.
Smith decided to organize a Human Library at the school after seeing one hosted at the local public library in Conway. She says the library partnered with a number of organizations within the university and helped promote the event by creating a LibGuide and distributing fliers around campus.
Students who want to incorporate this kind of dialogue on discrimination into their scholarly research can go further with Gale Primary Sources. The collections on this platform give researchers access to thousands of documents exploring critical conversation topics, such as Political Extremism and Radicalism, Religions of America, and Archives of Sexuality and Gender.
Librarians at Western Michigan University (WMU) in Kalamazoo also played a key role in organizing two Human Library events, says Marcy Peake, director of diversity and community outreach initiatives at WMU College of Education and Human Development, who spearheaded them.
"I teach in this area, and many people are willing to learn and talk about their differences, but they're not offered opportunities in society to do that," Peake says. "And people who are not in dominant groups often would like the opportunity to explain who they are but want to choose the time and place and how to disclose things about themselves."
Peake says the events were a collaboration between the College of Education and Human Development and WMU Libraries. In addition to leading orientations and training sessions, she says librarians provided information to the planning committee about other Human Library events and created a checklist manual for organizing them.
Juliana Espinosa, librarian in residence for engagement and inclusion at the school's Waldo Library, and other WMU librarians served on the planning committee and helped promote them, held information sessions for prospective "books," and helped plan logistics.
"The mission of libraries is very much in alignment with the Human Library," Espinosa says, "because we are a democratizing force for the university and a democratizing force in general in society."
---
Your input needed! We hope you've enjoyed reading the Agents of Influence series. Please provide your feedback with this brief survey about the series and future topics you'd like to see covered.