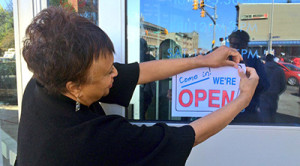 Eyes around the world have been focused on the city of Baltimore this week, where the death of 25-year-old Freddie Gray while in police custody sparked massive protests against police brutality, some turning violent. At the epicenter of the protests is the Pennsylvania Avenue branch of Baltimore's Enoch Pratt Free Library, just across the street from the CVS drugstore that burned while being looted on April 27. Through it all, the library stayed open, a decision that's received a lot of attention and praise. Pratt Library CEO and former ALA President (2003–2004) Carla Hayden talked to American Libraries May 1.
Thanks so much for your time this morning, Dr. Hayden. Can you describe what's going on at the library right now?
Yes, I'm here at the Pennsylvania Avenue branch with National Guard troops surrounding the building. The state's attorney just announced that the six officers will be indicted [in Freddie Gray's death]. The library is at the epicenter, ground zero of this thing. As I talk to you now, there are cameras from all over the world watching. The people are walking around on this corner, honking horns, flashing victory signs because of the indictments. There was a general fear that there would not be recognition that something was wrong. I get the sense that there's relief—at least this will be continue to looked into. People have been holding their breath.
The library has been open the entire time. The library has been the community's anchor. It's the heart of the community at good times and bad times.
What happened at the branch Monday night?
When it was apparent on Monday night that something was happening, when the rioting started, our branch manager Melanie Townsend Diggs was here. She quietly locked the doors and kept the patrons inside. Later, she was able to let the public and the staff leave through the back door.
That night, we had a conference call, and she said, "I really feel at a time like this, the community needs us, and I want to try to open." We said, "Okay, we'll back you. We'll be there for you."
But the decision to keep the libraries open ultimately rested on you. Why did you decide to remain open?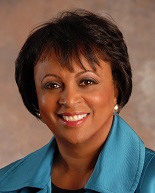 I knew that the libraries are community resources. I knew that they are anchors in so many communities. In a lot of communities in Baltimore, especially challenged ones, we are the only resource. If we close, we're sending a signal that we're afraid or that we aren't going to be available when times are tough. We should be open especially when times are tough.
I didn't hesitate. My only hesitation was to tell my 83-year-old mother that I was going down to the epicenter. But she was a social worker in Chicago, so her response was, "Oh, make sure you have coffee, and take water for the people, and don't forget the cups and the napkins."
A lot of attention and praise has come from that decision. What has that been like? How has the community responded?
Well, I haven't had a chance to look at emails or see much of what's been said. But it has shone a light on the role of libraries. This is just a continuation of libraries being vital. It's just part of the tradition of public libraries in America being here in good and bad. I'm proud that we were able to carry that on.
The community has been so grateful—"Thank you for being open. Thank you for having a safe haven."
Things are quiet. Things are normal. The gratitude of the public has sustained the staff. It's not easy being on the front lines. It's not easy being in the middle of the tense challenging situation, but having so many people coming in saying "thank you for what you've been doing." It's almost like they knew they can count on us. I've never been prouder to be a librarian.
As someone who loves and has served Baltimore for a long time, what has it been like for you to watch the city go through this painful time—both the death of Freddie Gray and the brief violence that erupted?
I've watched the city in the time that I've been here, a little over 20 years, deal with some of these challenges. What has changed recently is that there's a national and international spotlight on it. The challenges have been here. I'm hopeful with the spotlight and with the attention that more planning and thought will go into how we keep moving forward and provide the resources that are needed. Maybe it's going to take acceleration of efforts.
What steps will the Pratt library be taking to help Baltimore work through this upheaval and continue talking about the problem of police brutality?
We've already had some opportunities presented to us and are working on the details right now for the libraries being sites for community conversations. We'd like to use art and music to capture what's going on and be a place where kids can talk about their feelings, capturing their experiences.
What words of wisdom do you have for other librarians who might see a day like you had on Monday come to their town one day?
Earlier this week, the director of the Ferguson library called, where they also stayed open through the protests, and they said it's critical to have your administrators ready to go to the sites to be the backup for the regular staff. You may not be fighting, but you're in the fight. Recognize that you have to think of yourself as that anchor. Things will follow after that.
What do you hope will come out of this time of crisis?
Action. That's what I hope will come out of this. We've talked a lot. We've heard a lot. So what I hope is going to happen now is concrete action.