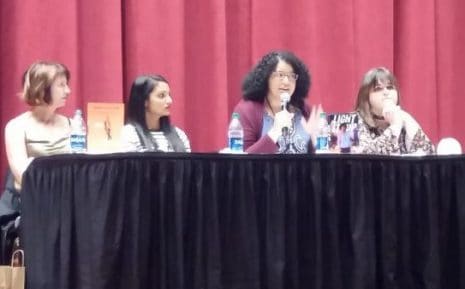 A straight cis boy falls in love with a trans girl. A community reacts to the shooting of an unarmed black teen. A self-proclaimed fat athlete deals with self-image issues. A male teen struggles with drug abuse and what it means to be masculine in today's society. These seemingly disparate narratives found themselves on stage together at the opening session of the Young Adult Library Services Association's (YALSA) Young Adult Services Symposium on November 1 in Memphis, Tennessee.
At "Really YA," a panel moderated by YALSA President Todd Krueger, bestselling authors Kekla Magoon, Sandhya Menon, Lauren Myracle, and Meredith Russo talked about the inspiration and experiences behind their latest realistic fiction works and the research they did to write their characters' stories.
"I wanted to show a trans girl who's messier, and having a harder time, like I was," said Russo of her novel Birthday (Flatiron Books, May). A trans woman who transitioned in 2013, Russo said she "started thinking about how different [her] life would have been" if books like her own were around when she was 14 and growing up in the South.
Menon's latest book, There's Something About Sweetie (Simon Pulse, May)—a contemporary romance that features "lots of kissing and body positivity"—also came from a deeply personal place. "Coming from a South Asian community, we don't talk about body positivity at all," she said. "It's so corrosive and horrible."
Magoon, author of 12 books and recipient of the American Library Association John Steptoe New Talent Award, said that Light It Up (Henry Holt and Company, October) was inspired by all the times she has seen "another story of a young black person who was shot and killed." The book explores "the ways we ask for justice and how to demand it when we have to." Her frustration over the opinions and biases people express after these tragic events prompted her to structure the book through varying viewpoints. "Having 15 different characters allows me to have all those different thoughts," she said.
For Myracle, her novel This Boy (Walker Books US, April 2020) draws from the difficulties her own son had with anxiety, drug use, and identity. "The world is tough on guys and what it means to be masculine," she said.
Style and substance
Magoon and Russo both discussed their decisions to pen open endings to their books rather than tidy, happy conclusions.
"I wanted to show how a real relationship works," said Russo. "It's not some prize either person has just won." Russo's research also led her to some unexpected places.
"I don't know anything about football, so I watched every season of the NBC series Friday Night Lights," she said to audience laughter. "My dad was like, 'So you finally get football, you finally understand why it's good?'"
Magoon's own research for Light It Up was wide-ranging, including soundbites on Twitter and Facebook and information on the civil rights movement and 1992 Rodney King protests. The book doesn't have a happy ending because, Magoon said, "we haven't achieved this holding-hands, 'We Shall Overcome' moment yet."
Though an ambiguous ending can be frustrating for a reader, she hopes it serves as a call to action: "I hope teenagers become involved in the book because it doesn't fill every blank."
By contrast, Menon joked, "It's in my contract—everyone has to end up happily ever after." She credits her experiences working with adolescents as a therapist with helping her write realistic dialogue.
"The biggest thing for me is being open to teen voices," she said. "Their true selves come out so beautifully."