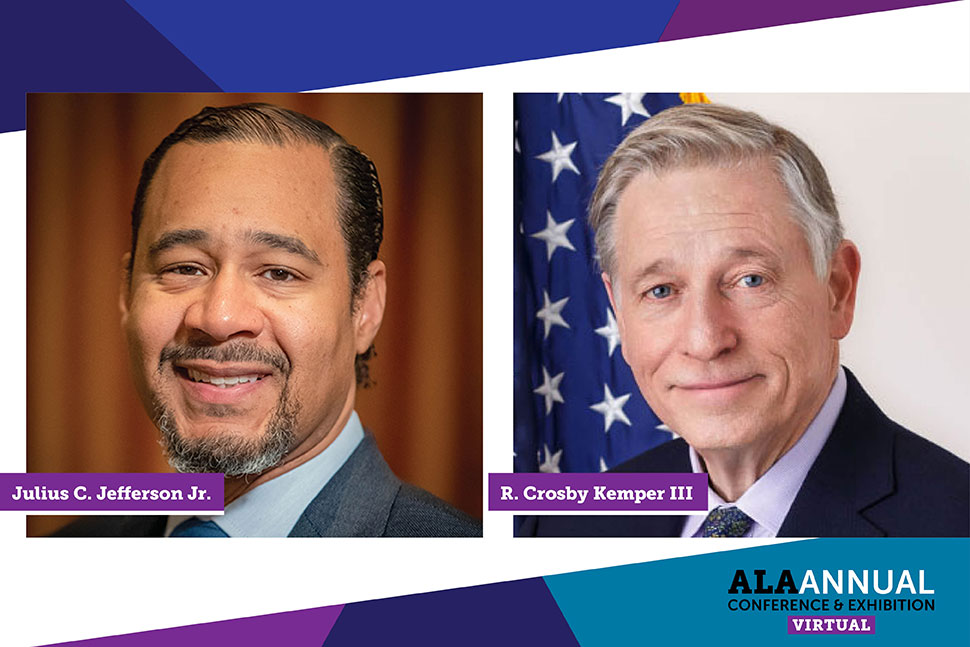 When American Library Association (ALA) President Julius C. Jefferson Jr. introduced Institute of Museum and Library Services Director Crosby Kemper III as a beloved former director of Kansas City (Mo.) Public Library, Kemper had a quick reply at the ready: "More like a beloved basement bureaucrat." Now one-third of the way into his four-year term at the helm of IMLS, Kemper sat down for a live virtual interview with Jefferson to discuss leading the federal agency through the pandemic and times of unprecedented unrest.
Kemper started his position in January 2020 with "mixed messages"—he'd been appointed by a president who had proposed defunding IMLS over three consecutive years and unanimously confirmed in the Senate, which had approved increases for the agency over the same period. There was no time to process the president's fourth proposed elimination before the pandemic took hold of the country in March 2020.
In those early days, the topmost concern of the library directors he spoke to was what to do with the library contents processed daily by library workers and already in the hands of the public. The Centers for Disease Control had yet to issue guidance for libraries and museums, nor any other government institutions, so IMLS started its own research project: Reopening Archives, Libraries and Museums (REALM).
The project was successful in meeting its initial goals, Kemper said: REALM provided the field with information about surfaces and materials as well as reviews of research literature around the world, all with the goal of helping libraries reopen safely. The REALM project will continue its work as coronavirus variants emerge and continue to work with other government agencies to represent the concerns of libraries and museums.
When "the CARES Act came barreling down," there was another challenge: how to direct relief funds to libraries and museums to maximize impact where it was most needed, especially in light of the pandemic and social movements around policing. And while the agency's budget for the year doubled in size without adding personnel, he credits IMLS staff for successfully administering the funds to projects that made a difference.
He also offered a glimpse into the future direction of IMLS grantmaking and opportunities for congressional support. Congress, Kemper said, has invested significant resources in libraries to address critical divides laid bare during the pandemic, a trend he expects to continue. Another trend is community engagement. More than 80 grants over the past year have gone to libraries and museums working together on digital equity projects such as distributing hotspots and other connected devices. Future IMLS grants will focus on community engagement.
One unexpected upside of the pandemic is how it shed a light on the central role of libraries and museums in lifelong learning, Kemper said. Future advocacy efforts for library funding should "focus not just on the need for connectivity, but the things [libraries] do with their virtual information and programming." Libraries' engagement with school curriculum is one example of how libraries factor into connectivity, lifelong learning and community partnerships—and the kind of promising projects that would appeal to decisionmakers.
When Jefferson asked about equity, diversity, and inclusion (EDI), Kemper replied: "The real meaning of equity is justice and fairness. Delivering that is very hard." Many grant proposals that come to IMLS focus on internal, institutional awareness-raising projects. He would rather funding go directly to solving the problem through, for instance, targeted educational programs for reading and career advancement.
Equity is a priority of the Biden administration so libraries are in a fairly strong position, Kemper said, but politics unrelated to libraries will continue to make the budget process difficult. Advocating for funding in Kansas City, he noted, involved working with people he didn't always agree with. "If you treat people with respect and you've got the same goals in mind and your agenda is not hidden," he said, opportunities to work together will present themselves.