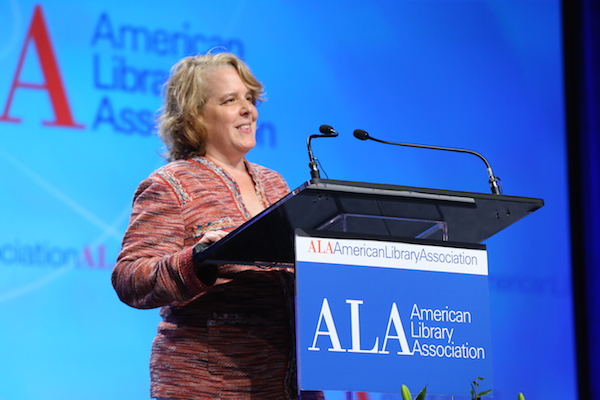 Just hours after the Supreme Court ruled in Obergefell v. Hodges that same-sex marriage was a constitutionally protected right, Roberta Kaplan took to the stage to thunderous applause and a standing ovation.
Kaplan, a litigator and partner with Paul, Weiss, Rifkind, Wharton, and Garrison, and an adjunct professor of law at Columbia University School of Law, rose to prominence with the 2013 case United States v. Windsor, in which the Supreme Court ruled Section 3 of the Defense of Marriage Act unconstitutional.
In an exclusive interview with American Libraries before her keynote speech at the Opening General Session, Kaplan said, "Librarians serve an incredibly important function in promoting and maintaining the health of our democracy, and a landmark decision like Obergefell is something that is important to librarians and their patrons."
At the moment the decision was announced, Kaplan was frantically checking SCOTUSblog for updates. "I was in my hotel room here talking to a whole team of people from my law firm, and we were also hooked in with Edie [Windsor], who was in her apartment." Kaplan describes the scene as "collective pandemonium. Everyone was speaking at once!"
She refers to Windsor as the "big kick in the butt" that moved the Supreme Court forward on a series of decisions that have fundamentally recognized the equality of gay people in our society.
Kaplan notes that librarians were in the forefront of many civil rights issues, particularly regarding censorship during the era when many gay men and lesbians had to live their lives in the closet. "Librarians were incredibly important in making sure information got out to people who were living lives that are almost unimaginable today," she says.
When Windsor was decided two years ago, Kaplan believed she would see the day that same-sex marriage became legal nationwide. She just wasn't sure she would see it before she was "a very old lady."
Edie Windsor is 86, and definitely did not think she would see it in her lifetime.
During her address, Kaplan joked that at the "ripe old age of 12," she decided to plot out the rest of her life—attend an Ivy League school, move to New York City, and become a successful lawyer. And although all of that came true, she says she has discovered that the only thing you can really know in life is that you can never know what life has in store for you.
She detailed her decision to take on the case of Windsor, the surviving partner of a 44-year lesbian relationship, who was left with a $363,000 tax bill when her partner died because she had no legal inheritance rights. Kaplan agreed to meet Windsor at her apartment to discuss the case because Windsor was hard of hearing and couldn't understand all the details over the phone.
Upon entering Windsor's apartment, Kaplan realized that she had been there before. Thea Spyer, Windsor's partner, was the therapist Kaplan saw during her painful "Pre-Ellen, pre-'Will and Grace'" coming out process, when young lesbians seemingly had little hope of a happy life.
In despair and estranged from her family, Kaplan had two sessions with Spyer, who specialized in "gay issues."
Spyer told her about relationship with Windsor, a brilliant mathematician. Although they met and fell in love  before Stonewall, their relationship was happy, stable, and joyous, giving Kaplan hope for her own life.
She took the Windsor case as a way to thank Spyer for helping her through her dark days.
Kaplan says it's too easy to fall prey to cynicism. She offers today's decision and Windsor as antidotes—saying that the courts matter, the Constitution matters, and what lawyers do matters a lot.