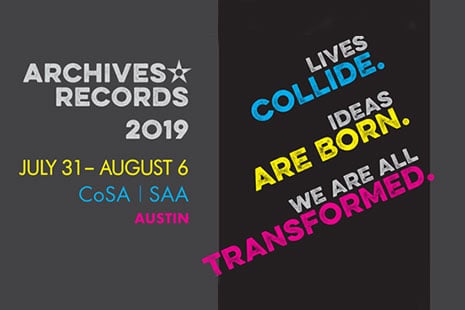 How can archives counteract historical discrimination and bigotry with inclusive collections? At the Archives*Records 2019 Conference in Austin, Texas—sponsored by the Society of American Archivists and the Council of State Archivists—presenters from Texas A&M University (TAMU) discussed this topic in "Building New 'Traditions': Advocating for Diversity and Inclusion at Texas A&M University Special Collections and Archives" on August 4.
Francesca Marini, programming and outreach librarian at TAMU's Cushing Memorial Library and Archives (CMLA), moderated the session and gave the introductory presentation, providing background information about CMLA's efforts and collections. Beginning with a brief history of some of the racism at the university, Greg Bailey, university archivist, provided a historical timeline of the integration of marginalized groups within TAMU, including the admission of the first African-American student in 1964 and the creation of the Gay Student Services Organization in 1976. Bailey discussed how inclusion and diversity initiatives at TAMU help foster the institution's core values and the university libraries' mission of being "the indispensable hub of discovery, learning, and creativity at Texas A&M University." This is achieved through collaboration, accountability, diversity, transparency, integrity, positive engagement, and leadership, he said.
Jenny Reibenspies-Stadler, reference librarian at CMLA, discussed how diverse research in archives and special collections can create a welcoming and inclusive student environment. Using the University Libraries/CMLA's LGBTQ+ Collections, which is home to a vast collection of LGBTQ+ history from the university, Reibenspies-Stadler demonstrated how this collection represents significant resources for gender, women's, and ethnic studies. These materials include the Don Kelly Research Collection of Gay Literature and Culture, featuring more than 10,000 items; resources from Latinx writers, diplomats, and academics; the Henry Tin Chin Loo Chinese literature collection; and a growing Black lesbian serials collection.
Jeremy Brett, curator of CMLA's Science Fiction and Fantasy Research Collection, examined the role that racial, ethnic, cultural, sexual, and religious diversity plays in works of science fiction and fantasy. In the exhibit "'The Stars Are Ours': Infinite Diversities in Science Fiction and Fantasy," items from the Cushing Collection are used to showcase diversity in science fiction and fantasy creators and audiences. Materials in this collection include books such as The Female Man, Dune, and Memoirs of a Spacewoman, as well as posters from The Rocky Horror Picture Show, Wonder Woman, and the television series Luke Cage.
Instructional Assistant Professor Leslie Winter closed the presentation with a discussion on cultivating diversity and inclusion in libraries and archives. She stressed the importance of having a broad representation of all groups in libraries and archives, from the patrons and staff to the resources, collections, and services provided, which increases accessibility to different resources. In addition, the libraries developed a diversity advancement committee to promote diversity awareness and education and address diversity topics that affect both employees and the University Libraries' community. The committee collaborates with library administration, recommending actions to promote diversity and inclusion throughout the University Libraries system.
Updated August 19, 2019.