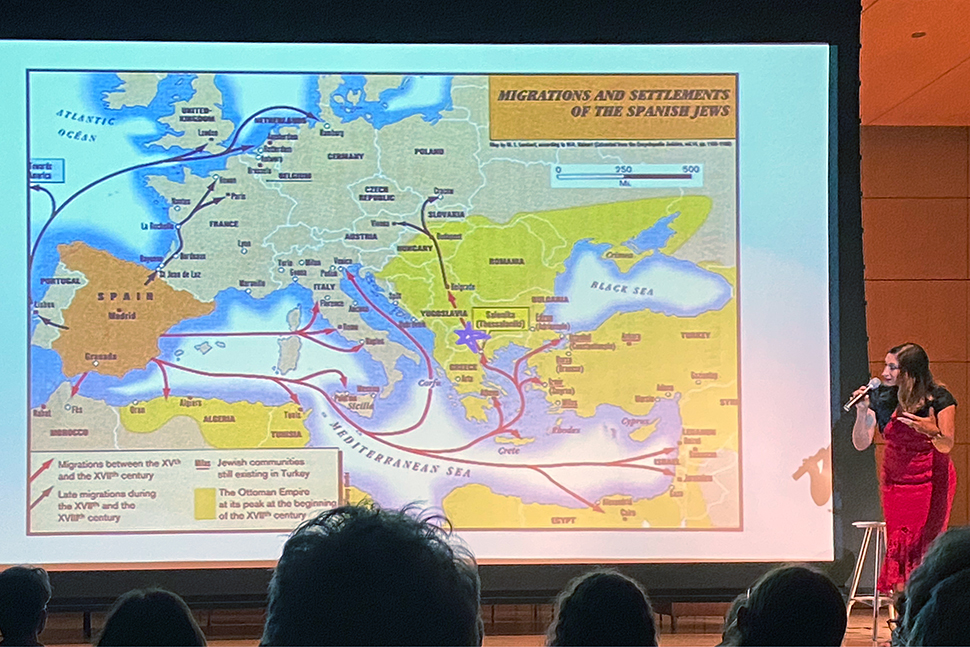 The breadth and depth of Jewish cultural heritage and history were explored at the Association of Jewish Libraries (AJL) Conference 2022, held in Philadelphia June 27–29. Aptly titled "Together Again," the event was AJL's first in-person conference since 2019. Attendees gathered at the Weitzman National Museum of American Jewish History for programs that covered wide-ranging Jewish collections, books, and experiences.
Highlighting history
In the session "Documenting History through Collections," presenters discussed how collections tell—or exclude—stories from the past.
Herb Calanes, retired director of Corpus Christi (Tex.) Public Libraries, shared his research on Sephardic Jews in northern Mexico (an area then known as Nueva España) following their 1492 expulsion from Spain. Although Sephardic families were longtime members of the Nueva España community, they were largely absent from official documents, Calanes noted. His work focuses on including Jewish stories that were otherwise erased from the historic record.
Lauren Gilbert, senior manager for public services at the Center for Jewish History in New York City, talked about the center's Sid Lapidus Collection of Early Modern Judaica, which examines the intersection of Jewish life and the Enlightenment movement in 18th- and 19th-century Europe. Through key documents, she highlighted the expansion of freedoms for Jews during that period.
Between the 1880s and 1910s, hundreds of postcards depicting Jewish life were produced in the city of Salonica (now Thessaloniki, Greece), which had a thriving Jewish population at the time. Gabriel Mordoch, Irving M. Hermelin curator of Judaica at University of Michigan (UM) Library in Ann Arbor, explored UM's collection of those postcards, which captured the Sephardic Jewish communities' home life, work life, customs, and dress.
Collections and community
At "In Real Life: Building and Updating Physical Judaica Collections," attendees were introduced to three research collections that have interesting origins or have faced unique challenges.
Lenore Bell, senior advisor for strategic initiatives at the US Holocaust Memorial Museum in Washington, D.C., reviewed changes happening at the museum's Shapell Center, a specialized facility that holds the US Collection of Record on the Holocaust. Previously, the center's physical layout had not been conducive to collaborative work, so improvements were made to relocate tech services and public-facing areas to better address needs. The changes resulted in a "new dynamic hub of collection access and service," Bell said.
Second is the Dorot Jewish Division of New York Public Library, which holds the largest and most diverse Jewish cookbook collection in the world. The collection "tells us about the work of women that is often absent in scholarly and primary sources," said Amanda (Miryem-Khaye) Seigel, research librarian for the division. The closed-stacks collection was the initiative of the late Roberta Saltzman, who collected a broad range of materials including community cookbooks, such as those created by women's organizations for local audiences. "Sometimes a historical cookbook is the only documentation of a community," Seigel said.
Finally, Congregation Shaar Hashomayim's archive came into being thanks to a fortuitous discovery: Previously unknown historic documents were found in a filing cabinet, leading the Montreal-area synagogue to hire an archivist. Hannah Srour-Zackon was brought on as the congregation's archivist and museum director and began the difficult process of identifying and organizing the documents for preservation and access.
As word spread of the contents of the filing cabinet, more stored materials were discovered within the community. The collection, which dates back to 1902, includes photos, sermons, records of synagogue activities, rabbinical papers, musical compositions, and marriage records—and "has continued to snowball from there," Srour-Zackon said. The processed materials (excluding those limited by copyright law or privacy concerns) are being made available to the public and continue to grow as a living archive. She attributes the archive's success largely to outreach efforts: "By engaging community, people learn what we have."
Preserving language
Singer-songwriter, author, and activist Sarah Aroeste illuminated her Jewish heritage with an evening musical performance at "Ladino Culture from Yesterday to Today." Ladino is a pan-Mediterranean, Judeo-Spanish culture and dialect spoken by those with Sephardic roots and is in danger of fading away. Aroeste sang songs in Ladino and shared stories about the history of the community and her family background.
"[Aroeste's] pride in her heritage is much appreciated by those of us who share [these origins]," said Arlene Ratzabi, librarian at Westchester Jewish Center in Mamaroneck, New York, and an attendee at the performance. "[She] is a multitalented force of nature who brilliantly [brought] the Ladino music and culture to life."