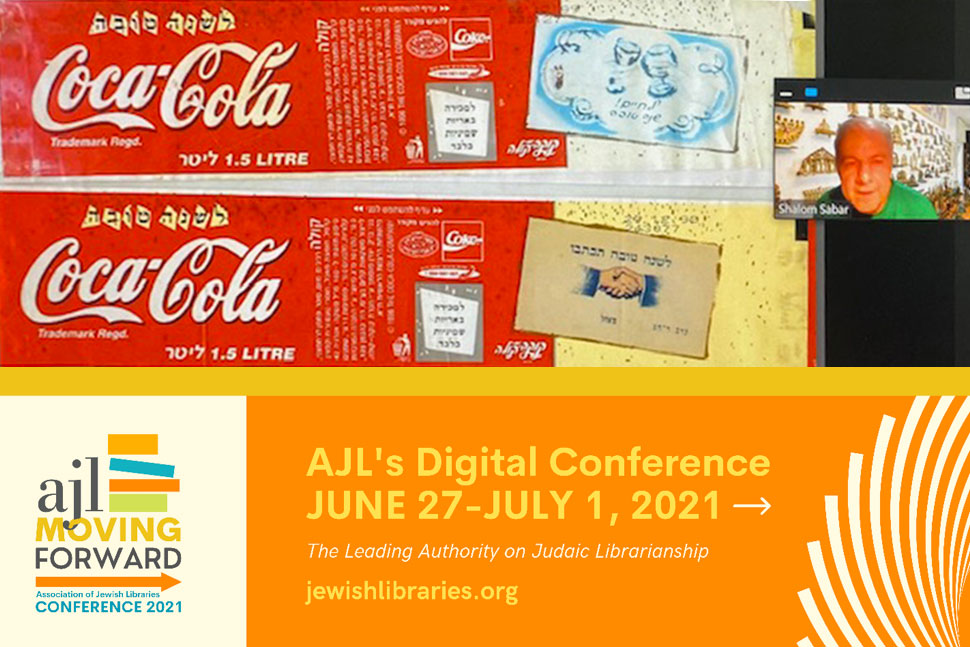 What does it mean to be the keepers? This idea was explored through different lenses at the Association of Jewish Libraries (AJL) 2021 Digital Conference, held online June 27–July 1.
Shalom Sabar, professor of Jewish art and folklore at Hebrew University of Jerusalem, opened the conference with the session "The Hidden Treasures of Jewish Ephemera." Sabar challenged attendees by asking, "What do we put in our museums? What treasures of cultural heritage are worthy of preservation for the future?" Discarded everyday items, he explained, are "part of our culture in the same way as high art" and would otherwise be "lost to our society."
Since the 1990s, Sabar has collected and preserved ephemeral materials, including amulets, handwritten prayers, letters, postcards, tickets, posters, and pamphlets, that document Israeli social history. In particular, he seeks out iconography on everyday objects such as wine bottles or invitations as they document "what images are important to people" at a particular moment in time.
"COVID-19: Documenting the Moment and Continuing to Provide Access" explored rapid-response collecting with academics sharing how they preserved evidence of the pandemic. Elizabeth Kobert, processing archivist at the Jewish Theological Seminary in New York City, said she "felt it was extremely important to document this unprecedented moment in [Conservative Judaism's] history." Outreach methods included direct email, listservs, and word of mouth. Materials were sent to a dedicated email address and a Google form was used to standardize metadata fields for the approximately 500 objects collected. The majority were personal reflections, but synagogue web pages were also captured on Archive-It.
Yeshiva University (YU) in New York City undertook similar efforts, said Deena Schwimmer, an archivist at YU, with a focus on digital materials documenting the pandemic's effect on Orthodox Jewish communal life in the US and Canada. A dedicated email address was set up and shared on listservs and social media. YU sought public announcements of events, activities, protocols, and rules, but it excluded news, opinion pieces, articles, and blog posts. Efforts were focused on schools, camps, synagogues, and community organizations. YU conducted several reviews of the content to try to fill gaps. The resulting collection includes more than 1,000 items in a variety of formats. "File naming protocols have been indispensable" to this project, Schwimmer said.
John Turner, professor of religious studies, and Lincoln Mullen, associate professor in the department of history and art history, both of George Mason University (GMU) in Fairfax, Virginia, spoke about American Jewish Life, a partnership between GMU's Roy Rosenzweig Center for History and New Media and six Jewish cultural institutions: the Breman Museum in Atlanta; the Capital Jewish Museum in Washington, D.C.; the Goldring/Woldenberg Institute of Southern Jewish Life in Jackson, Mississippi; Hebrew Theological College in Skokie, Illinois; the Houston Jewish History Archive at Rice University in Houston; and YU. The collaboration aims to streamline and expedite material collecting. "Rapid-response collecting is not easy," Turner said, but there is an urgency to collect ephemera. GMU's long-term plan is to use the collection as a teaching resource.
In "North, South, East and West: Tracing Provenance around the World," a panel discussed the significance of provenance in their work. The panel included: Haim Gottschalk, Hebraica and Judaica cataloging librarian at Library of Congress; Veronica Belling, a retired librarian from the Kaplan Centre for Jewish Studies at University of Cape Town, South Africa; Chaim (Louis) Meiselman, Judaica special collections cataloging librarian at University of Pennsylvania Libraries in Philadelphia; and Kerstin Von Der Krone and Annette Sasse from University Library Frankfurt at Goethe University in Germany.
At University Library Frankfurt, which holds the largest Judaica collection in Germany, librarians in 2019 and 2020 worked to add materials to Columbia University's Footprints Project, which traces the history and movement of Jewish books. Although most of the university's materials were lost during World War II, it still maintains significant holdings. Supported by two librarians, the project focused on Hebrew incunabula, Yiddish prints, and other Hebrew prints. Overall, the project identified more than 1,091 items, which were subsequently uploaded to Footprints.
At Kaplan Centre, librarians sought to rehome collections that could no longer be housed at University of Cape Town. Via a listserv discussion, the librarians were put in touch with Arthur Kiron, curator of Judaica collections at University of Pennsylvania, who was able to take the books for the university. Questions arose about the books' origin and how they ended up in South Africa. Meiselman found clues in provenance marks in some books, including Nazi stamps, custom bookplates, and a child's drawing from 1830. Together, these markings create a "moving statement" of the collection's journey, he said.
Finally, in "The Keepers: Librarians and Archivists as Preservers of the Truth," Richard Ovenden, Bodley's Librarian at Bodleian Libraries at University of Oxford, explained the importance of library preservation work throughout history, especially during times of strife. "Librarians and archivists pass on the acts of preservation like a baton," becoming preservers of truth, said Ovenden. He highlighted several extraordinary acts of preservation, such as the hiding of books in the Vilna Ghetto during WWII. Those who risked their lives were following an "impulse for preserving the truth." Today, he said that role is often played by digital preservation. "Archives are places where the social rights of citizens are preserved," he said.
Libraries and archives must be seen as essential repositories of facts and truth, Ovenden concluded. He cautioned that without these acts of preservation, we risk living in a world where, as George Orwell wrote in 1984, "The past was erased, the erasure was forgotten, the lie became the truth."