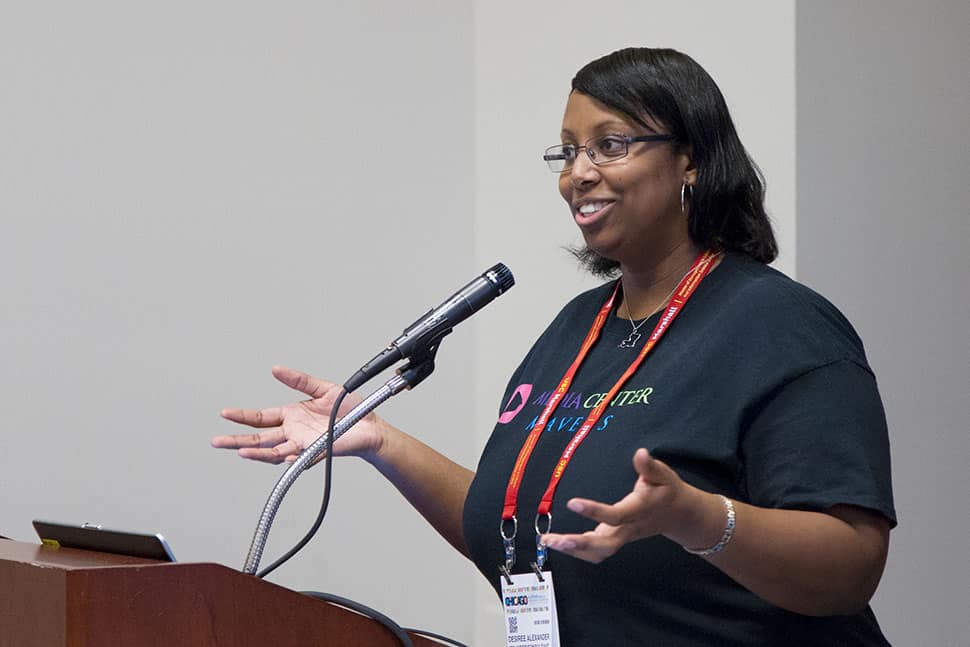 Teens of color, immigrants, and refugees are an emerging population in many communities, but how do we best serve them? School librarians Desiree Alexander, regional director of North Louisiana for the Associated Professional Educators of Louisiana; Valerie Tagoe, media specialist at Wilmer-Hutchins High School in Dallas; and Caricia Walker-Zepeda, librarian at Reinhardt Elementary School in Dallas, presented various ways to reach and serve students of color and immigrants in the "Dynamic Ways to Serve Teens of Color" session on Saturday.
Tagoe partnered with Catholic Charities of Dallas to add programs to the summer reading program and provide citizenship information for immigrants and refugees.
Alexander stressed the importance of promoting and branding your library. "Promote like your life depends on it," she declared. Using social media is a first step, but she also recommended involving teens in managing the library's social media pages and using them for content recommendations. Organizing a teen library council and involving teen immigrants and refugees is an excellent way to reach those students.
Walker-Zepeda and Alexander spoke about the ever-existing digital divide issue facing libraries. Opening the library before or after school is one way Alexander found to provide expanded access to computers and the internet for students. Adding to the conversation, Tagoe recommended researching ways to get Wi-Fi in your city—and getting your students involved in the project of expanding access to it.
Walker-Zepeda also offered collection development tips, recommending that librarians build a collection that is purposeful to teens. A first step is to simply ask teens what they want. Librarians can also ask teens to read and review books to find out which ones they enjoy. Ask teachers, librarians, and local authors from other countries to recommend translated books. Finally, ask vendor representatives for databases that will assist English Language Learner (ELL) students.
As school and public librarians, our job is to serve all teens. Alexander, Tagoe, and Walker-Zepeda provided attendees with the tools to begin that journey.
Save
Save