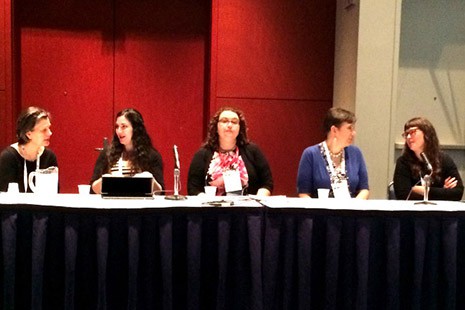 I tend to think in terms of failures, which is a fitting mindset as an engineering librarian. In engineering, failure analysis is the systematic study of an engineering design product after a failure occurs. Basically, if an engineer designs something and it breaks, engineers figure out why it broke and what can be improved. In fact, several engineering journals are dedicated to publishing case studies of failures.
Failure analysis can be applied to librarianship as well. Several brave librarians shared their failures—and the lessons they learned from them—during "Visibility and Engagement: Design, Develop, or Refresh your Online Instruction."
Kelly Diamond, head of the Office of Curriculum and Instructional Support at West Virginia University's Evansdale Library, told of being hired in an online instruction designer position with only one online course of experience in her background. As a new designer, she built a patchwork understanding of online instructional design by taking workshops, but she found that turning this into effective practice proved difficult. In particular, she often implemented expensive and shiny solutions to problems that didn't produce effective results.

Instead of continuing with this informal method of learning, Diamond enrolled in an instructional design program at George Washington University. There, she learned that online students have a greater transactional distance (a mental distance between student and instructor that can create psychological and communication gaps) than students in traditional classes. Greater transactional distance can result in lower student engagement.
Diamond developed two axioms from her experience and newly acquired education, which she has used to design courses more effectively. First, if you can design an effective lesson plan, you can design an effective lesson plan online. Second, technology works in support of online instruction, not in place of online instruction. Simple and free technology can work as well or better than expensive solutions.
Claudia McGivney, head of academic engagement at Stony Brook (N.Y.) University Libraries, discovered that students were not effectively engaging with the material in their information literacy courses. That lack of engagement reduced information retention and ultimately hurt the effectiveness of the courses.
That changed when she started requiring reflective journaling, with journal entries sent directly to the instructor, rather than shared via an online discussion board. Students initially misunderstood the requirements of reflective journaling—focusing on "what happened" in their learning experiences rather than "why" or "how" they happened. Once McGivney clarified the goals, however, students enjoyed her courses more and retained more information.
Susan Wengler, assistant professor and coordinator of information literacy at Queensborough Community College in New York, was tasked with creating an online information literacy course for second-semester freshman. This required, credit-bearing, five-week course ran parallel to the schools introductory English composition course. Excitement for the new course quickly waned, however: 41% of students received a failing grade in Fall 2015, up from 31% that summer.
The instructors identified three obstacles to student success. The first was too much text, so instructors dropped the textbook and written lectures and replaced them with videos and short quizzes. The second was that students were inexperienced and apprehensive about online learning. Instructors held an open discussion the first week of classes and asked students to share their fears about online courses—which made it possible for them to work to counter those fears accordingly.

The third obstacle was that many students missed assignments in the information literacy class due to procrastination with the English composition assignments that fed into them. Instructors solved this by assigning parallel but separate topics for the information literacy course.
Save
Save
Save