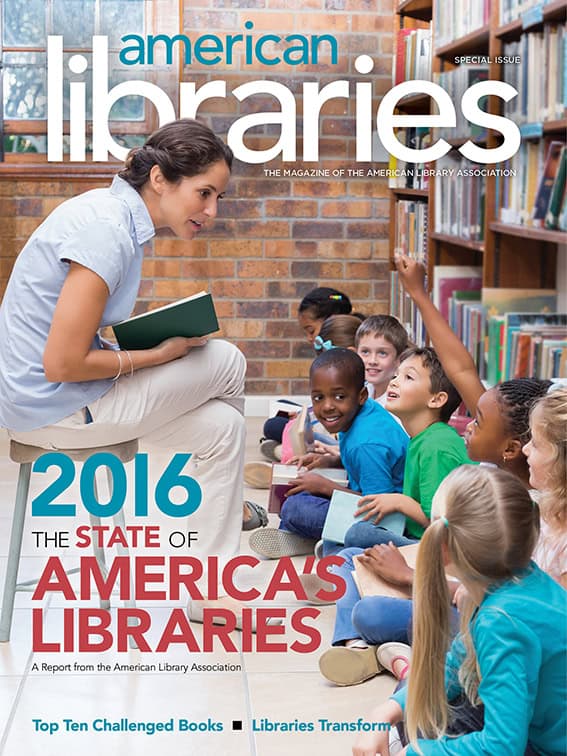 Libraries are not just about what they have for people, but what they do for and with people. With communities still recovering from the Great Recession, academic, school, and public libraries continue to transform and shift resources and services to meet the needs of tech-savvy patrons.
This and other library trends of the past year are detailed in the ALA's The State of America's Libraries 2016 report, released April 11 in recognition of National Library Week, April 10–16.
The report shows that libraries of all types add value in five key areas: education, employment, entrepreneurship, empowerment, and engagement. Local and national studies cited within the report show that libraries are advancing multiple literacies and fostering a digitally inclusive society.
Administrators are looking to school librarians to help them digitize education and lead blended learning activities in schools, thus bringing equity, connectivity, and personalization to instruction.
The value of certified school librarians continues to grow as administrators and teachers seek education resources to better serve tech-savvy students. For example, in 2010 only 35% of school librarians indicated they were acquiring digital content. By 2015, that number had increased to 69%. This trend is reflected across a variety of formats, particularly databases, ebooks, periodicals, videos, and games.
Libraries continue to strive to support digital equality. Multiple studies increasingly point to the fact that individuals from lower socioeconomic backgrounds do not have equal access to high-speed internet, digital tools, or opportunities to learn how to use digital resources. As a result, they are less able to compete for 21st-century careers, participate fully in civic engagement, or even advance their own personal learning and interests.
Regardless of format–digital or print—the report shows that collections within school and public libraries continue to be challenged. A challenge is defined as a formal, written complaint filed with a library or school requesting that a book or other material be restricted or removed because of its content or appropriateness.
In July 2015, a Harris poll on attitudes about book banning and school libraries revealed that out of the 2,244 US adults who participated, the percentage (28%) who felt that certain books should be banned increased by more than half since the previous survey (18%) conducted in 2011.
Book challenges recorded by ALA's Office for Intellectual Freedom reveal that attempts to remove materials with diverse content are higher than ever before.
The Top Ten Most Challenged Books of 2015 were:
Looking for Alaska, by John Green
Fifty Shades of Grey, by E. L. James
I Am Jazz, by Jessica Herthel and Jazz Jennings
Beyond Magenta: Transgender Teens Speak Out, by Susan Kukli
The Curious Incident of the Dog in the Night-Time, by Mark Haddo
The Holy Bible
Fun Home, by Alison Bechdel
Habibi, by Craig Thompson
Nasreen's Secret School: A True Story from Afghanistan, by Jeanette Winter
Two Boys Kissing, by David Levithan
Read the complete list of reasons for challenges, additional information, and infographics regarding the 2015 Top Ten List of Most Challenged Books. 
Other findings in The State of America's Libraries 2016 report findings include:
Libraries strengthened their role as leaders in community engagement, leading community forums, taking part in anti-violence activities and providing a safe, neutral place for an often divided populace to come together.
Services and spaces for teen patrons are transforming as libraries look for opportunities to help teens design their own learning experiences. New service spaces include dedicated makerspaces, tinkerlabs, and other reconfigurations of the library's space.
The full text of the 2016 State of America's Libraries report is available as an American Libraries digital supplement, as well as on the ALA website at ala.org/news/state-americas-libraries-report-2016.