Tig Notaro, comedian, breast cancer survivor, subject of an eponymous documentary, Grammy Award winner, actor in the critically acclaimed TV series Transparent, and author of a book to be released this June by Echo, frequently reminds us that "I'm just a person." (Also the title of her book, by the way.)
Though she says she is the "worst guest for librarians" because she flunked out of 7th grade and dropped out of school, she cleverly began her hilarious stand-up routine for the closing session of the Public Library Association 2016 conference with a story about Fluff, her kitten. Fluff and her night-night ribbon. The cat-loving librarians loved it.
Though the audience groaned when she ended her set after 10 minutes, the conversation with PLA President Vailey Oehlke was just as compelling. Notaro says she's been writing stand-up for about 20 years, and it's interesting to her because "you can convey a moment or a feeling or a story in three minutes."
She says she has a bad memory and was happy to write the memoir before she could forgot so many details. "I worked on this book for over three years, and in my mind it's the size of Infinite Jest (by David Foster Wallace, at 1,079 pages) and then…" she looks with raised eyebrows at the advanced reading copy, a slim volume of 123 pages.
Notaro still seems somewhat in awe of having gone from a short traumatic period in her life when she caught pneumonia, had C-Diff, her mother died, she endured a relationship break-up, and was diagnosed with breast cancer—to a enjoying a successful stand-up comedy career and now, publishing her memoir.
"I wish everyone could get a book deal, especially for a traumatic time," she deadpanned. And yet, she says her own book was the last one to make her cry. The title, I'm Just a Person, she says, reflects that anything can happen to anyone. When she learned about her cancer, she realized she might die. "It can be my life. I'm not special."
She made "a political statement" by taking off her shirt in her August 2015 HBO special, showing her mastectomy scars. She went right on with her routine without stopping. "We're human beings and this is our body and so what," she said.
She and her wife, Stephanie Allyne, are expecting twin boys, so Fluff is going to have to make room for some competition with the bedtime routines. In her book, Notaro talks about how her stepfather, Rick, predictably writes a $350 check for Christmas each year to her, but revealed to Oehlke that he recently upped it to $500. "It's a really sweet life Stephanie and I have been living now," she joked.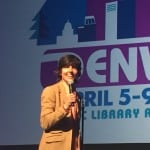 She was quite surprised to learn that Rick had called to tell her he was buying them a stroller and also had purchased some baby outfits for the twins. She laughed, demonstrating how Rick might lift up onesies and other clothes to buy.
Was her favorite book really Ribsy by Beverly Cleary? Oehlke wanted to know. Reminding the audience that she had passed only 7th grade, it was the last storytelling book she read before getting into rock biographies and magazines. She had written a book report on Ribsy in 7th grade, only to discover that it wasn't on the book list. "I wish I had something better to say than it was laziness," she said.
She ended the conversation to what is one of her favorite, and yet slightly embarrassing moments: a standing ovation.