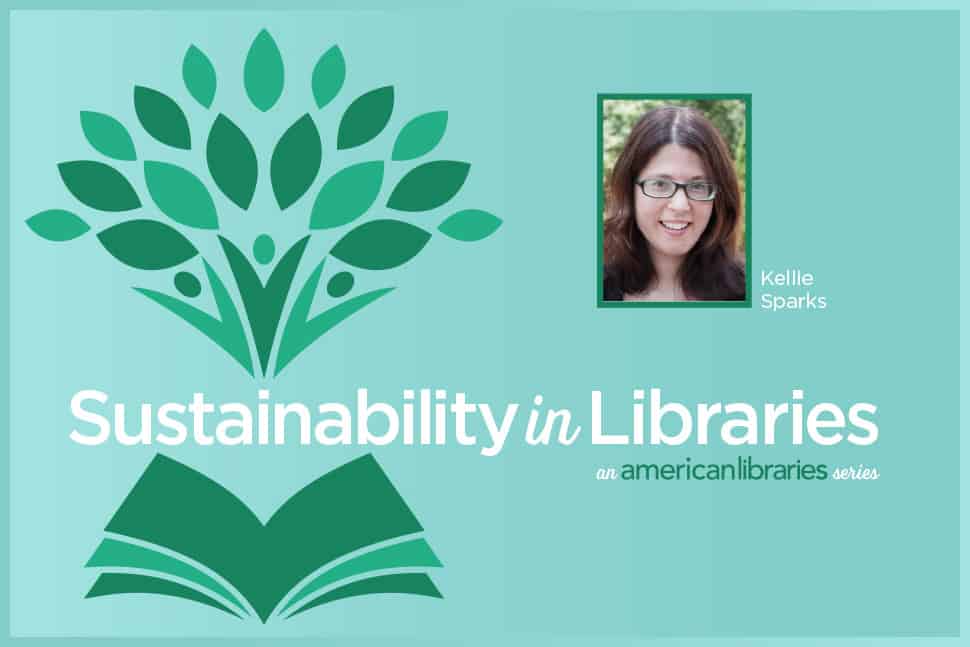 This column is one in a multipart American Libraries series that explores the library profession's relationship to sustainability.
Academic librarians have a notable opportunity to take the lead in ensuring reliable information enters the hands of community members, including leaders and activists. One area for improvement is the topic of sustainability—an issue not just for those interested or working in the sciences, but one for every living, breathing being.
Libraries can move toward providing a fact-based voice in fighting climate change in their communities. One way to do this is by more proactively collecting and disseminating information to stakeholders involved in local sustainability efforts. A recent study from Lisa Dilling and John Berggren at the University of Colorado finds, "there is substantial capacity to provide the needed data, modeling, and knowledge, but … stakeholders may be encountering barriers in locating data, finding experts, or simply knowing whom to contact as a first step." Libraries can curate and actively market meaningful data and resources to those seeking information.
Building a knowledge base
As a first step, libraries may want to consider hosting a digital forum where community members and external partners can contribute relevant material. These partners can include local watershed councils, municipalities, and nongovernmental organizations, among others. An excellent example of a university-sponsored digital forum is Yale Climate Connections. This nonpartisan initiative acts as an informational conduit to the world of climate change. Rich stories are told through articles, radio, video, and webinars and act as a constructive catalyst for community change.
Librarians can also create LibGuides that are regularly updated with groundbreaking studies. A dynamic, highly localized LibGuide that includes your university's faculty and student research and a list of local sustainability partners can assist those participating in the climate conversation by keeping them current on regional initiatives. The LibGuide can be populated by actively engaging with departments involved in climate change research and adding papers or findings through your library's institutional repository.
After implementing these two initiatives, there are still other ways to become more proactive in sustainability efforts. Strengthening your library's ties to environmental student groups can mobilize youth voices and amplify your efforts. Including campus environmental projects as part of your resources can serve as an important reminder of the practical value behind initiatives. According to an article by Sara Meerow, John Nordgren, and Missy Stults in Environmental Science and Policy, distributing regional case studies to interested parties may also be beneficial in helping leaders and activists decide on best practices for their communities. Your creativity and community's unique circumstances can be a guide for the efforts you undertake at your library.
Disseminating the information
By establishing relationships with interested stakeholders and local organizations, the library can develop a knowledge base that can be useful to university board members, elected officials, and business leaders. This information should include comparative data to show how other communities across the state and nation have become more resilient in the face of climate change. Once gathered, the information needs to be promoted and disseminated to be truly useful.
Initially, getting information into the hands of the activists working within and on behalf of the community is important. One way to promote this information is by offering regular, regionally focused programming on climate change and sustainability. This creates a pathway for strengthening public awareness and provides a channel for actively marketing this curated information. These resources can also be regularly promoted via email newsletters, social media, and local media outlets.
By empowering the public with factual and relevant information, it is more likely to be accessed when it's most needed. For instance, at city council meetings, community activists can refer to the latest findings or reports related to any votes or proposals being discussed. When businesses are considering new initiatives, interested residents could send the information to the project managers or board of directors to help them consider more sustainable options.
Strengthening the voice of a community takes both determination and courage—and as academic librarians, we are armed with an incredible arsenal of resources to do just that. By ensuring trusted information on climate change and sustainability gets distributed to those within your community, all will benefit.
---
Resources to Help Create a LibGuide
Many governmental websites are going through changes with the new US presidential administration, so creating PDF copies of the information is advisable in case is lost.