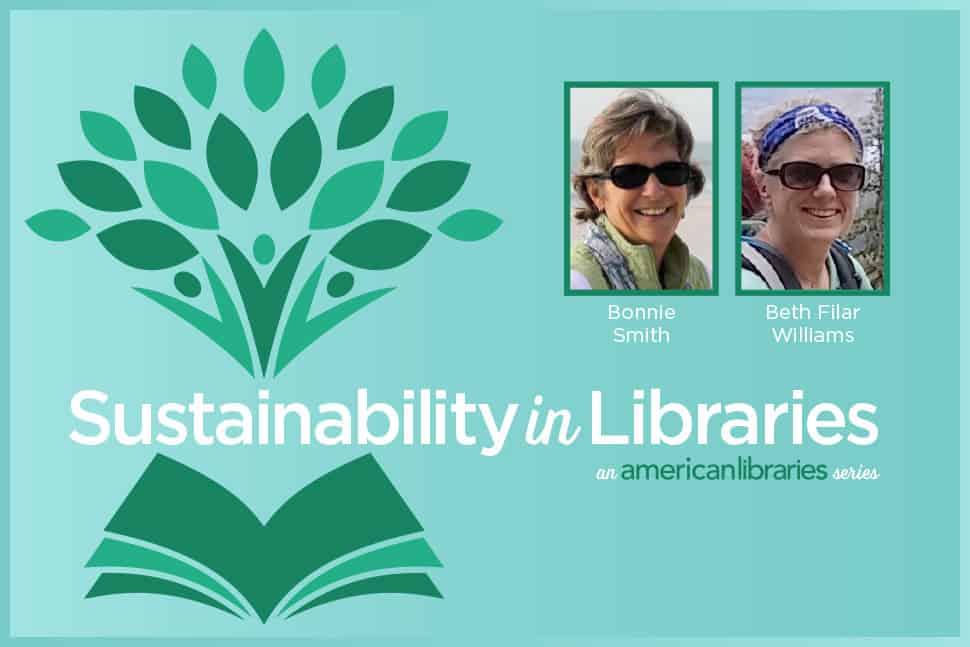 This column is one in a multipart American Libraries series that explores the library profession's relationship to sustainability.


"Sustainability, ensuring the future of life on earth, is an infinite game, the endless expression of generosity on behalf of all," environmentalist Paul Hawken wrote in his bestselling book Blessed Unrest.
This consideration of the need and role of humanity in constructing a sustainable future for all—balancing environmental, economic, and social needs while protecting vulnerable populations—is a core and urgent concern of society, and consequently of libraries.
The very notion of libraries, where space and resources are equally accessible to all, puts them clearly and unequivocally at the heart of sustainability. Well before "green" and "sustainable" became household words, libraries were drawing attention to these issues, proactively applying sustainable thinking to their facilities, operations, policies, technologies, programming, partnerships, and teaching. Libraries are uniquely positioned to play a crucial role in community conversations about resiliency, as society awakens to the need for urgent action to ensure a sustainable future.
Why ALA needed SustainRT

Associations are the backbone of the global library community; they are what connect us to groups of professionals creating synergies and sharing skills, knowledge, and experiences.
Until the Sustainability Round Table (SustainRT) was established in January 2013, the American Library Association (ALA) did not have a specific group focused on sustainability. Previously we had the Task Force on the Environment—established in 1989 under ALA's Social Responsibilities Round Table, which provided effective advocacy for environmentally focused library efforts until it disbanded in 2015—but no single office, committee, or round table broadly dedicated to sustainability.
The question emerged as to whether library professionals wanted, would support, and would contribute to a community of practitioners on this topic. When a handful of sustainability-focused librarians led a four-part webinar series in 2012—which jumpstarted the formation of SustainRT—the question was answered. Professionals in academic, school, special, government, and public libraries in the US and Canada came together—virtually at first, and later in person at ALA meetings.
Two years after ALA Council approved the formation of SustainRT, Council adopted a resolution on the Importance of Sustainable Libraries that was submitted by the round table, which recognizes the important and unique role libraries play in wider community conversations about resiliency, climate change, and a sustainable future.
Now, with a growing membership, the round table continues to be a hub for professionals from all types of libraries, to find and share creative and sustainable-minded solutions to complex issues. For example, SustainRT has created a public database of resources, soon to become searchable, to help library professionals meet their communities' economic, social, and environmental challenges—from assisting with responses to natural disasters to teaching computer skills to providing patrons with information they need to advocate for their safety. The database is populated by library professionals across the country and provides a cohesive and dynamic picture of sustainability efforts via publications, policies, procedures, facility projects, curriculum support, and community outreach activities.
Issues and solutions are bigger than the individual librarian or library, and having a community of practice provides a structured venue to exchange knowledge and experience, spark innovation, and strengthen group capabilities. Further, this community facilitates access to expertise through peer consultation, confidence building, meaningful leadership opportunities, a sense of belonging, and a venue to share one's passion.
Using SustainRT as a model
Our vision is to embed sustainability throughout the profession, including reaching more library schools and students. We want to shift the culture of our profession, and we want to highlight the resilient and regenerative nature of libraries and how libraries are adaptively managing their future. SustainRT does this through programming—ideas that are highly replicable in your own library, whether coordinated for employees or community members. Activities have included:
– A free quarterly webinar series, open to and presented by members and nonmembers alike. SustainRT has covered a range of topics including energy conservation, book-to-action programs, embedded librarians in campus sustainability offices, and conference travel offset projects.
– Virtual meetings before every conference that aim for inclusivity—and reduce our footprint.
– Collaboration with other ALA groups to bring robust programming to conferences, including environmentalist Bill McKibben, who is coming to the 2017 ALA Annual Conference and Exhibition in Chicago.
SustainRT's success rests on members' professional achievements as well as their ethical and personal stake in the well-being, empowerment, and blossoming of the communities they serve. Professionals in all types of librarianship who want to bring more holistic and embedded sustainable-thinking to their organizations should put communities at the center of their approach.