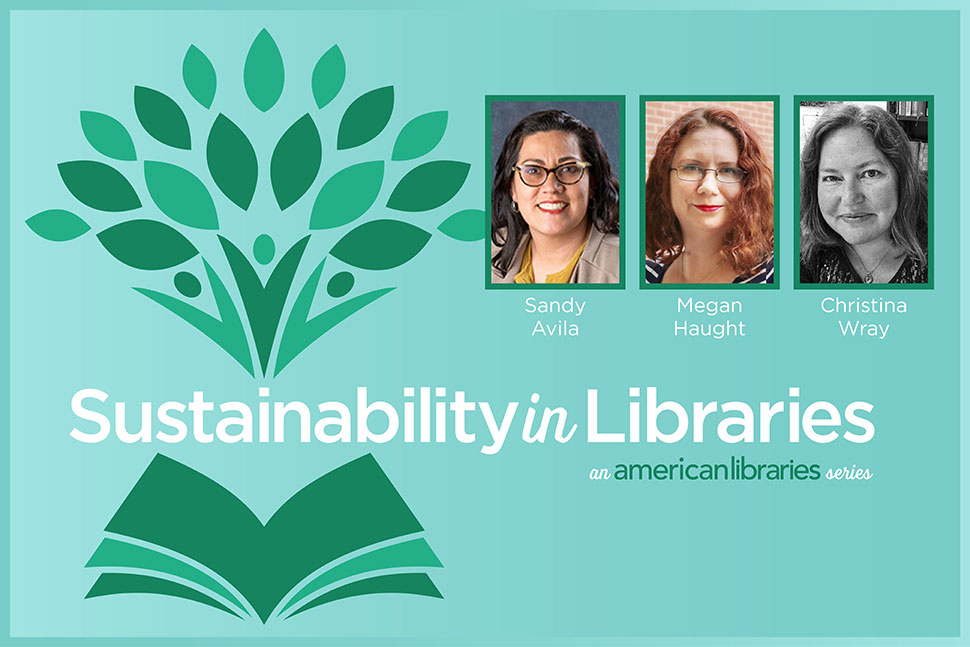 To mark the 50th anniversary of Earth Day—and recognize the American Library Association adding sustainability as a core value—American Libraries returns with its ongoing sustainability series. In these posts, information professionals share their experiences with sustainability in libraries.
In spring 2018, University of Central Florida (UCF) Libraries staff members were exploring ways to expand programming beyond the classroom. Earth Day gave us the perfect opportunity to devise a program that promoted campus sustainability practices and expanded our network of partners.
We decided to team up with UCF Arboretum staff to teach students more about the unique habitats all around them. Here at UCF, we are lucky to have more than 800 acres of preserved natural lands on campus. Yet students rarely have a chance to make personal connections with the university as a natural place. Using as our foundation place-based education theories—an approach that aims to boost engagement and outcomes by connecting learning with communities—we hoped that our programming could help students cultivate a sense of belonging and become more aware of the endangered flora and fauna they pass every day.
A unique partnership
To the untrained eye, the library and arboretum may seem like unlikely partners. Our libraries store treasures in quiet, climate-controlled environments—whereas the arboretum's most ubiquitous companion in the quest for knowledge might be the mosquito. But we see the library's many resources and collections as a jumping-off point for arboretum adventures.
Through our work with UCF's Department of Biology, the library already had a good relationship with the program director at the arboretum, so it was easy to expand into new types of events. In our first year, we offered a two-part program that included a film screening and discussion focused on the longleaf pine habitat, followed by a guided hike that exposed students to the plants and animals featured in the film. Both organizations promoted this program via social media and the campus-wide events calendar, which allowed us to reach a more diverse audience than we would have individually.
The first year was so successful that we decided to expand programming from one day to a whole month in 2019. We tried to host at least one event per week and curated ongoing exhibits in the library to highlight collections related to natural history, natural science, and sustainability. We also partnered with our Special Collections Department to create an exhibit of a well-known local artist's nature paintings. Unfortunately, we learned that April is a tricky month to host events in the academic calendar, with most of our community in full-out finals mode, so our engagement rates got less impressive as the month went on.
Tips for collaboration
Is your library looking to host place-based sustainability programs with a partner? Here are five things we have learned that can make collaborations more successful:
Start small. Before you dive into a multiple-event partnership, get one successful program under your belt—then grow slowly together.
Take the time to develop a plan. This plan should include well-defined expectations for each partner, which will keep you from duplicating efforts and give everyone a clear path forward.
Plan events with your community's calendar in mind. While it may seem like a good idea to capitalize on the attention generated by Earth Day or Arbor Day, that timing might not work well with final exams at some schools. Consider pinning your sustainability programming to other observances or opportunities.
Think local. Connect with area partners, like the naturalists or program developers at nearby natural lands, and focus on your local habitats. This will help participants develop a closer kinship with your natural community.
Go broad. The celebration of our natural world can be found in art, literature, experiential learning, and many scientific disciplines. By expanding our view of nature programing, we can help patrons who may not see themselves as "nature lovers" develop connections with the environment. The more connected they feel, the more they will want to protect it.