Sometimes the best way to think outside the box is to look inside other people's boxes. So I participated in a session titled "Library Machines: A Lo-Fi Design Conversation," with presenters Jeff Goldenson, a designer in Harvard Library's Innovation Lab, and Sidsel Bech-Petersen of Aarhus Public Library in Denmark. A library machine is "a mechanically or electronically operated device for performing library functions. It may be an experience, instrument, application, or efficiency."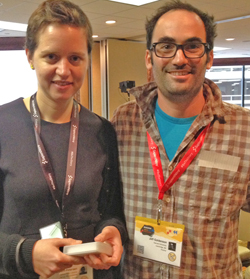 Bech-Petersen described the process of transforming the main library in Aarhus into Denmark's library of the future. Dokk1, as it's called, includes a flex space where staff can prototype different offerings such as a Transformation Lab, where people can learn and create together. If the activities in the flex space prove popular, they can become more permanent offerings. Things that don't work are swapped out for something new. Bech-Petersen said libraries can provide a stage where makers can share. Members of the public may not ever visit a community Makerspace but are often very receptive to exploring makerspace concepts at the library. Dokk1 has also partnered with a local garbage company to offer a repair lab, where people can fix possessions or build new things.
The images Bech-Peterson shared of Dokk1 were enviable, and she explained their rationale: The old library was for media and books, so the new library should be for people. To this end Aarhus PL has implemented a lot of self-service technology so staff is freed up to work with the community. The groundwork for this transformation included interviewing residents in their own homes to find out how people use/don't use/would like to use libraries. Dokk1 staff members also held 24-hour innovation camps where staff brainstormed possibilities for what their libraries could be or include.
MIT Media Lab graduate Jeff Goldenson followed up by stating several reasons why libraries present great design opportunities: We have real estate, people's trust, great brand recognition, and an existing user base. We take a longer view and we're driven by a belief system. In priming the audience for an exercise in which we brainstormed library machines, Goldenson asked: "What is the return on investment for your stacks of books?" And how do we attract users during that gap between when they stop coming to the library with their parents and when they return as parents themselves, with their own kids?
Inspired by images of the innovations at the Labrary, participants came up with inventions such as a special reading/story room that creates an immersive experience by projection-mapping the walls with imagery appropriate to the book you are reading. One great takeaway from this session was the message that it's okay to take risks—in fact, it's necessary—and to fail. A failure, as one audience member said, is simply an opportunity to tweak. Learning is messy. You don't have to know everything before you start. You just have to start.
ANN AWAKUNI is an ​online instructor at Infopeople and technology librarian at the Mountain View (Calif.) Public Library.