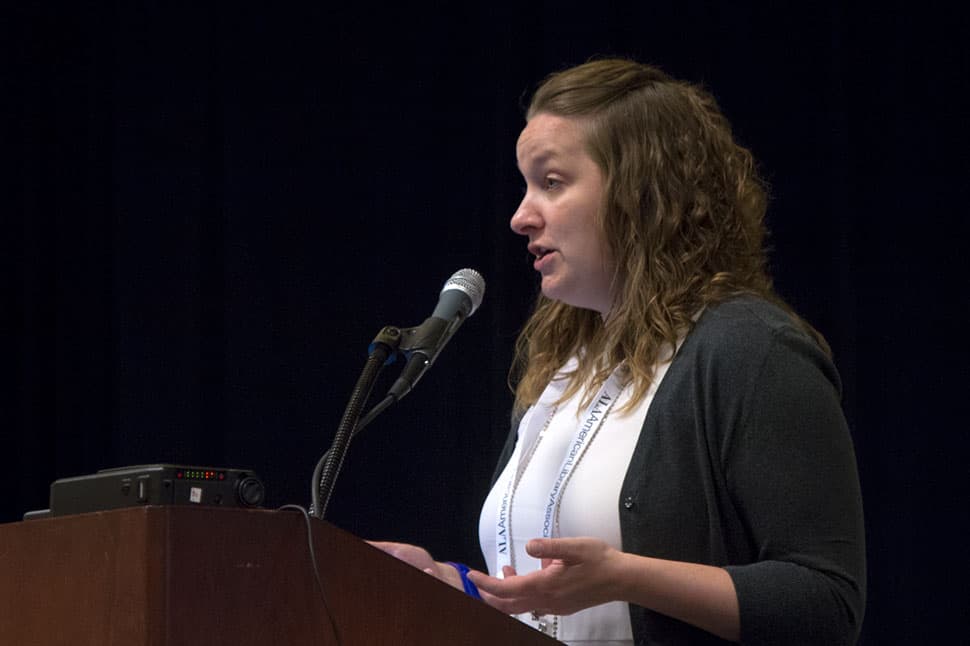 In the era of tech, what's the best way to help an infant learn? Through social interaction, said Sarah Lytle of the Institute for Learning and Brain Sciences. Lytle was one of three presenters at the June 26 Association for Library Service to Children's (ALSC) President's Program, titled "Plugging into the Digital Age: Libraries Engaging and Supporting Families with Today's Literacy."
Lytle presented new research that suggests there is no evidence of learning from screens for kids at an early age. This is true of infants as well as older toddlers. "If you want more robust learning, you have to have that social component," she said.
She also presented research on video chats such as Skype and FaceTime and their effects on children's ability to learn. What the research reveals is that a technology that allows you to have social interaction through its use performs just as well as a live interaction. In other words, a two-year-old can learn new words through video chats because that format approximates a social interaction, the back-and-forth that Lytle said is critical to learning.
 One major lesson from these research studies is this, she said: Let the screen be a tool but not the teacher.
What content helps learning?
Reintroducing familiar characters (such as Elmo and Dora)
Songs (for helping with memorization and physical activity)
Audience participation (such as those in Blue's Clues)
Repetition (like Sesame Street's method of teaching letters and their sounds)
What should parents, educators, and caregivers guard against? Primarily talking toys, such as baby cellphones, baby laptops, and talking farms, which "render the parent a bystander," Lytle said. The key is to make sure the toy doesn't override the interaction.
Chip Donohue of the Erikson Institute agreed that relationships are the most important factor in all of this research. He cited recent recommendations from the American Academy of Pediatrics on children's media use. "This (social interaction) is not just a tool for cognitive learning," Donohue said. "It is a tool for all learning." He emphasized the three Cs: content, context, and the child.
Part of the larger goal for parents is to become more aware of their own tech use, which he said is often an elephant in the room. A quote he comes back to often, he said, is: "Connection is inevitable; distraction is a choice." Donohue said parents are desperate for help, and they want to do right by their kids: "Librarians are perfectly positioned to be media mentors."
Lisa Regalla of the Center for Childhood Creativity said how adults interact with children is key. She said research shows that when adults plant curiosity within children ("I don't know how this works. I want to learn from you!"), kids played with a toy longer and they discovered more things that it can do. Regalla recommended the following resources for librarians who want more information: DML Research Hub, Making and Learning, and YOUmedia Network.
As for background media, such as televisions left on in the home, Donohue said simply turn off the TV when no one's watching: "This is the secondhand smoke of the digital age."