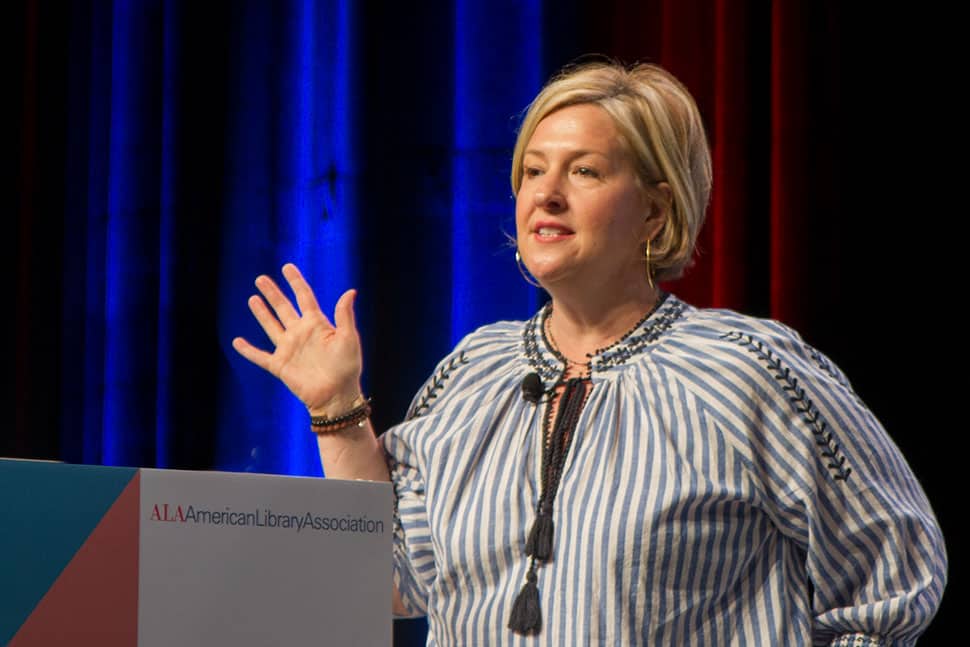 Brené Brown is no stranger to the stacks. She can measure important milestones in her life through libraries, she told the crowd at her Auditorium Speaker Series session at the American Library Association's Annual Conference and Exhibition in Chicago on June 25.
"First time I got a note that said, 'I like you, do you like me?' Library. First peck kind of kiss? Sorry, library. First refuge for girl who belonged nowhere? Library. Then fast forward to the special relationship that PhD students have with librarians," Brown said.
A researcher and storyteller who has been studying shame, vulnerability, courage, and other social science topics for more than 15 years, Brown recounted the intimate relationship she had with the 300 section and the many staff members at the University of Houston Libraries. She recalled one male librarian who saw her nursing her newborn on the library floor and his touching response before giving her access to a private room on the fourth floor: "'This is not acceptable. We will find you somewhere much better for you than this.'"
Brown's profession of libraries and librarians as a refuge was the perfect segue into her talk about belonging, and her forthcoming book Braving the Wilderness (Penguin Random House, September 2017), both of which were greatly inspired by something her idol Maya Angelou, "the head of her brain trust," once said.
"You are only free when you realize you belong no place—you belong every place—no place at all. The price is high. The reward is great," Angelou told Bill Moyers in a 1973 interview.
Brown interpreted: "We confuse belonging with fitting in, but the truth is that belonging is just in our heart, and when we belong to ourselves and believe in ourselves above all else, we belong everywhere and nowhere."
Contradictions coexisting
The paradox of  "everywhere and nowhere" wasn't the only one Brown tackled. She talked about how, depending on the organizations that hire her to speak, she can be seen either as too "faithful" or someone who "cusses" too much.
"I'm not a business speaker, I'm not a memoirist, I belong nowhere," Brown said. And of the interviews she's conducted with research subjects over the years, she added, "Let me guarantee you that's what's in every story of trauma and survival and resilience, every single one: cussing and praying."
Brown went on to discuss the four paradoxical-seeming tenets of belonging that she lays out in Braving the Wilderness. When explaining the first practice—"People are hard to hate close up. Move in"—she gave examples of the exceptionism that people use to rationalize their positions. For example, "All Democrats are losers except for my best friend at work" or "Republicans are stingy, closed off, privileged assholes, except for my son-in-law."
"This is a weird time to be doing research on belonging. I didn't want to write about politics," Brown confessed. "I don't want to be defined by the shit show that is happening right now. But at the same time, I can't pretend it's not happening."
With the second tenet—"Speak truth to bullshit. Be civil"—Brown showed how the false dichotomy of "either/or" in this country is "profoundly dehumanizing" certain marginalized groups. And to illustrate the third practice—"Hold hands. With strangers"—Brown had the crowd rise to its feet and sing a few bars of Don McLean's "American Pie" together.
The fourth and final principle—"Soft front. Strong back. Wild heart"—was a way to conclude that humans need both vulnerability and courage for true belonging, along with an immutable spirit and sense of self to navigate the inevitable isolation. "I think the greatest measure of true belonging is dissent," Brown declared to applause. "Our worth is not a good that we negotiate with the world."
And if you're wondering if Brown ever got to meet Angelou, the answer is yes. With help from Oprah Winfrey, Brown was able to tell the icon how much her work has meant to her and how it is used in her classroom. To which Angelou replied: "You're doing hard work. Just make sure you're not moved."