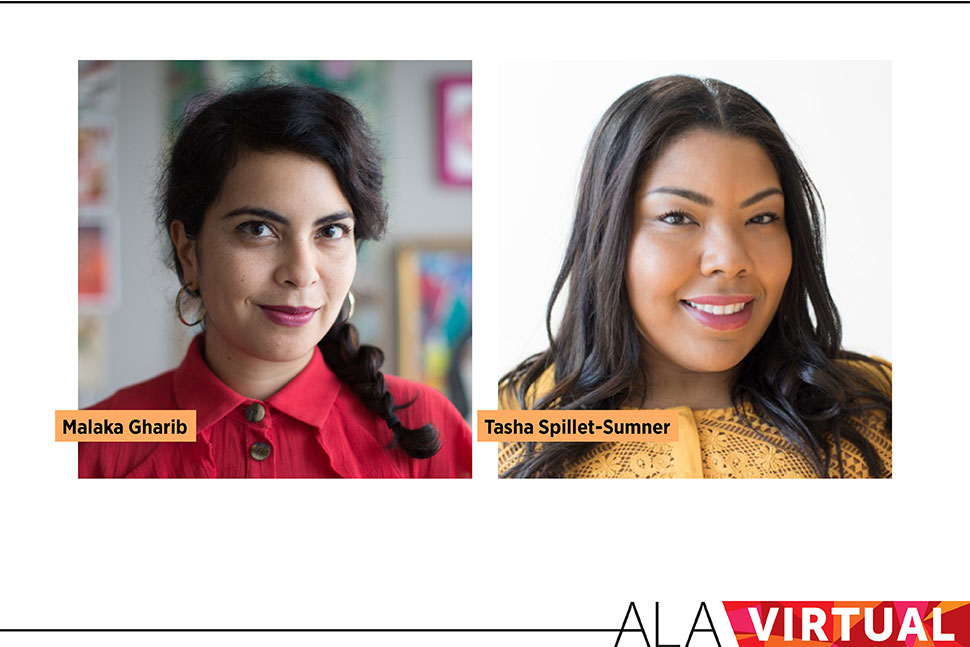 "How do we get people in the book industry to move beyond 'Let's just buy a bunch of book propositions that are by POC [people of color],' and get them to actually believe that that's the right thing to do?" asked Malaka Gharib, author of the graphic memoir I Was Their American Dream.
With Tasha Spillett-Sumner, author of the Surviving the City graphic novel series, Gharib discussed the role of the comics industry in this historic moment of uprisings against white supremacy and structural inequality at "A Comics History in the Making," moderated by Alea Perez, president of the American Library Association's (ALA) Graphic Novels and Comics Round Table, on the final day of ALA Virtual 2020.
Sustaining the Energy
Spillett-Sumner praised the new wave of political art she has seen in recent weeks. "I hope and I think we will see a huge influx of young people who've been politicized by this moment right now telling their stories," she said. It was the wave of anti-immigrant rhetoric around the 2016 election that inspired Gharib to write her memoir.
Both admitted that they're wary of being tokenized by publishers. But, Gharib said, "if this is my chance to get a platform, I'm going to grab it by the horns and run with it." People have used her book as a way to start conversations with coworkers and friends about their own experiences. After hearing those stories, "whatever fears I had with my pride and my ego that maybe [publishers] were using me, I don't even care," she said.
"If our work can work as a jumping-off point and in some ways as a shield for the people who want to have those kinds of conversations," then that's an important tool to have, Spillett-Sumner added. "As a high school social studies and English teacher, I saw the power of graphic novels and comics in working with young people and in helping them to express themselves."
BIPOC Voices
"The immigrant experience in the media, especially when I was first writing my book, was so unnuanced," Gharib said. Pride in her Egyptian and Filipino heritage inspired her to share her story: "I sincerely wanted to write a triumphant book about being an immigrant in America and coming from an immigrant family."
Letting Black, Indigenous, and people of color (BIPOC) speak for themselves can disrupt the narratives created by others. "They can tell the story in a way that might go against the grain of what you're seeing in the media and delight you and uplift you," she said.
And uplifting stories are not just a counterpoint. "It's important that we are not constantly sitting within our own traumas," Spillett-Sumner added. "To create those moments for ourselves where we're saturating ourselves in joy and happiness, that's a political action as well."
As the mother of a young daughter, "I always think about how to arm my daughter for the world she's in while protecting her right to experience joy. … I draw strength in realizing that I come from a community of mothers who have been figuring out how to protect their children and allow them to thrive in a joyous way for generations."
Adds Gharib: "When those books [from BIPOC writers] do come out, buy them and amplify them. Don't just say 'I'm so glad they did that book.' Actually buy it and read it!"
What to do
Both women emphasize that to fix the structural inequities in publishing, it will be essential to hold people and companies accountable. That includes large publishers, agents, and everyone in the economy built around graphic novels, she said. "We know where the power lies, and we can make demands of them to ensure that the social changes that we need to save the lives of people are deeply entrenched in the business of what we do," Spillett-Sumner said.
"We also have to look at those who hold power through a Black, Indigenous, and POC lens," Gharib added. "I know that that's been said, but I feel like we need to say it time and time and time again until the message gets through." When people in power in the publishing industry and library community more accurately reflect the demographics of their communities, that will affect the kinds of books read by the masses, she said.
When faced with the enormous task of dismantling entrenched systems, "What do we do?" is one of the most common questions. "I always say: 'It's not my job to tell you what to do. It is your job to unpack what's going on here and then do the work within your own community,'" Spillett-Sumner said.