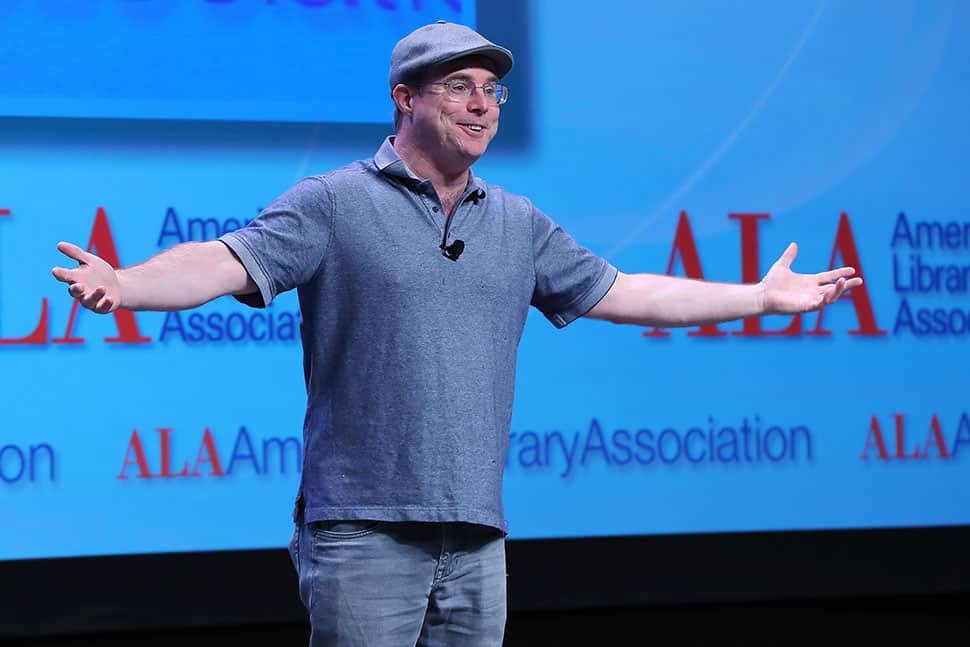 Andy Weir grew up surrounded by science: his father was an accelerator physicist, and his mother was an electrical engineer. He also worked for more than 20 years as a computer programmer at places as wide-ranging as Sandia National Laboratories, AOL, and Blizzard (where he helped develop the second Warcraft video game). Weir seems to have been predestined to have a long career in a STEM field. But another dream pulled at him: Weir wanted to be a writer. And it was the pursuit of that dream over many years that led him to pen the bestseller The Martian, which was adapted into an Oscar-nominated film.
Weir detailed his road to the writer's life during his United for Libraries President's Session talk at the 2017 American Library Association Annual Conference and Exhibition. It was an upbeat, hilarious affair. Weir is a youthful, relaxed, self-deprecating everyman who seems to be genuinely amazed by his luck and success. Pacing the stage with energy, he recounted the arc of his career, beginning with how he grew up reading sci-fi novels by Arthur C. Clarke and Isaac Asimov from his father's vast personal library. He credits those books with fostering his love of both science fiction and writing.
Despite his love of writing and literature, Weir made a conscious decision not to pursue his dream in college, instead opting to study engineering. "I wanted to have a career where I could actually eat and not live in a cardboard box on the street," Weir laughed. Nevertheless, he dropped out of college to work full-time as a programmer. He never stopped writing, though, penning several unpublished novels that he admits were incredibly subpar. This was crucial to his development as a writer, he said: "You have to suck for a while before you stop sucking."
Despite writing only as a hobby at this point in his life, Weir stressed he was not unhappy with his chosen path. He loved being a software programmer. "I like science, and I like problem solving," he said. Being a full-time programmer gave him the freedom to develop as a writer at his own pace, unencumbered by deadlines, industry pressure, and other stressors, he said. It was during this period that he started the project that would become The Martian, his scientifically accurate account of an astronaut who finds himself stranded on Mars.
The Martian began its life a serialized blog before Weir self-published it, first as a downloadable version on his website and then as a Kindle book on Amazon. The Martian's unexpected success on Amazon led to a publishing deal with Random House and a film deal with 20th Century Fox—both within four days of one another. The book's success and eventual adaptation into a film directed by Ridley Scott and starring Matt Damon has allowed Weir to live his dream and work full-time as a writer.
Weir recounted his career's trajectory with genuine zeal, like a close friend telling you an unbelievable—but true—story. He spoke with enthusiasm about his forthcoming book, Artemis (Crown, November 2017), a crime thriller set on the moon. Like The Martian, Artemis adheres solidly to real science while it tells a fictional tale. Weir's recollections of his research process and how he discovered that mineral elements already in existence on the moon could be used to construct livable structures for humans was fascinating.
Weir is excited about Artemis's release, but realistic. "It's a weird feeling to be at the tail end of success," he said. "It's a source of major insecurity for me. Will I be a one-hit wonder? I'll find out."
---
Andy Weir on writing Artemis after The Martian:
Andy Weir on science fiction, research, and writing: