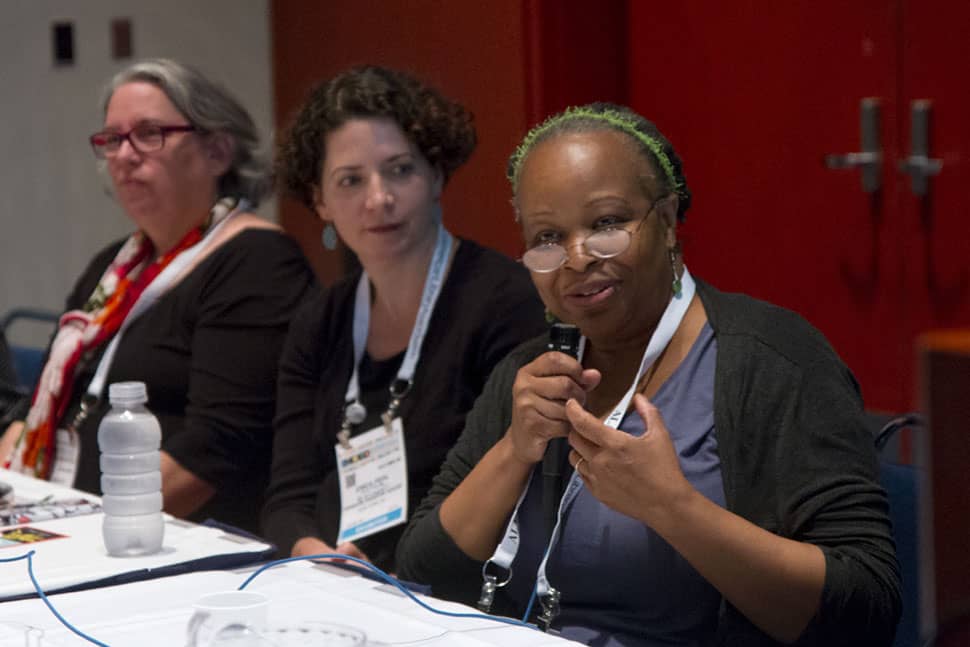 Children's authors Andrea Beaty, Cece Bell, Betsy Bird, Erica Perl, and Rita Williams-Garcia led a raucous discussion of humor and reading in Saturday's panel "Women Aren't Funny (And Other Essential Untruths for Middle-Grade Readers)," moderated by editorial and marketing strategist Sharyn November.
November asked panelists first to weigh in on why funny books are important, and why we should take them seriously.
As Williams-Garcia explained, "Humor gets us through dark times, like when someone cracks an inappropriate joke that lets us keep going."
Humor can also be subversive. When people object to what younger kids are reading, it's often funny books, like the Wimpy Kid and Captain Underpants series, said Bird, who is also collection development manager of Evanston (Ill.) Public Library. But humor is a great way to get reluctant readers to read: "Humorous books are the gateway drug of reading."
Perl echoed that sentiment, saying, "Good humor is the pile of candy, but once you get them into the book, there's broccoli."
"When you read humor and it connects to you, that bond can be stronger than a sad response," Beaty said.
Bell, author of the graphic memoir El Deafo, explained that reading funny books was how she learned how to be funny and how to use humor as a defense mechanism: "If I'm funny, kids will like me and not focus on the big hearing aids coming out of my ears."
November pointed out that despite their popularity, funny books are rarely the ones that win the big awards: "A dog often has to die," she quipped.
Overcoming the "unfunny women" stereotype
The panelists all related stories of having few funny books by women or about female characters to read when they were growing up and offered several ideas for bridging the gap.
Scatological humor is considered unladylike, said Bell: "Women are supposed to cut the literal cheese, not the figurative cheese." But she has found that girls love goofy, weird, gross humor just as much as boys do, but they're often denied access to it.
Beaty agreed and noted that parents are often the gatekeepers of what kids read. She said librarians can help in suggesting books for girls that don't enforce gender-based behavioral norms.
Inviting funny female writers to your library or classroom can help dispel stereotypes as well. Also consider hosting open mikes, Williams-Garcia suggested, noting that her daughter used to host a "talk show" in their home when she was a kid, with her little sister as cohost. "Encourage our daughters to yuk it up," she said.
November suggested having a class produce a humor magazine together. Teachers and librarians should also keep an eye out for the girls who were funny when they were younger but get quiet and tamped down in adolescence.
"Twilight made shiny vampires cool, Harry Potter made wizards cool, Diary of a Wimpy Kid made funny cool," said Bird, who then noticed a distinct uptick in kids wanting more funny books. As a librarian (and a lazy person, she joked), she wanted to have everything funny in one book she could recommend, particularly one featuring women. So she started compiling what eventually became the Funny Girl anthology.
Perl said she grew up loving MAD magazine, but didn't notice how boy-centric and sometimes outright misogynistic the humor was until she was older. She later learned about cartoonists like Lynda Barry and could better see herself in that kind of work.
To close the session, November asked panelists to recommend their favorite funny children's authors, and the list ranged from the classics (Beverly Cleary, Paula Danziger) to the modern (Kate Beaton, Donna Gephart, Amy Ignatow, Libba Bray, Jessica Day George, Kelly DiPucchio, Uma Krishnaswami) to the wishful thinking ("I want Amy Sedaris to write children's books," said Bell).