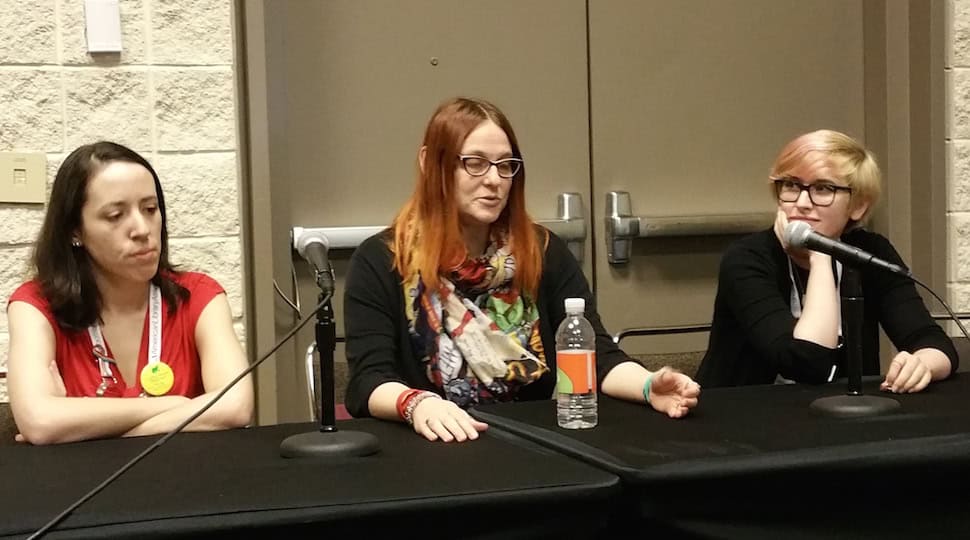 On Saturday, Marcela Peres from Lewiston (Maine) Public Library, Lizzy Walker from Wichita (Kans.) State University Library, and Ivy Noelle Weir of Kennett (Pa.) Public Library led a panel with moderator Eva Volin of Alameda (Calif.) Public Library to introduce other librarians to Valhalla, an online community for women who love comics and do comics-driven work in libraries and other organizations.
Weir explained that a group called the Valkyries preceded Valhalla. The Valkyries are made up of women in retail who sell comics. Many of these women ended up leaving their jobs to become librarians and could no longer reap the benefits of being a Valkyrie due to legal issues between stores and publishers (the Valkyries receive exclusive previews under an agreement that only current retail workers have access to those previews). So Valhalla was created, and it became a safe space for women librarians, museum curators, bookstore employees and more. "Valhalla serves as a sister to the main group," Weir said.
Why join? It can be a valuable resource for picking popular comics, as well as learning about female-centric comics. "It's a place for collaboration," Weir said. "It's kind of hard to meet other programmers. If you're specifically trying to do graphic novel programming, Valhalla is really helpful."
But the community of women, the safe space, is another big factor for membership. Weir shared some of her experience dealing with the wider comic community after presentations she's given. "Still, I've had a guy come up to me at the end and quizzing me on what I know or correcting me," she said. "Even if you have never been judged or gatekept, the risk is still there, and it's not in Valhalla."
The panelists encouraged their audience to keep talking about this issue, despite their frustrations. Peres said, "Because these conversations are happening, we're moving in the right direction."
Moving on, the panelists gave more specific advice to librarians wanting to partner with retailers. "Be the person who goes to them," Weir said. She suggested stressing the importance of getting comics into the hands of kids and offering an incentive, and she pointed out that if kids get hooked on a volume from the library then they may start buying single issues at the comic store.
Additionally, for librarians who don't know much about comics yet, retailers can be a valuable resource. They will know the statistics of the popular issues. Rural libraries can get in on the action, too, even if they don't have a comic store nearby. "The internet is your friend," Weir said. "There are people who want to work with you."
Likewise, the panelists had the same advice for working with publishers. Weir suggested going to conventions to meet publishers, Walker cited NetGalley as a resource, and Peres encouraged the audience to look at indie and local comics.
For libraries who want to put on their own comic shows, Weir said librarians should get ready emotionally. Retailer partnerships and six months' worth of planning time are important parts of the process. Exposure for authors and local artists and teen volunteers are both resources to tap, however. "Empower your community to get involved, too," she said. "You have a unique opportunity to create a fandom community in your own area."
Peres echoed Weir's sentiment, saying, "We add a bit of grassroots in a major way." She also assured the audience that their conventions didn't have to be huge. She reminded them, "Kids don't have the same name recognition expectation." Rather, they are just happy to get free comics.
The panelists ended the session by encouraging the audience to join Valhalla. Those interested can send an application to comicsvalhalla@gmail.com.