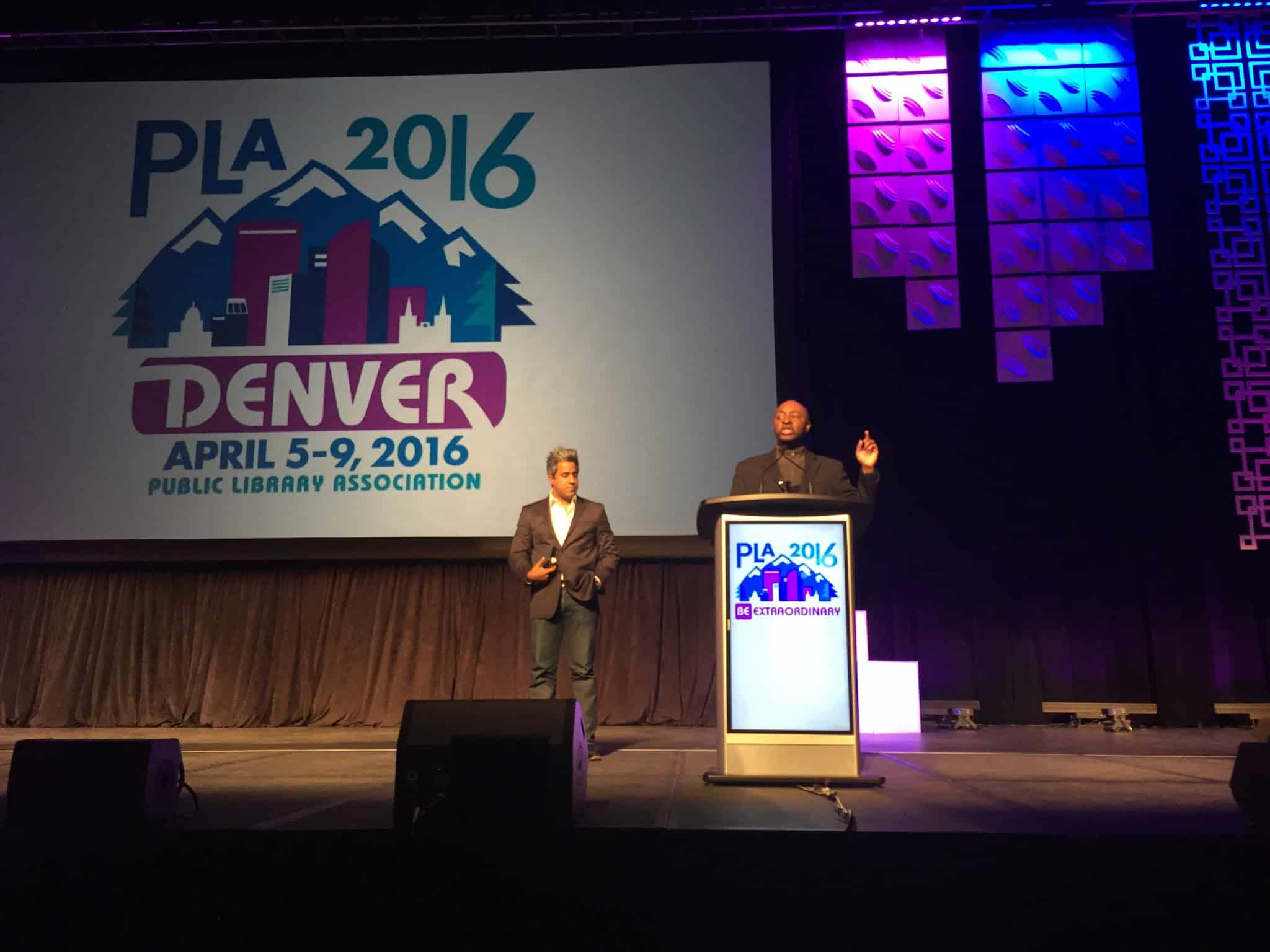 In his 2014 book The True American: Murder and Mercy in Texas, Anand Giridharadas tells the true story of a Muslim minimart owner in Dallas who is shot shortly after 9/11 by a white supremacist and lives to forgive him and ask for mercy from the state wanting to execute the man.
In many ways, Giridharadas says, some of the darkest themes in his book have become even more prevalent since it was published in 2014. "Their story was the story of America fracturing," he said to the crowd gathered for his Big Ideas talk at the Public Library Association 2016 conference in Denver today. Giridharadas is a New York Times columnist of the biweekly "Letter from America" and is also the author of India Calling: An Intimate Portrait of a Nation's Remaking.
"America today is a spritely young body hit by a stroke," he said, leaving one side perfect and one side horribly disfigured. And, he added, "It is losing its luster at allowing every American to become a somebody."
Our challenge, Giridharadas said, is to take on the wilting American as our own and help to build a more merciful country, as the Muslim minimart owner, Raisuddin Bhuiyan, did with Mark Stroman, the shooter who also shot and killed two other minimart owners that same day. Bhuiyan was left blinded in his right eye, evicted by his landlord, and lost his fiancee in the days that followed the shooting. Yet his Muslim faith compelled him to forgive Stroman and be compassionate.
Though he wasn't successful in preventing the execution of Stroman, Bhuiyan did not end his quest for mercy. He reached out to Stroman's daughter Amber, an ex-con and an addict, and told her, "You may have lost a father, but you have gained an uncle."
How can we be more merciful, Giridharadas asked. "This is the calling of an entire generation," he said. Inequility is at the heart of the pain, and we need to cover the stories of the disenfranchised, as well as teach, make, live, and pray where the disenfranchised are.
"Libraries are getting us to talk to one another again," he said. And libraries are the best place for the two sides of America to come to together and learn from one another. "I'd have a lot more faith in having those conversations come from the bottom up" rather than from politicians down, he said.
We should have empathy for anxious white men who are made afraid of the historical period we're in, where the meaning of marriage has changed, where women and people of color have more freedoms, he said. We should be saying, "We get that loss hurts. We want to make you know it is a very exciting time for you as well."
Giridharadas ended his talk with a challenge: to finish the tweet/sentence #aTrueAmericanIs, whether on Twitter or elsewhere. "Go back to your libraries and create a bulletin board, a wall—whatever—and invite your community to answer that question. More people need to answer that question," he said.