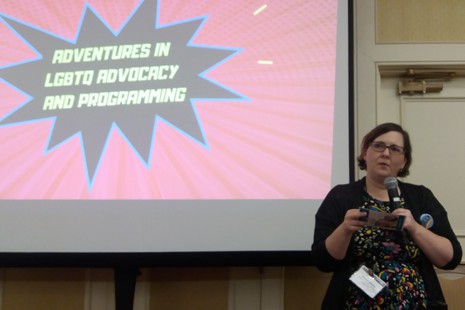 "I had no agenda, no plan, but doing something made sense to me," said Melinda Mathis, teen services librarian for Napa County (Calif.) Library (NCL), on approaching local nonprofit LGBTQ Connection to collaborate on a partnership with the library. Mathis, a presenter at "Adventures in LGBTQ Advocacy and Programming" at the Young Adult Library Services Association's (YALSA) Symposium on November 2 in Memphis, Tennessee, had her hunch confirmed.
"One of the youth leaders [at LGBTQ Connection] asked, 'Do you want to work with us on a dance?' It seemed like a good fit, so we ran with it, and we were right," she said.
Napa County, like many places in the US, needed more safe spaces for LGBTQ teens—spaces where they could just be themselves. And like many places in the US, the area has unique demographics that organizers needed to take into consideration: It's a semirural area, there is wealth disparity between people who own the vineyards and those who work them, there is a large Latinx and Spanish-speaking population, and the politics are different from nearby San Francisco. "There's a lot of 1950s tucked around the corner in Napa," said Ian Stanley Posadas, program director at LGBTQ Connection.
Mathis, Posadas, and Chelsea Garcia-Hernandez, library associate at NCL, talked about the factors that made the dance and their partnership—now in its fourth year—a success. For instance, teens are made cocreators in the process, event fliers are printed in English and Spanish, parents aren't allowed to enter the dance, businesses are asked to help with donations, and RSVPs are tracked.
Want to do a first-time LGBTQ program at your library? "Run this by your administration," Mathis suggested. "We all know, regardless of how we personally feel about LGBTQ programming or a display, somebody is going to think it's controversial." She adds: "Does your administration support you? That's going to make or break you."
Presenters stressed that the effort is worth it. "If we're not doing anything for LGBTQ people, we're harming them," said Posadas.
Taking programs on the road
Like Mathis, Elizabeth Lippoldt, teen services librarian at St. Charles City-County (Mo.) Library (SCCCL), wanted to get more involved with community outreach to teens but did not necessarily know how. She started by emailing the superintendent of the Juvenile Justice Center (JCC), which holds youth under 18 for reasons ranging from abuse to delinquency. The center was excited about a collaboration.
"We weren't quite sure how much we were going to connect with teens," Lippoldt told the crowd at "Out-of-the-Box Outreach," since the perceived expectation was that the library would strictly provide educational programming. "We didn't know what our mission was and what our personal abilities were," she said.
But the "moment that everything changed," according to Lippoldt, was a volunteer appreciation night where she and her colleagues realized that they didn't have to stick to the lesson plans—they could better earn teens' trust and break down social barriers with card games, Lego challenges, Snap Circuits, roleplaying games, and even an indoor garden.
"We can do this outreach that's like hanging out in the library, just a different location with some materials restrictions," said Lippoldt.
What followed was a series of out-of-the-box outreach programs for teens, including visits to JCC and a temporary shelter called Youth in Need, teen-led community service projects, and a partnership with St. Charles Pride.
"It just reinforces that the library is there for everyone," said Mindy Schmidt, teen services paraprofessional at SCCCL, of taking library activities and programs on the road.
It wasn't all smooth sailing. Schmidt said she and her colleagues quickly realized one misstep when they signed on to visit an organization called Family Forward, which wanted them to do storytime and flannel board programs—activities more suited for those who work with young children, not teens.
"I wasn't sure how to backstep without creating ill will," said Schmidt. "It was very rewarding—it just wasn't what we were looking for."
For anyone considering an outreach site, Schmidt recommends asking a lot of questions, doing a tour, and conducting a one-off program before overcommitting. Alternative high schools, Boys and Girls Clubs, food banks, and ESL classrooms are good venues for reaching at-risk youth.
"Determine, personally, the amount you can handle," Lippoldt said. "One outreach visit is better than none."
Building resilience
Behind these at-risk teens is often one or more adverse childhood experiences causing trauma—more stress than one is able to handle.
"What we often see as behavior problems are coping mechanisms," said Michael Willis, school-age coordinator for Mid-Continent Public Library (MCPL) in Missouri, at the "Increasing Teen Resilience through Trauma-Sensitive Approaches" session.
Experiences in the home such as maternal depression, domestic violence, substance abuse, divorce, and incarceration—as well as adverse community environments such as poverty, discrimination, or lack of opportunity and mobility—can all cause stress responses that, if chronic, can become hardwired into the brain.
"We're not first responders, we're not direct caregivers, but it is good to be aware of these things," said Willis.
Adds Scott Rader, early literacy coordinator at MCPL: "Really understand where [trauma is] coming from instead of victim-blaming."
For these reasons, libraries should consider incorporating the trauma-sensitive principles of safety, trustworthiness, choice, collaboration, empowerment, and resilience into the library. Some of these might come easily; for example, Rader and Willis pointed to how libraries are known for trustworthiness because they provide unbiased information and protect patron privacy. The principle of resilience—and getting teens to nurture a positive view of themselves, keep things in perspective, and practice self-care—might be trickier.
"Trauma-informed care takes a collaborative approach. We're working together with our teens," said Rader. "We really want to give that power back to the people we are serving."
Willis said if attendees should take one thing home with them, it's a shift in perspective: "Instead of thinking 'What's wrong with that teen?,' think 'what happened to that teen?'"