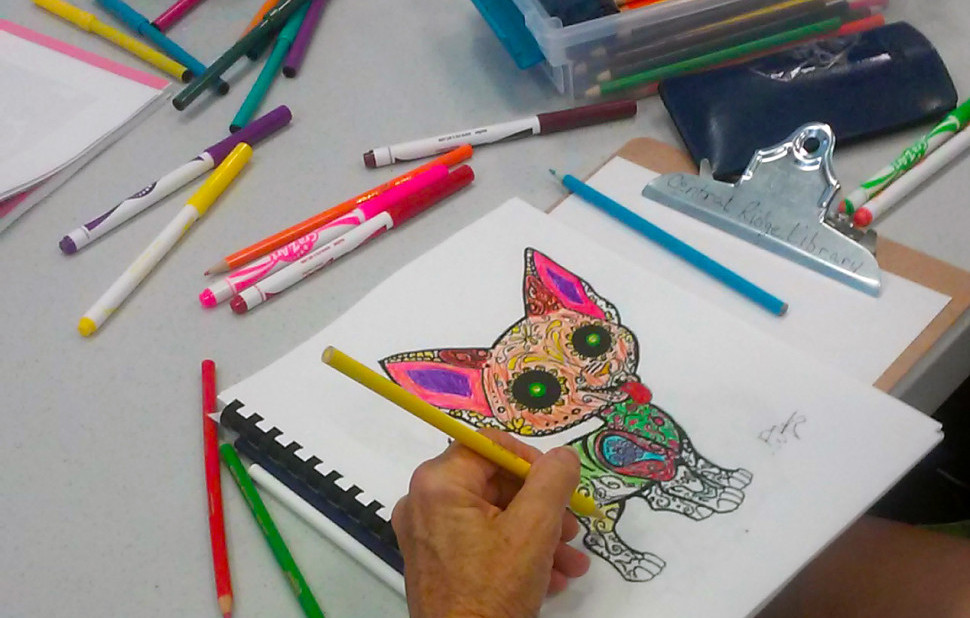 Editor's note: A shorter version of this article originally appeared in The Scoop in August.
When a group of community members gathers every month at Woods Hole (Mass.) Public Library (WHPL), they try to stay within the lines—literally.
"We purchase a couple of coloring books, I print out some free coloring pages that are available online, and we just get together and color," says librarian Kellie Porter, who started the library's Coloring Club in May. The club has seen about 15–20 members a month, ranging from tweens to 70-year-olds.
"I really try to play up the whole relaxation aspect of it," she says, "so I put on relaxing bird songs and try to make a soothing environment."
WHPL is one of many libraries taking part in the adult coloring book trend, welcoming the activity for its social, mental health, and creative benefits. The adult coloring books craze was aided by Scottish illustrator Johanna Basford's 2013 Secret Garden: An Inky Treasure Hunt and Coloring Book, an Amazon bestseller that has sold more than 6 million copies.
Other libraries that have also started, or are about to start, coloring book clubs include Emerson (N.J.) Public Library; Grand Forks (N.Dak.) Public Library; Central Ridge Library (CRL) in Beverly Hills, Florida; and Screven-Jenkins Regional Library System in Sylvania, Georgia.
Mary Lorenz, reference librarian at the Grand Forks Public Library, says her library started a monthly club, "Outside the Lines: A Coloring Club for Grown-Ups," on October 19. Lorenz says she is looking forward to the club's community-building aspect.
"It's nice that it's for anybody, even if you don't speak the language, because we have a lot of new Americans who come in," Lorenz says.
CRL's club, "Adult Coloring: Color Me Happy," kicked off at the beginning of September. Circulation Supervisor Ann Daigle says the club provides its older demographic in Florida an opportunity to meet new people.
"There's a lot of laughter. They're coloring but they're talking," Daigle says. "It's stress-free, and they do comment when they leave that they feel so much better and it did them good to get out of the house and see other people."
Having an adult coloring book club has other benefits, too, like not having "little kids who are going to try to eat the crayons," jokes Sharon Blank, assistant director of Screven-Jenkins Regional Library System. Her library began a monthly adults-only coloring book club on September 22. "We're talking about adults who know to put the caps back onto the markers when they're done with them."
[In] the age of constant information and everyone always being plugged in, I think people really like the lo-fi aspect of it.—Kellie Porter, librarian, Woods Hole (Mass.) Public Library
Lorenz also notes the activity's creative benefits. "I think a lot of us still like to color and we still like to be creative, but in our jobs we can't always be that way, so this is an outlet where we can do [that]," she says.
WHPL's Porter agrees, adding that it's an analog activity in an increasingly digital world. "Now with the age of constant information and everyone always being plugged in, I think people really like the lo-fi aspect of it," she says. "You're just sitting with a piece of paper and you're coloring, and that's really relaxing when you're just inundated with screens all the time."
Blank says her library provides coloring pages that cover a wide range of styles, such as abstract mandalas, animal mosaic patterns, and scenes of country living since they are located in a rural area.
Porter says the Coloring Club is a low-cost, low-risk program that doesn't require much work or resources. Participants also don't have to know a specific skill or do any preparation to join in.
"You can meet with a group of people, but it's not like a book group where you have to have done the reading ahead of time," she says.
Daigle says coloring clubs are appealing for precisely that reason. "I had another program doing origami, and that was pretty difficult to fold the paper," she says. "Coloring is not a burden to them. They don't need the dexterity they would need to fold paper, to put a craft together, so they can relax more."
While the program has helped members unwind, it initially took time for some people to return to their childhood carefreeness. For instance, at the very first meeting, many asked Porter what they needed to do to get started.
"They needed instruction," Porter says. "And it was like, 'We just color.' And I was thinking, if these were kids, they wouldn't be asking those questions. They don't know those inhibitions. And I think people were realizing that as they were doing it. They were letting down their guard and letting themselves enjoy coloring again."
Whether or not it's a fad, many libraries plan to keep it going for the coming years. "I don't know if it will wear off and [whether] it's a fad or not," Porter says. "A lot of people who are coming have said, 'Oh, I've been coloring for years,' so they haven't been doing it because of the craze."
For Daigle, CRL's coloring book club is another way for the library to serve the community's needs.
"It's all a part of offering what they need in their lives: library programming," Daigle says. "Isn't that what we're supposed to do, to reach out and get people to participate and be creative and be a part of life and enjoy, whether it's a book, whether it's a craft?"