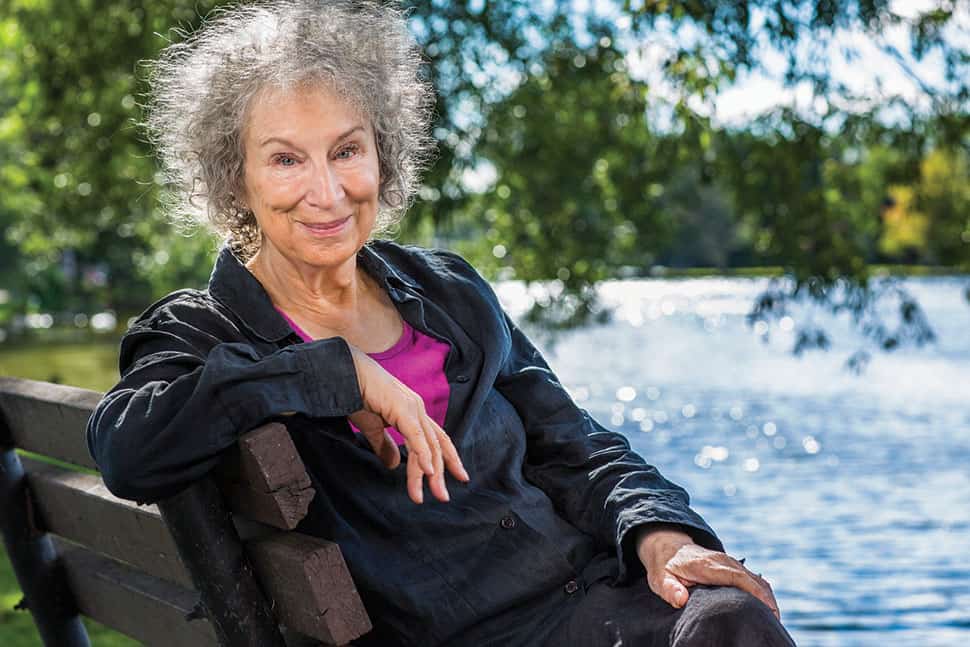 Award-winning author Margaret Atwood's recent projects involve both reimagining a 400-year-old classic and envisioning what literature itself might look like 100 years from now. Her latest novel, Hag-Seed, rewrites The Tempest as part of a new series for Hogarth Press in which celebrated novelists interpret Shakespeare's plays. Atwood spoke with American Libraries about her new work and the future of libraries.
How did you get involved with the Hogarth Shakespeare project?
I got an email, of course—all of these things start that way. This email was from Becky Hardy, the Hogarth Shakespeare editor. She asked what play I would choose to do, and I said The Tempest.
What was it about The Tempest that appealed to you?
I've written about The Tempest before. In Negotiating with the Dead: A Writer on Writing (Cambridge University Press, 2002), one of the chapters is about Prospero and Mephistopheles. The play is about magical artifacts and good or bad, so I already had been thinking quite a bit about it. It's very enigmatic—if you start with the epilogue, it's particularly poignant. The Tempest has never been cut and dried to me. You have many different interpretations of it, every one of them supported by the text, although they are so different.
Can we talk about another recent project of yours, the Future Library of Norway, a time-capsule project of Scottish artist Katie Paterson?
A forest has been planted in Norway that will grow for 100 years, and 100 authors will contribute one manuscript. There were some preconditions; one was that what you put in the box had to be made of words only. What kind of artifact made of words would be up to you. There could be two copies only, and those were to be given to the Future Library. And you weren't allowed to say what was in the box. Of course as soon it was announced, people have been trying to get it out of me, to no avail. All the boxes will be opened in 100 years and enough trees will be cut from the forest to make the paper to print the Future Library Anthology.
So over I went to Norway with my manuscript in the box. It was quite special because everybody standing there watching the hand­over is going to be dead by the time the box is opened. There was a little baby in the crowd, and if the little baby lives for a very long time, the little baby might be 100 when the box is opened. Apart from that, it was a slightly creepy feeling.
Slightly creepy but also hopeful?
It's a very hopeful project, because what you're saying with it is that there will be people in 100 years. Those people will be able to read, they will be interested in reading, and there will be a library in Oslo—there will be libraries. It's a very positive statement to make.
In 2011, you were named a hero by Torontoist.com for your defense of libraries.
At that time we had our famous but now dead crack-smoking mayor Rob Ford and his brother Doug, a city councilor. They were making disparaging remarks about the Toronto Public Library system, the budget of which they intended to cut, and the Toronto Public Library system is very beloved. A website appeared to support the library, and I retweeted it, and it crashed their site. One of the Mr. Fords said "Margaret Atwood? Who is she? If she wants to have an opinion, she needs to get elected and come down to city hall." Well, in a democracy, you do not, in fact, have to get elected in order to have an opinion. The people rallied around the library. And a number of them printed my face from the internet and made masks so that Mr. Ford would know what I look like. The library won, by the way.