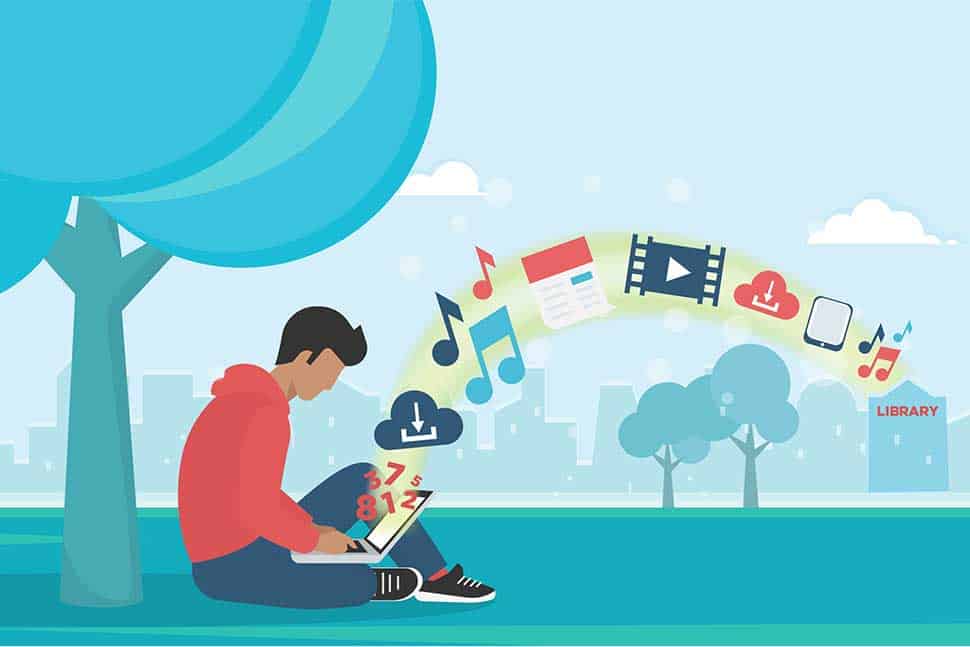 If libraries are the door to knowledge, library cards are the key. Once a mere slip of paper bearing a patron's name, the library card is evolving into a technologically sophisticated tool that can help patrons access information more quickly and easily than ever before.
At many libraries, digital "cards"—which usually consist simply of numbers that patrons use to access digital items—have become standard. The Harris County (Tex.) Public Library (HCPL) introduced its version, the iKnow Digital Access Card, as a way to "reduce as many barriers as possible," says Library Director Edward Melton.
IKnow card holders can access the library's digital collections—including ebooks, streaming video and audio, magazines, and research databases—within minutes. Acquiring an iKnow card is as simple as registering via an online form, which is viewable only within the state of Texas, and which accepts only registrants who have ZIP codes in or adjacent to Harris County. Currently, nearly 50,000 people, or about 4% of HCPL's total patrons, hold an iKnow card.
"It's a very sparse, spread-out county. We have people in rural areas, maybe in isolated areas, who don't have access to a physical library," says Melton. "We needed to provide access for those who might not be able to get to our physical space." The digital card offers other benefits as well. Users never have to worry about late fees since digital items are returned automatically—a perk for parents whose children might not be ready to manage the responsibility of returning physical items. And for library staff, iKnow setup requires "zero staff intervention," says Ty Beauchamp, HCPL systems administrator.
HCPL's iKnow card also fosters community connections. The library hopes to issue one to every student in Harris County as part of the White House's and Institute of Museum and Library Services' ConnectED Library Challenge, a program that aims to ensure every schoolchild has a library card. In the future, Melton envisions issuing iKnow cards via email to all county employees.
Much like HCPL, Rowan Public Library (RPL) in Salisbury, North Carolina, introduced a digital card to increase access. "We were motivated by generating more access to our online resources, which are all free, and trying to make it easier for students to access those resources. And for patrons who come into the library with their own devices, we wanted to make it easier for them to access our resources," says Melissa Oleen, library services manager.
We needed to provide access for those who might not be able to get to our physical space. —Edward Melton, director, Harris County (Tex.) Public Library
In addition to the digital card, which is available via an online borrower registration form and provides same-day access to online resources, RPL introduced the Rowan One card last June. Rowan One gives any student in the Rowan-Salisbury school system access to the library's digital collections, as well as the ability to check out up to three physical items at a time. The Rowan One library card number is the same as the student's school ID number, which makes the exchange of information between the schools and the library simpler—and makes it easy for students to remember.
When Rowan One launched this summer, "it really enhanced our outreach to very remote areas," says Oleen. In a program called Books and Bites, the library's bookmobile teamed with a mobile meal service to provide free lunches and offer books to children at sites outside walking distance of a library. "Without the Rowan One card, it wouldn't have been as successful," Oleen says, since children could use their school ID number as their library card number in order to check out books from the bookmobile.
As for the future of library cards in a digital world, Miguel Figueroa, director of the American Library Association's Center for the Future of Libraries, believes that physical library cards will persist. "It's really one of those things that I don't think is going to go away any time soon," he says. "It's like a shopping bag; it's just a very effective tool for managing what we want."
Regarding physical library cards, Figueroa notes the shift to keychain cards—simple, but more convenient alternatives to larger cards. Figueroa is also tracking the trend of libraries partnering with other organizations to offer more services, much as HCPL and RPL are doing. "More communities are looking to integrate the public library card into larger systems," he says.
With digital library cards, "we're starting to see libraries use an app," says Figueroa. Randy Maxey, director of sales at Boopsie, a company that builds mobile apps for libraries, says library cards are "certainly becoming more and more digitized."
Apps store library card barcodes, enabling faster physical checkout or even self-checkout. Maxey envisions apps as the ultimate key to the library. "We'll see continual digitization, not just of the electronic collection but of the physical collection," he says, citing a possible future in which an app can find, scan, and check out a book within a library, all from a patron's phone.
"With the library card, the goal isn't to ditch the card but [find out] how to make it more accessible—to get it on their keychain or on their mobile device. It's a minor adjustment to existing services, rather than 'let's drop everything and try this trend,'" says Figueroa.
This commitment to analyzing trends and then teasing out how they can enhance existing library services is what makes libraries so successful and what will guide future library card innovations, he says, adding, "It's exactly how we've arrived where we are now."