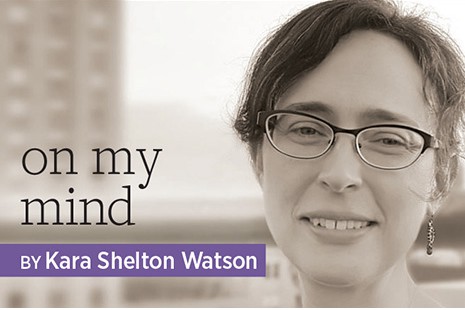 How did this become your job?" Over the years teachers have asked me how I got involved with cyberbullying prevention at school.
I tell them that I believe that digital citizenship falls naturally under the domain of librarians, as we place high value on using and creating information ethically. In schools, we have a curriculum that teaches students the concepts of citizenship, community, and social justice through varied disciplines. And in the school library, these ideals come together.
As I became familiar with the curriculum at my school, I began to see strong content connections with digital citizenship, and I sought out teachers who were willing to collaborate on topics. I quickly learned that 9th grade was a great entry point because I could introduce students to the concept of creating a positive digital footprint during library orientation and then dive into issues of cyberbullying and its effects using material from their healthful living classes.
When I have these discussions with 9th graders, I ask them why people bully each other. Is it easier to do so online versus in person? When something is posted online that is hurtful to others, who is responsible? We talk about what it means to be an upstander—someone who stands up for others against bullies. I ask students what apps they use and how they use them. You would be surprised at how honest students get.
Discussion is by far the best way to learn about the technologies teens are using and to start building relationships. I let them know they can always talk to me if they have questions or concerns about something they see online. Ultimately, we cannot have these conversations without addressing online posts that convey racist, sexist, and homophobic ideas.
In schools, we have a curriculum that teaches students the concepts of citizenship, community, and social justice. And in the school library, these ideals come together.
How else can you support cyberbullying prevention in the school library?
Talk about the serious consequences of a careless post. I encourage students to use "the grandma test": If your grandmother or someone else that you respect read the post, what would they think of you? Freshman year is an ideal time to remind students that they can make a fresh start, even if they struggled with digital citizenship issues in middle school.
Be aware of student issues and staff roles. If you see a group of students hovering around a computer or smartphone, don't be afraid to look at what they are viewing. Most of the time it isn't harmful, but sometimes it is. Recognize changes in student behavior and share your concerns with the appropriate people. If you cannot help, chances are you know someone who can.
Connect with stakeholders. You do not work alone. For example, I frequently talk with the assistant principals about cyberbullying and consult the school resource officer to "check the temperature" of our students, as they will often know if something is brewing online. I work with the school's PTSA to create awareness of what students do on the internet. I also hosted a forum on digital citizenship where I brought in local experts who could answer caregivers' questions about online safety.
Many of these experts returned to the library for a digital citizenship fair, where we encouraged students to "do good online." At our different booths, students could sign an antibullying pledge, earn water for struggling communities by playing a videogame, or try a texting obstacle course.
Students need to know that they can trust the adults in their building. Developing relationships with your students and letting them know you care lays the foundation for a stronger, safer, and more respectful environment. If you listen to your students, they will open up. I challenge all school librarians to be leaders in creating this community for their schools.