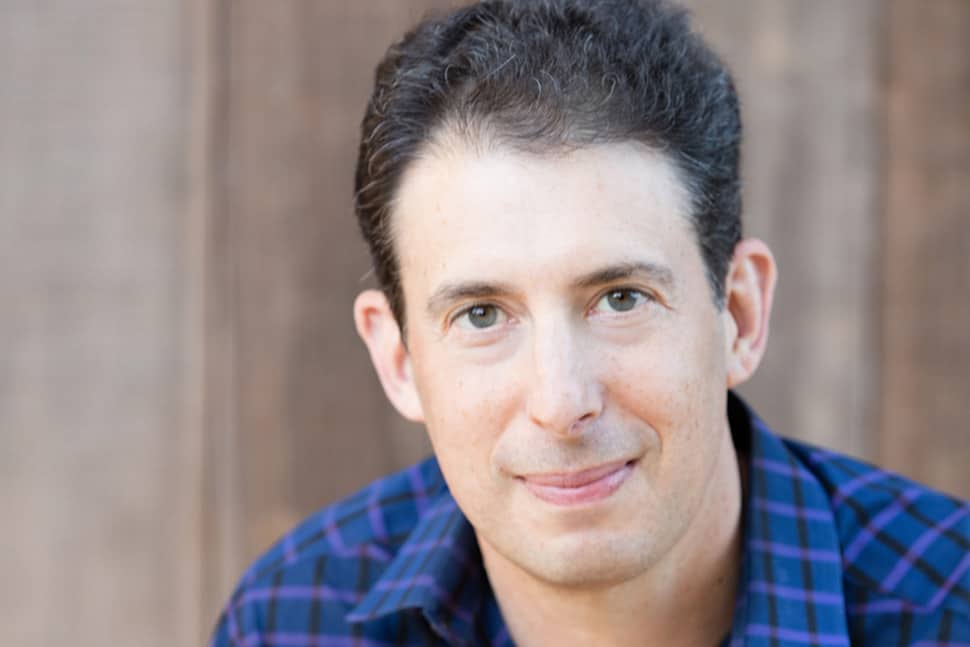 In his new book, Palaces for the People: How Social Infrastructure Can Help Fight Inequality, Polarization, and the Decline of Civic Life (Crown, 2018), Eric Klinenberg defines social infrastructure as the physical places and organizations that shape the way people interact. He includes not just commercial places like stores and coffee shops, but also free spaces like parks, beaches, playgrounds, and—especially—libraries as vital to promoting civic engagement and repairing the fractured society that we live in. The connection is one he has explored in some of his previous books, including Heat Wave (University of Chicago, 2002) and Going Solo (Penguin Random House, 2012).
Klinenberg spoke with American Libraries about his lifelong love of libraries and the inadvertent lessons learned from Amazon stores.
Your book opens with a discussion of the 1995 Chicago heat wave, which killed more than 700 people in just a few days. Why did you decide to start there?
Eric Klinenberg: It was the first time that I was able to see the social infrastructure, the first time that that concept occurred to me. Some places that should have had very high death rates based on their demographics did, but others proved curiously resilient. The places that were really deadly had a degraded social infrastructure—the sidewalks were broken, the parks were overgrown and treacherous, there were empty lots and abandoned buildings, very little commercial activity, not a strong set of nonprofit organizations. So if you were in a neighborhood like that, you were just much more likely to stay home and be alone, which made you more vulnerable to the heat.
But if you lived in a neighborhood that was poor but also had strong social infrastructure— active sidewalks, a busy commercial sector, strong local libraries and churches, and no abandoned lots—you were much more likely to survive the heat wave. In part because people knew who lived where and who was at risk, and in part because when people had a hard time, they were more likely to go out into public areas and to get help from neighbors.
But the other discovery I made, which I hadn't even been looking for, was that neighborhoods that had strong social infrastructure also had significantly longer life expectancy [among residents]. It wasn't just about the heat wave; the social infrastructure was shaping people's health, well-being, and quality of life every day.   
I kept expecting to get to "the library part" of the book. Instead you cover many aspects of social infrastructure—housing, alternative education models, disaster recovery—and libraries come up over and over. How do libraries intersect with so many of these issues?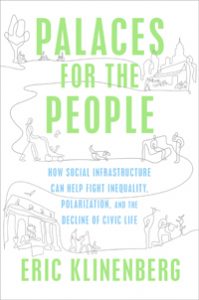 Libraries are really the paradigmatic social infrastructure. They're the best case of a physical place that is open and accessible to everyone, regardless of age, ethnicity or race, social class, or even citizenship status. They're places that are defined by generosity of spirit. They're predicated on the idea that every human being deserves access to our shared cultural heritage, by virtue of their humanity—not because they can afford it or belong to the right group. And that's a very special idea. They're not just welcoming physical places—they can be used flexibly, they're programmed and staffed by librarians and information specialists who are dedicated to helping people discover what they're looking for, without judgment, without surveillance. They're remarkably successful institutions.
I didn't come into this project thinking that libraries would get so much attention, but the more time I spent in libraries, the more I came to appreciate all the things they do for us.
What else can libraries do to improve social infrastructure in their communities?
I don't want to put the onus of responsibility on libraries and librarians. What impressed me so much was all the outreach that libraries and librarians are already doing. One could easily make the case that librarians could use relief from other sectors of society. Given that we ask so much from libraries these days, the question should really be: What can we do for them?
How do we go about changing policies to protect and rebuild social infrastructure?
Obviously in the book I'm concerned with a great number of social infrastructures. But it's my hope that by describing all the things that libraries do and establishing how essential they are as institutions, as vital infrastructure for communities throughout this country, I'm making the case for political officials to provide them with the funding that they so desperately need. We should all be doing that.
Over the summer, there was an article in Forbes magazine that said that libraries are obsolete, and we should knock them down and put up Amazon shops in their place. And I think that's an outrageous and offensive idea. It's an odious idea. And it expresses an elite failure to understand all the things that libraries do.
I have a 9-year-old daughter, and I wanted to take her to an Amazon store in New York City and then take her to a branch library to show her the difference. She loved the Amazon store; it was full of activity and people buying things. There were very few books, but there were lots of toys and playthings for grownups and kids. And then I took her to the library, feeling very excited that she was going to get this lesson. But when I got to the library, I discovered it was Sunday and the library was closed.
The lesson backfired, but in a way it was very powerful. The reason the library was closed is that we don't give our libraries enough funding to keep them open on Sundays. And so, for countless people who could really use them, on a day when they're not working, when they want to be with their children or their parents, you can't get in.
What's your personal history with libraries? When did you first start using libraries, and when did they become important to you?
I've used libraries my whole life. I think my love affair with libraries began when I was in college and discovered the library was both a place to study and a hub of activity that was decidedly different than the party scene or the sports field. And then I discovered libraries again, the public libraries, when I had children, because they are such a great place for parents.
What really inspired this book is that I was working as the research director for Rebuild by Design, a competition that the Obama administration sponsored to generate innovative ideas about infrastructure for the region affected by Hurricane Sandy. My job was to take these design teams of engineers, architects, and landscape architects around the region and help them discover the needs, vulnerabilities, and possibilities of different places.
One of the teams got excited about the idea of building what they called "resilience centers." They said, "Yes, it's going to be a place that's squarely in the neighborhood, and it's going to be very welcoming as an institution and also as a physical place. And there's going to be programming for everybody—young people are going to feel comfortable there, they'll come with their parents, and their parents will network there. And older people will want to go there because it's a nicer place than the senior center.
"And we want to build this very welcoming place because it's important that when there's a disaster, people know that they can be safe there. And also this place would have computers and Wi-Fi access because we want to make sure that if there's a crisis and people really need support, that they have information and can communicate with each other. And it should have all the basic facilities you'd need to make a place work well."
I said, "Well, that sounds like an amazing place, but it also sounds exactly like a branch library." It was at that point that I realized that not enough people understood how libraries operate today and how vital they are to our daily lives. And so when writing this book about social infrastructure, I really wanted libraries to be the spine.
Update: Eric Klinenberg will present the Arthur Curley Memorial Lecture at ALA's 2019 Midwinter Meeting & Exhibits in Seattle, Saturday, January 26, 4–5 p.m.