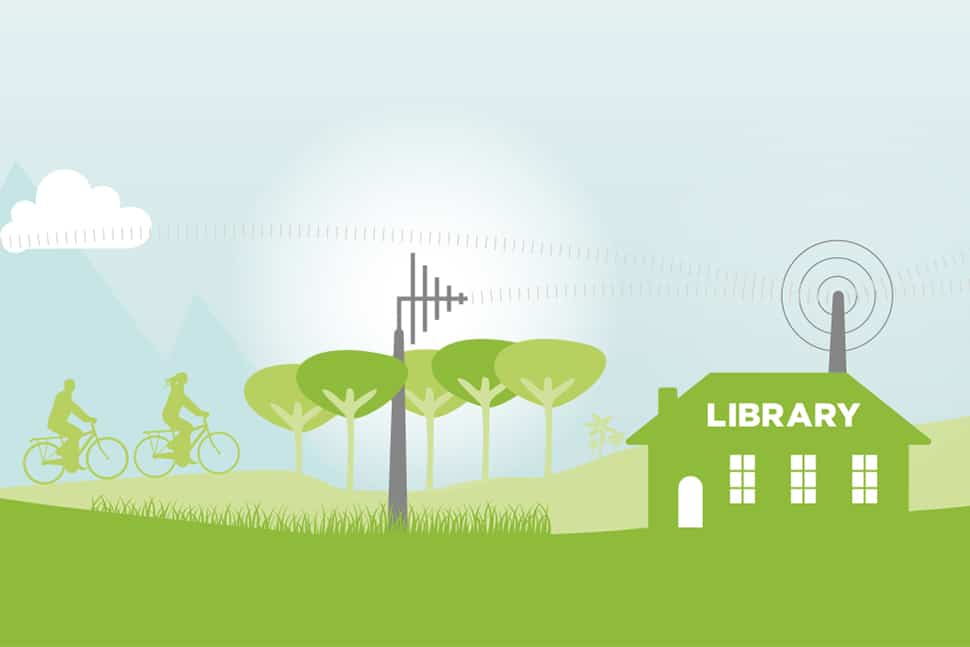 In Huron, South Dakota, Karen immigrants—originally from Myanmar and Thailand—often use the community's parks but are less likely to use other government services. "They don't come into the library, per se, as we'd like them to," acknowledges Huron Public Library (HPL) Director Shirley Apley.
But the library is reaching them using an Institute of Museum and Library Services (IMLS) grant. The grant provides broadband Wi-Fi service to Huron's parks through unused parts of the television broadcast spectrum. Often called "white spaces," these parts of the spectrum were freed up when most broadcasters switched from analog to digital signals in the late 2000s.
Wi-Fi isn't the only possible use for this spectrum, which can be an expensive commodity in large cities. But most rural areas don't have much competition for it, so it has the potential to cost-effectively provide high-speed internet service there. That's precisely where it could do the most to combat the broadband gap, which is especially pronounced in rural areas, since low population density makes it less profitable for internet service providers (ISPs) to install high-speed fiber networks. With more than 23 million rural Americans lacking broadband access, the potential to move more of the nation into the 21st century may rest in the remnants of 20th-century technology.
Kristen Rebmann, associate professor of library and information science at San José (Calif.) State University, introduced the IMLS-funded initiative at the 2018 American Library Association Midwinter Meeting in Denver. The first phase of the project, dubbed Beyond the Walls, provided funding for five libraries to buy and install TV white space base stations that can transmit broadband Wi-Fi to remote hotspots they place in their communities.
These libraries—HPL; Beatrice (Neb.) Public Library; Millinocket (Maine) Memorial Library; Twin Lakes Library System in Milledge­ville, Georgia; and the Yakama Nation Library in Toppenish, Washington—have started installing the equipment that lets them extend their Wi-Fi networks beyond the library buildings. "Each site had its own niche that it's addressing," Rebmann says. Grantees are using the networks to provide broadband service to farmers markets, senior populations that are dispersed throughout the community, students who lack internet access at home, and other groups.
That's not to say that implementation has been trouble-free. "Our biggest problem getting it up and running has been the ISP," says HPL Assistant Director Melinda Ellenson. "They gave us two confirmed approvals we could use their service [as required in the grant process], but when we started buying the equipment, they said we couldn't." That turned out to be a human issue rather than a technological one, and when an individual who was presumably blocking the process left the company, the library started making progress.
Libraries have started installing the equipment that allows them to extend their Wi-Fi networks beyond the library buildings.
There were technological issues as well, however. Ellenson notes that the white space spectrum works better with commercial-level endpoint equipment than with the high-end consumer equipment that's more practical for libraries. "It took a lot of work by our router company and city IT person to get them to work correctly," she says. The good news, however, is that the growing community of libraries providing this service is sharing information through regular video chats to help troubleshoot future challenges.
Geography can also pose a challenge, Rebmann adds. TV white space signals do travel through buildings and over hills, but they're strongest in flat, open spaces.
Connectivity and disaster response
San José State University Research Foundation and the Gigabit Libraries Network (GLN) are administering two new library grants related to television white space. Native American Community Anchors will fund three networks in pueblos in New Mexico. Rebmann says this project will help to "develop a model for how states can take an active role in cultivating the use of TV white space."
The Community SecondNets project will use the technology to provide backup communication networks for disaster response. According to Don Means, GLN director and leader of SecondNets, the idea grew out of a trial in Pascagoula, Mississippi, in which a school district that had survived Hurricane Katrina in 2005 identified places in town where it could provide Wi-Fi from the school building.
SecondNets uses the same equipment as Beyond the Walls. "Essentially, libraries are partnering with other anchor institutions to create a wireless intranet that provides backup capability against disasters to increase resilience," Means says. The equipment is also portable, which means that a community could establish pop-up access points within hours after a disaster. And since the equipment has everyday use, it's "more ready to be deployed in a disaster than if it was a kit in a closet," he says.
TV white space is also attracting corporate interest, such as Microsoft's Airband Initiative. Airband has projects around the world, but most of its partnerships in the US are with commercial ISPs rather than libraries.
Without the grant funding, a library could buy the equipment for a basic setup for around $10,000–$25,000, although installation costs can vary, according to Rebmann.
HPL's equipment hasn't been fully deployed and the service hasn't been fully promoted yet, but Apley has already noted increased Wi-Fi usage when there are soccer tournaments in the parks. "I'm looking forward to spring and summer," she says, "because I'm anticipating there will be some jumps in usage through word of mouth."